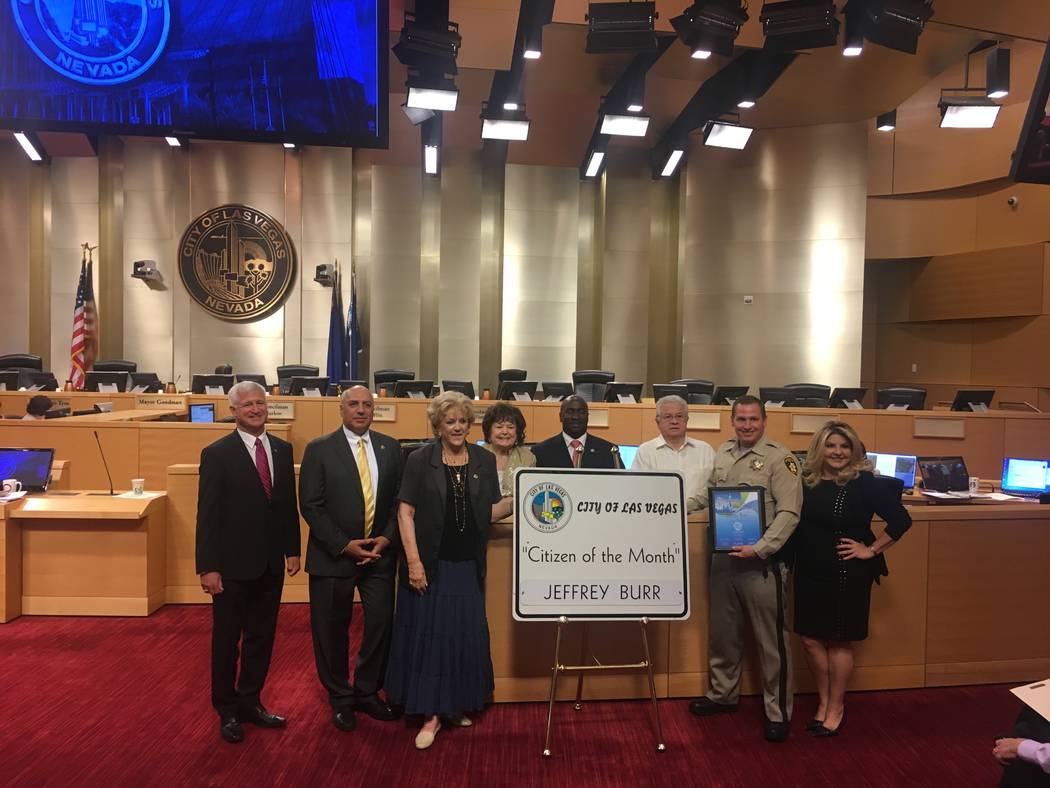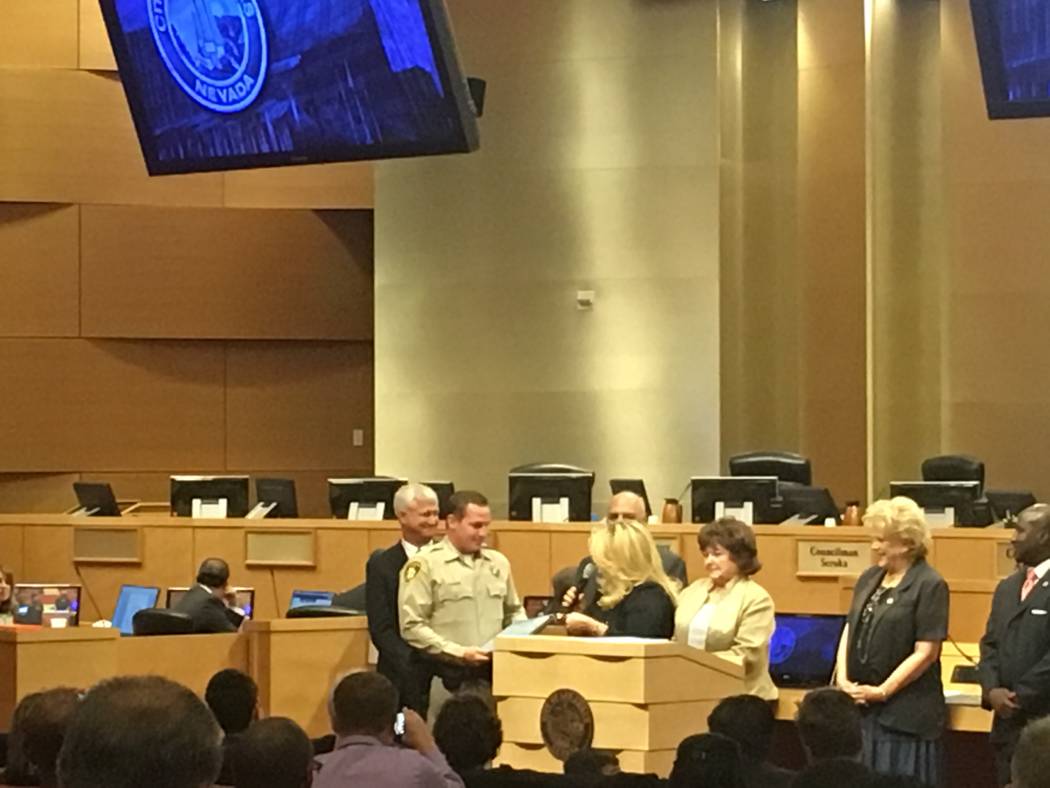 Officer Jeffrey Burr's quick thinking and 'heroic' actions were credited for saving a man's life in July. In recognition of his efforts, the Las Vegas City Council named Burr its citizen of the month at its Sept. 6 meeting.
Burr, an officer with the Metropolitan Police Department, responded to a call of a man in front of a Kohl's in northwest Las Vegas banging his head against a car July 18. When Burr took out his gun and told the man to step in front of his patrol car, the man ran away and pulled a gun out of his waistband, according to arrest documents.
Burr fired his weapon, striking the man in the arm and the hip area. Capt. Sasha Larkin, who spoke of Burr at the City Council meeting, said it was what he did next that garnered him this recognition.
"This person tried to take (Burr's) life and shot at him first," Larkin said. "In the next moment, officer Burr was putting a tourniquet on him and saving his life. The medical person that arrived said had he not done it, he would have bled out before the ambulance got there. To me, that's one of the most heroic things he did."
City Councilwoman Michele Fiore, of Ward 6, where the shooting occurred, awarded Burr with a plaque and medals for his two kids — ages 7 and 4 — that read "My dad is a hero."
Burr made the right call, Fiore said, and she stands behind his split-second decision to shoot the suspect.
"It is important that the men and women who risk their lives know that we have their backs and that, God forbid, when they have to make the toughest call of their lives — to fire their weapon in the line of duty — that the citizens of Las Vegas and their elected officials will stand with them," Fiore said.
A field-training officer, Burr teaches incoming officers who have graduated from the police academy in remedial training and defensive tactics.
He has been recognized for receiving the most consistent positive feedback from trainees, Fiore said.
"This is clearly an officer we are lucky to have on our police force, and we're lucky to have him playing a key role in training new officers," Fiore said. "I am personally lucky because he protects Ward 6."
Born in Utah, Burr has lived in Vegas for 26 years and joined Metro in 2009. He is married to Casey Burr.