HOPE graduates find second chances in life
January 24, 2017 - 9:00 am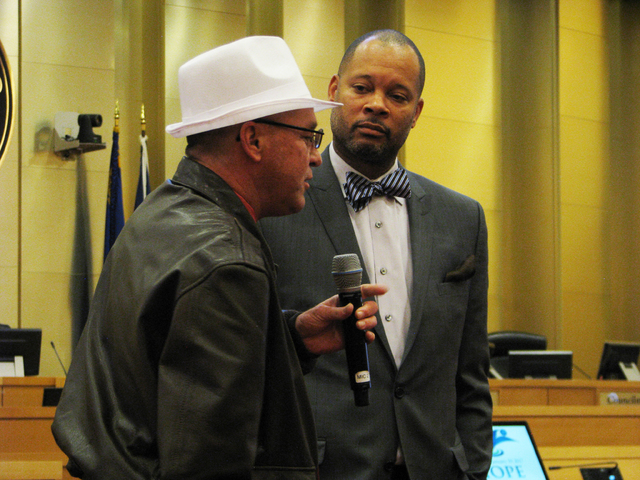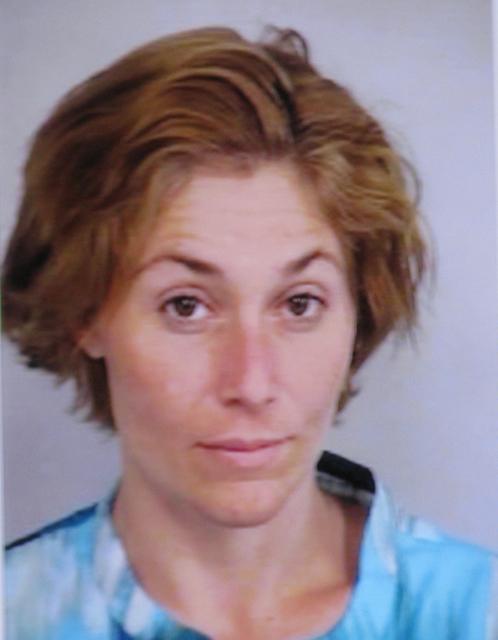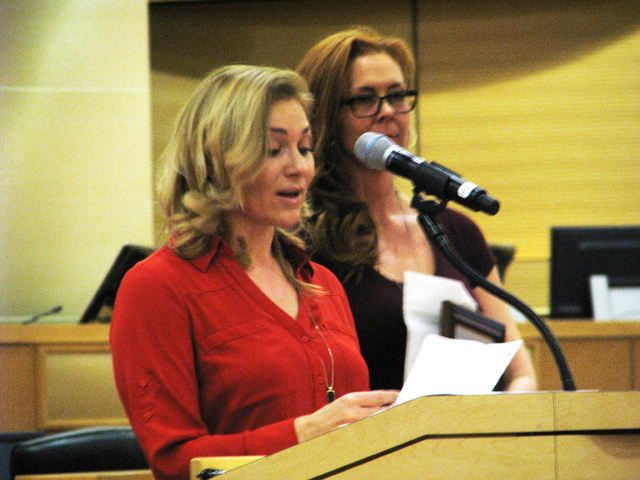 Michael Deaman spent 14 years living on the streets, until crimes he'd committed caught up to him.
Deaman was one of five graduates from Las Vegas Municipal Court's Habitual Offender Prevention and Education (HOPE) Court program Jan. 19 at the Las Vegas City Hall Council Chambers. The alternative-sentencing, recovery-based program aims to give a second chance to high-need offenders suffering from drug addiction and related issues.
"It saved my life," Deaman said. "I'd probably be dead if I was still out there."
About 16 years ago, Deaman said, he lived with the mother of his daughter, trying to make a difficult relationship work. He described himself as a functioning alcoholic, but when he discovered his girlfriend was being unfaithful, he lost control and dropped out. Police picked him up one morning along with several of his friends who were sleeping behind a vacant restaurant.
"I was still asleep and the officer woke me up by kicking my leg," Deaman said. "My friends had already gone across the street and got some beers and were drinking. The officer asked me if the beer next to me was mine. I told him it must be, but that it wasn't open, so I didn't get cited for drinking alcohol in public. I might still be in jail if I'd been cited for that."
Deaman said he'd sleep outside in the elements and drink cold beer first thing in the morning. He stepped outside for a moment after the ceremony and the cold air brought it all back to him.
"It was freezing out there just now, and I used to be in that all the time," Deaman said. "When I was in Cedar City (Utah), I'd wake up under a half-foot of snow sometimes. The snow will actually insulate you and keep you warm while you're sleeping, but when you get up to use the restroom, that all goes away and you're chilled to the bone."
Judge Heidi Almase, who has overseen the program since 2011, said it was created for people like Deaman, who were homeless for years and repeatedly came in and out of the justice system.
"The goal of the program is the same as most specialty courts, and that is to pull you out of the system," Almase said. "That costs first responder hours, emergency room hours and jail time. A day in the city jail is $160, $220 at county. Our goal is to stop the cycle. That's how we measure our success."
Participants in the voluntary program undergo regular court status checks with Almase and random drug tests, as well as receive case management, substance abuse treatment and mental health treatment. HOPE Court also provides housing, employment, transportation, family support and after-care assistance.
Almase took over the program started by Judge Cedric Kerns in 2004. The scope has shifted to include other addicts the court staff felt benefited from HOPE Court. The other graduates at the event were much younger, including Aaron Carter, Edward Dzienkowski, Jessica Swartz and Jewell Alfasso.
The ceremony included the screening of a short film put together by Deputy City Attorney Matt Walker featuring the graduates' mugshots and footage of their early appearances in front of Almase.
The film highlighted how far they had come. In the film, Alfasso gave nearly incomprehensible answers to questions that weren't asked. At the graduation, she smiled and was surrounded by friends and family members, nearly unrecognizable from the woman in the film.
"I've struggled with addiction throughout my life," Alfasso said. "I'd had some recovery previously, but I'd never made two years. The program helped me to learn to love myself again and to give back to others and pay it forward. I'll never forget where I came from."
Deaman has been paying back daily, advising clients at a transitional living program home near North Las Vegas Airport.
"I let them know what it was like and what it's like now," Deaman said. "I get to help them with the 12-step program. I get to spread the message and show them there's a better way."
To reach East Valley View reporter F. Andrew Taylor, email ataylor@viewnews.com or call 702-380-4532.