Las Vegas Dr. Martin Luther King Jr. Parade, among nation's first, marks 35 years
January 5, 2017 - 12:49 pm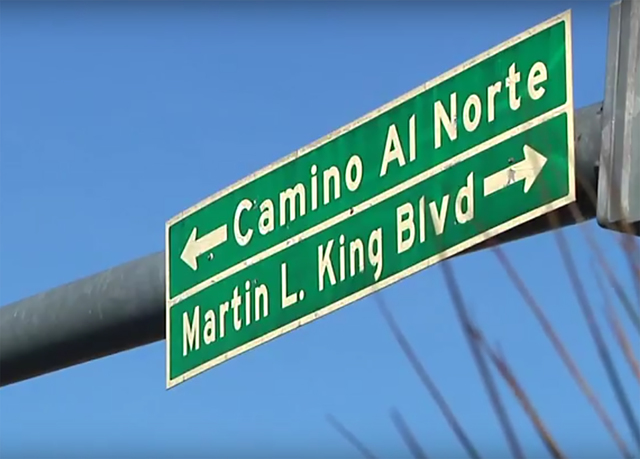 The Dr. Martin Luther King Jr. Parade in Las Vegas predates the national holiday by several years, and founder and organizer Wendell Williams says it might be one of the first and longest-running parades honoring the slain civil rights leader.
"This is the 35th year for the parade," said Williams, who added that it's the largest such parade in Nevada. "I've been involved from the beginning, and it's just gotten better every year."
President Ronald Reagan signed a bill designating the federal holiday in 1983, 15 years after King's assassination, and it was first observed three years later. By that time, Las Vegas was already on its fourth parade. It takes place on the third Monday of each January and commemorates King's birthday; he would have been 88 this year.
It also commemorates King's legacy, the message of civil rights and bringing about positive change without violence.
The parade committee accepted 100 entries for this year's event, Williams said.
"We've found if we have more than that, the parade takes too long," he said. "We've got some great entries from all across the country this year, including the Compton High School marching band, which was here last year and was just wonderful."
Many groups come to the parade because of its rich history and prestige, as well as the draw of a stay in Las Vegas, Williams said.
The route doesn't come near the road renamed for King in the early 1990s. Barbershop owner Booker Burney was approached by an organizer who failed twice to get a Las Vegas road named for King. The hope was that as a longstanding businessman, his participation would add weight.
"We got a bunch of people to sign a petition and delivered it to the city," Burney said. "We got a lot of opposition at first. Originally they wanted to rename D Street or something, but we wanted to get a major street named after Martin Luther King.
"We chose Highland (Drive) because it went through the white community as well as the black community. It was a big deal when it happened. We had a lot of people out here for that, including most of the community and a lot of politicians and other people from outside of the area."
Among the politicians on hand that day were Williams, who served in the Assembly from 1987 to 2001. He is retired but still helps organize the parade and the annual Dr. Martin Luther King Jr. Scholarship Banquet, which is scheduled at 6 p.m. Jan. 16 at the Gold Coast, 4000 W. Flamingo Road.
To reach East Valley View reporter F. Andrew Taylor, email ataylor@viewnews.com or call 702-380-4532.
IF YOU GO
What: Dr. Martin Luther King Jr. Parade
When: 10 a.m. Jan. 16
Where: It leaves from Fourth Street and Gass Avenue, heading north on Fourth to Ogden Avenue.
This year's theme: "Living the Dream — Reviving the Spirit of Empowerment." Actor Antonio Fargas, known for the role of Huggy Bear on "Starsky and Hutch," is set to be the parade ambassador and Krystal Allan of News 3 is set to be the announcer.
More information: kingweeklasvegas.com