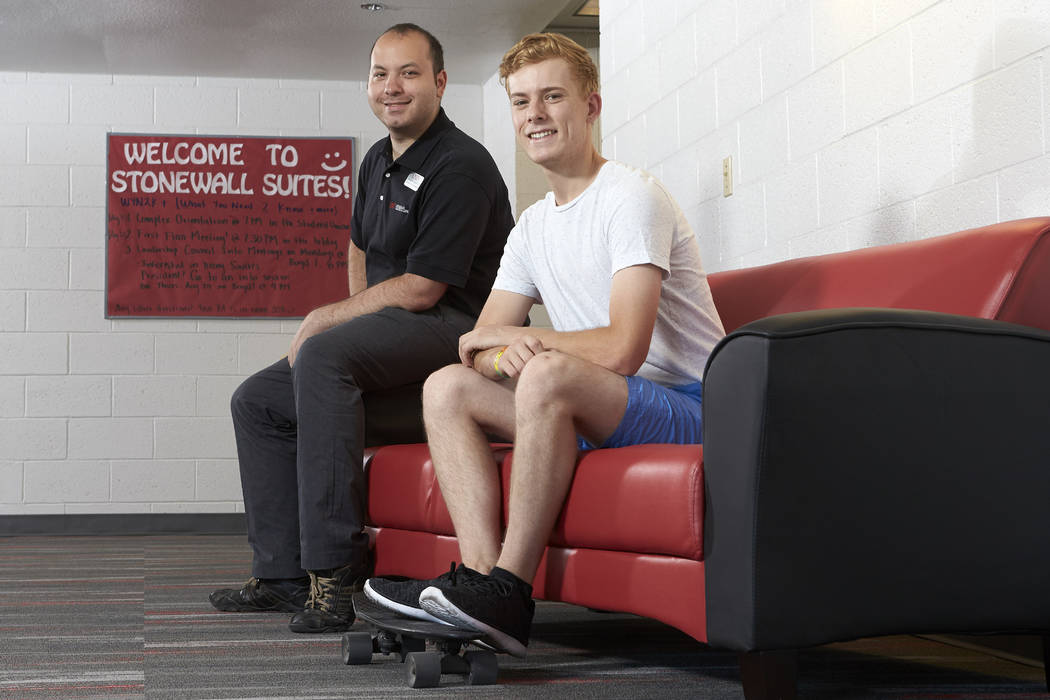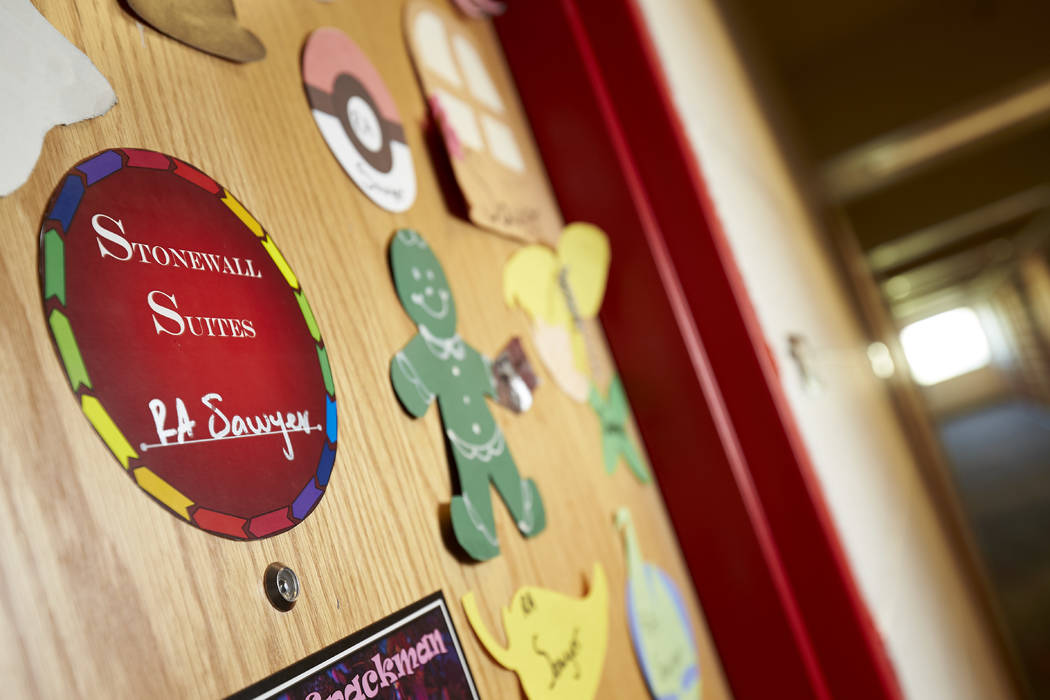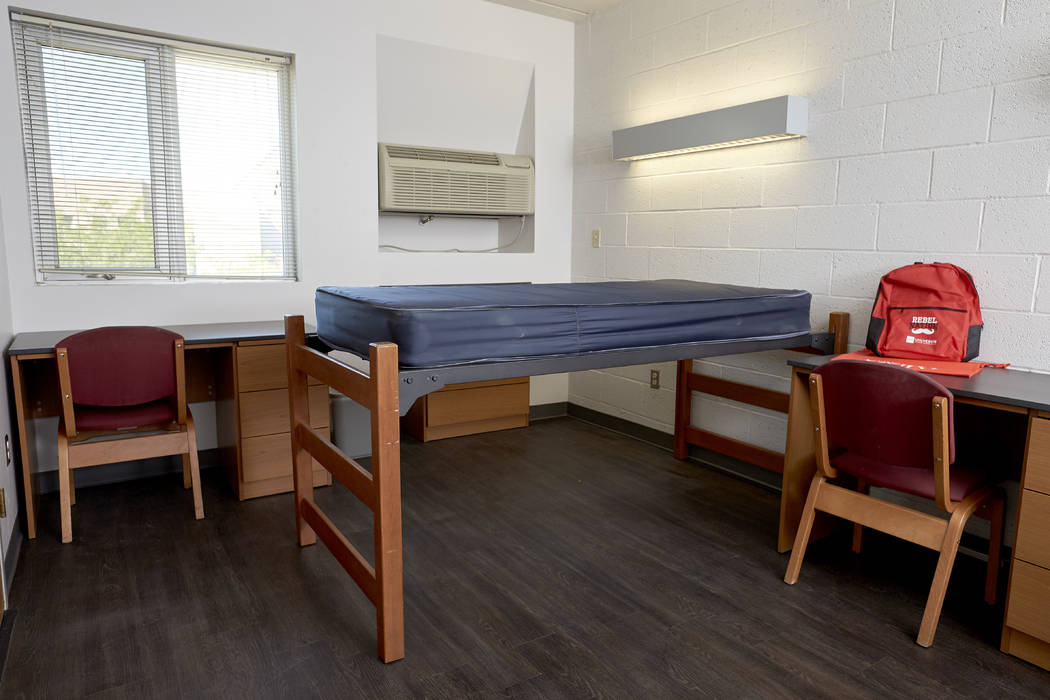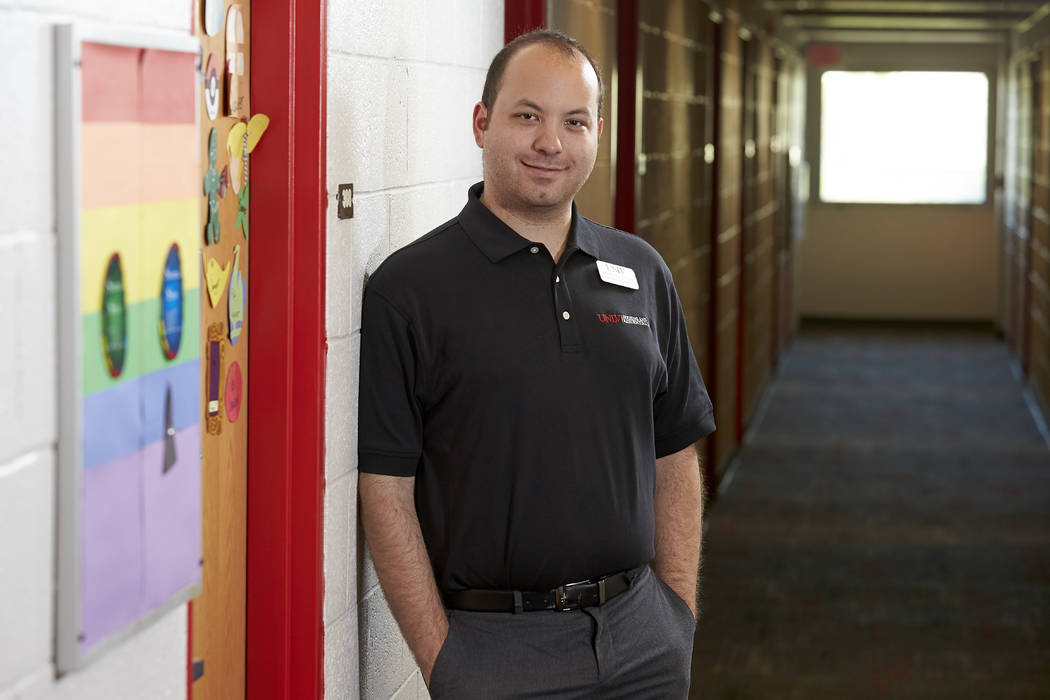 UNLV sophomore Davis Carineo was looking for a place to live on campus when he found Stonewall Suites on the school's list of residence floors. The themed floor in the school's South Complex is listed as gender-inclusive and intended for members of the LGBTQ community and their allies.
"I was like, 'Why not?' I'm gay myself," Carineo said. "I thought this would be a nice transition to a new school."
Carineo previously attended Embry-Riddle Aeronautical University in Prescott, Arizona, a place he said was a more conservative and where the LGBT community was not as open and prideful.
The floor, which opened this semester, was the idea of junior resident assistant Sawyer Spackman, 21, who said there was a need for more diverse and inclusive spaces on campus.
Stonewall Suites are named after the 1969 Stonewall riots that took place in response to a police raid at the Stonewall Inn in the Greenwich Village neighborhood of New York City.
When Spackman applied to be a resident assistant during fall of his freshman year, he was mainly interested in the free room and board and a private room. After taking a required class as part of the interview process, Spackman said he learned the extent of an RA's job.
"I learned … I have a real opportunity to make an impact," he said. "(My) motivation shifted entirely."
While attending a regional conference for resident assistants in October 2016, Spackman got the idea for Stonewall.
He spoke with several RAs who had similarly themed floors at their schools. He wondered why UNLV didn't have the same thing. He brought up the idea to residence life coordinator Andrew Lignelli and asked if UNLV could do something similar.
Lignelli said that the idea wasn't likely going to take. While school has themed floors, many of them are tied to academics. There are floors for students of the hotel college and business school; others include a study-intensive floor, a floor for graduate students and those 23 or older and a floor for honors students.
Lignelli asked Orlando White, assistant director of residential education, and the proposal got support. From there, the decision went residential life's executive director, Richard Clark. Clark asked Lignelli for a proposal for the floor after pitching the idea. From introduction to final approval, the process took about eight weeks, Spackman said.
All 35 units on the floor were filled before the first day of classes.
Spackman, junior who is studying hospitality, said there's plenty of work to be done to create a more supportive environment for LGBT and gender nonconforming students on campus. But the approval of the themed floor is a sign of progress, he said.
"If there wasn't that support (in administration), you would have seen it take longer," Spackman said.
Spackman and Lignelli also worked to create a need-based scholarship fund for Stonewall students to cover small expenses.
"A lot of students who are part of the LGBT community don't have the support from family at home," Lignelli said. "As we all know, college can be very expensive. So if something were to happen to them — a medical bill or a car breaks down or something like that — that could be the difference for them staying in college or having to drop out to pay that bill."
Spackman said a resident approached him recently to say he would be checking out of his room. The student had come out to his parents earlier in the semester, and they decided not to support him financially anymore.
"So he can't come to UNLV next semester," Spackman said, because there is not enough money in the fund to cover tuition. He hopes the fund will grow to be able to cover larger expenses.
Stonewall residents say that the floor feels like a extended family.
"Everyone knows everyone is in the same position … of just being different in general," Carineo said.
Freshman Lee Archie, who identifies as bisexual and agender, said she signed up for the floor because she didn't have access to much of the LGBT community in high school. Since moving in, it's been easy to make friends, Archie said.
"I think that the idea of being the first of this kind of floor has drawn a lot of people together to be friendly and to hang out more," Archie said.
Spackman said some of the feedback he's received from parents has surprised him.
On move-in day, Spackman was approached by a resident's parents, who had been concerned about how accepting their child's roommate would be.
"They were like, 'We're really happy this floor is here. We feel a lot more comfortable that (they're) living on this floor,'" he said.
Lignelli said he also was approached by the parents of an out, transgender male who was interested in Stonewall Suites.
"He was going to go to community college, keep it simple, because he wasn't sure he would feel comfortable living on campus at a big school," Lignelli said. "Because of Stonewall, he wants to come to UNLV and he's excited to be here."
Contact Madelyn Reese at mreese@viewnews.com or 702-383-0497. Follow @MadelynGReese on Twitter.
Another first
Stonewall Suites has inspired the creation of UNLV's first ethnically themed residence floor, Howell Town. Named after John Howell, the first black landowner in Las Vegas, the floor will be an African-American and black-heritage-themed area. It is set to open for the 2018-19 school year.