New downtown Las Vegas theatres aimed at locals, not tourists or children
December 25, 2016 - 11:12 pm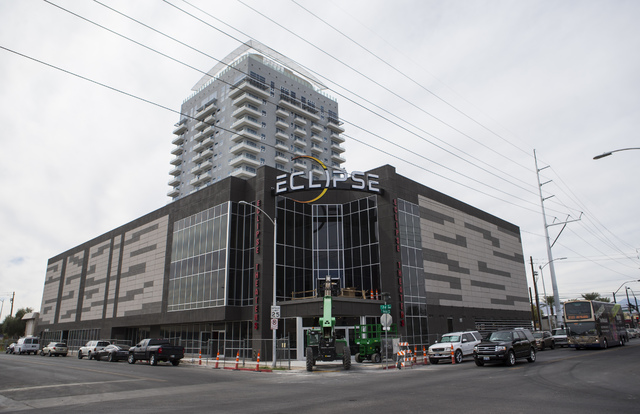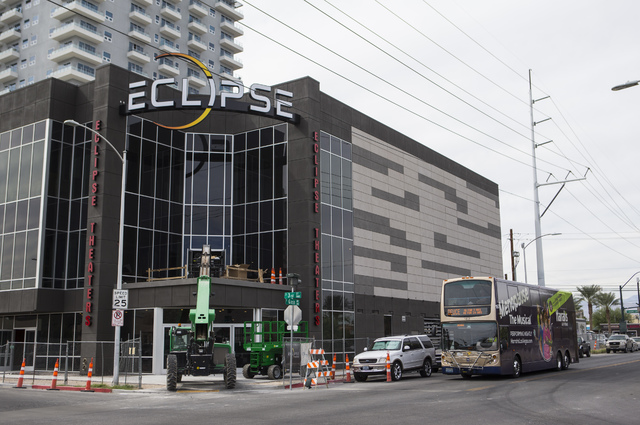 There's a new theater downtown, ending the area's six-year streak without the silver screen following the closure of Galaxy 14 Neonopolis on Fremont Street.
Eclipse Theaters, at 814 S. Third St., opened Nov. 30. While Galaxy 14 Neonopolis catered to tourists with a few local events mixed in, Eclipse Theaters is separated from the resort areas, on the edge of the Arts District, and the staff hopes to be part of the downtown scene's burgeoning growth.
"Because of our location, we're pretty easy to access from the freeway," said Ryan Stock, executive director of operations for the theater. "We expect to attract people from all over the valley, but we don't expect to see a lot of tourist traffic."
Eclipse Theaters is a more luxury-oriented venue, with deep reclining seats, wide aisles, and fine dining and drink service, both in the lounge area on the second floor and in the theater itself.
The drink service in the theater sparked controversy in the opening week because city regulations limit the space to guests 21 or older. Social media lit up with downtown parents at first excited to see first-run films without having to drive to the suburbs, then angry when they realized children could not attend.
The theater's operators are aware of the complaints and likely will resolve the issue within a month, Stock said.
"There were also quite a few of people on social media who said they liked the idea of an adults-only theater," he said. "There are other theaters in town that serve liquor, but we are the only ones to have drink service in the actual theater, so we're unique and we haven't figured out what we'd have to do to change our status, or if we even want to."
Other theater adjustments are still being made. There are 320 seats with eight theaters seating 35 to 70 people each. That number is set to rise to more than 500 total with couch seating in the front of the theaters that has not been installed.
"We don't have a timeline on when those are coming in, but we're certainly looking forward to them," Stock said. "That's the last piece we have to put in."
The theater also offers VIP suite boxes in the backs of two of the theaters, accessed from the third floor.
"It's divided from the rest of the theater by soundproof glass; you can turn the sound inside as loud or as low as you like," said the theater's founder, Nic Steele. "It's a private experience."
The VIP areas seat 10, but Steele noted that the rooms can fit more than 10. To rent the room you are required to buy all 10 seats, and there is a food and beverage minimum that varies depending on the time of the week and year.
Eclipse Theaters plans to show independently supported film projects, and there is the opportunity for other programming including mini-concerts, comedy shows, private parties and screenings of local independent films.
"Right now it's a slow time of the year for film releases, which gives us some time to settle in," Stock said. "We don't know what we'll have in here eventually for special events, screenings and other opportunities. We're looking forward to working with the community and seeing what we can do."
Online: eclipsetheaters.com.
To reach East Valley View reporter F. Andrew Taylor, email ataylor@viewnews.com or call 702-380-4532.