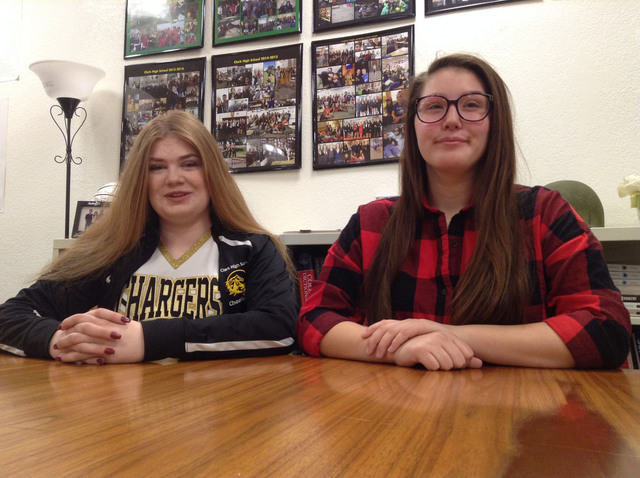 If the members of the Nevada Youth Legislature are any indication, there's a chance that those on both sides of the political fence may come together and do great things.
The Youth Legislature began in 2007, and the current group is nearing the end of its two-year term, which expires May 31.
"We still have to go up to Carson City and present our bill proposal to the (state) Legislature," said Francesca Bergeret-Simpson, youth legislator for District 7. "Then we'll be pretty much done and the next group will be chosen."
Since the program began, the NYL has proposed five bills, with three of them passing and signed into law.
"It's a really great opportunity for young people to participate in the process," said Sen. Mark Manendo of District 21. "It's a chance to work on legislation, talk to legislators and become deeply informed of the process."
Each of Nevada's 21 senators selects a student to represent his or her district. Because several of this session's members attend magnet schools, Clark High School is home to three youth legislators, including Bergeret-Simpson and her best friend, Tricia Pomeroy, who is representing District 18.
"At first I wasn't sure I wanted her to apply, because it was my thing," Bergeret-Simpson said of Pomeroy. "Once she got in, it was great to have her with me and to share the experience with her."
The group met monthly at the Sawyer Building downtown with members from Northern Nevada communicating via videoconference. Members spent much of the first year training.
"We learned a lot about how to be active listeners," Bergeret-Simpson said. "We also learned how to give great presentations."
Eventually, the NYL members moved on to drafting bills. Each member drafted their own bill, then brought it to the group for deliberation.
"I like the bill drafting because it incorporated writing, political knowledge and knowledge from a lot of fields," said District 10 youth legislator Skyler Bradley, 17, who attends Las Vegas Academy.
Bradley was called in to fill a vacated position and missed out on the training portion. He had to jump into the middle of the process, but he found that exhilarating. He also was pleased to find he had friends in the Youth Legislature he met through extracurricular activities, including the National Model United Nations. He was one of several people who noted that they could collaborate and compromise with people with different political views.
"We all worked together quite well," said Savanna Strott of District 2. "We all want the best for our state and the people, and we were able to make it work and discuss things rationally and come to a consensus. Once the final bill proposal was chosen, everyone was working together to make it the best proposal we could."
Youth Legislature members are set to present a proposal advocating that Nevada high school classes include discussion of crimes involving those younger than 18 such as sexual assault, sexual consent definitions, alcohol and controlled substances and destruction of property.
"A lot of people mistakenly call the Nevada Youth Legislature a program," Pomeroy said. "However, it's actually an acting government body."
Pomeroy proposed a similar bill that advocated for teaching financial responsibility in classes. It was the runner-up to the bill that was selected.
"Even though we only get to present one bill to the Legislature, we all have relatively good relationships with the senators that selected us," Bergeret-Simpson said. "That enables us to ask them potentially to submit our legislation."
Most members of the NYL are seniors with plans to go on to college and pursue postgraduate degrees.
"I really want to get involved in state-level politics," Bergeret-Simpson said. "The Nevada Youth Legislature really showed me what your state can do for you."
To reach East Valley View reporter F. Andrew Taylor, email ataylor@viewnews.com or call 702-380-4532.
YOUTH LEGISLATURE
Twenty-one high-schoolers serve two-year terms, each representing one of Nevada's senatorial districts. They're appointed by state senators, with input from Assembly members.
Potential members may fill out an application at tinyurl.com/NVylapp. The deadline to apply for the 2017-19 session is March 31.
For a list of this year's Youth Legislature members, click here.