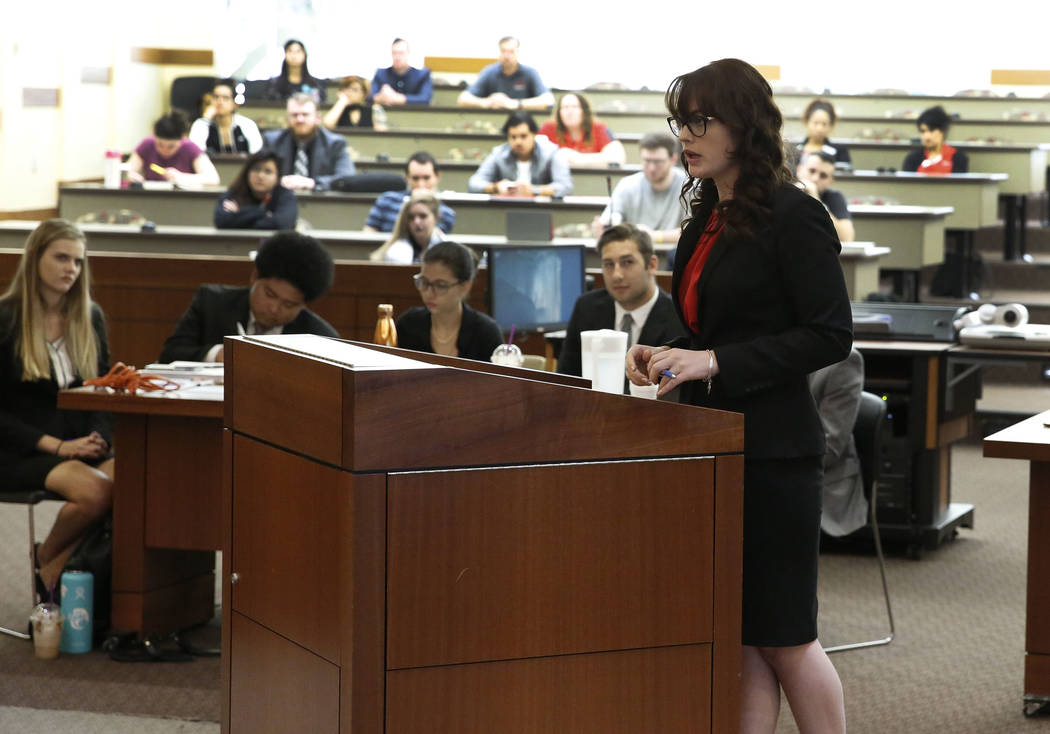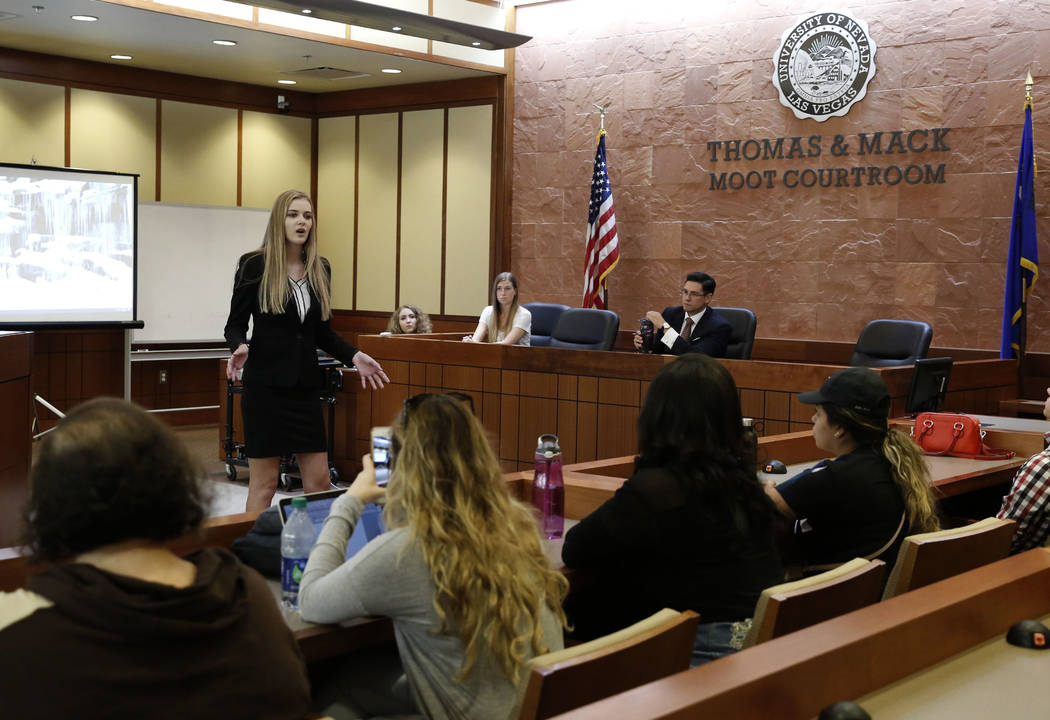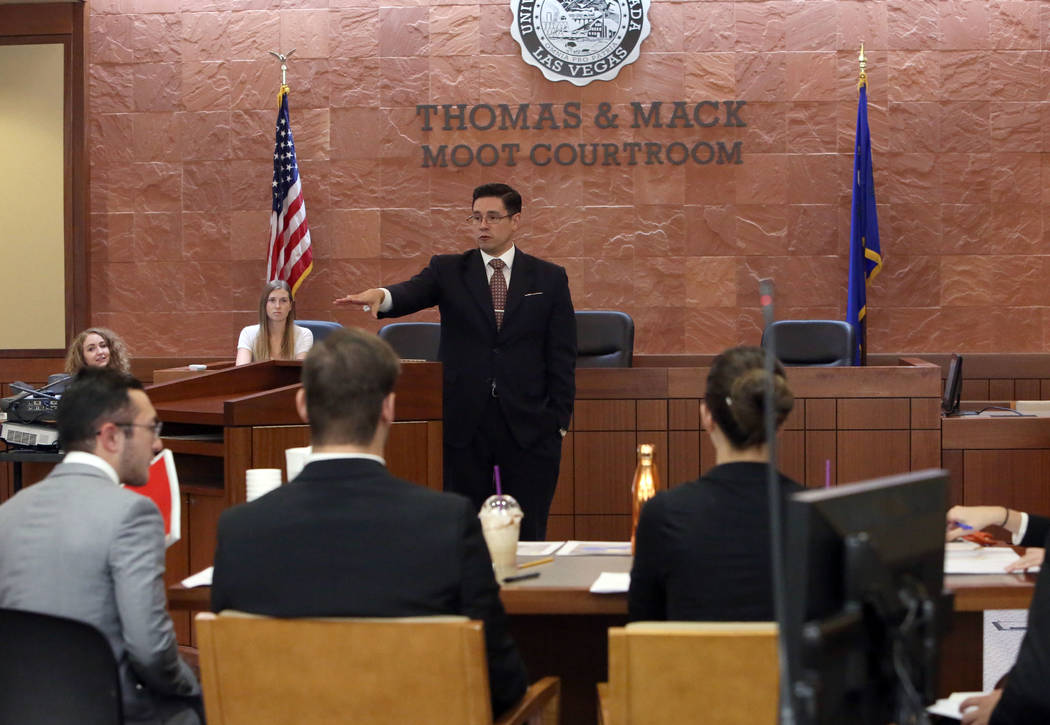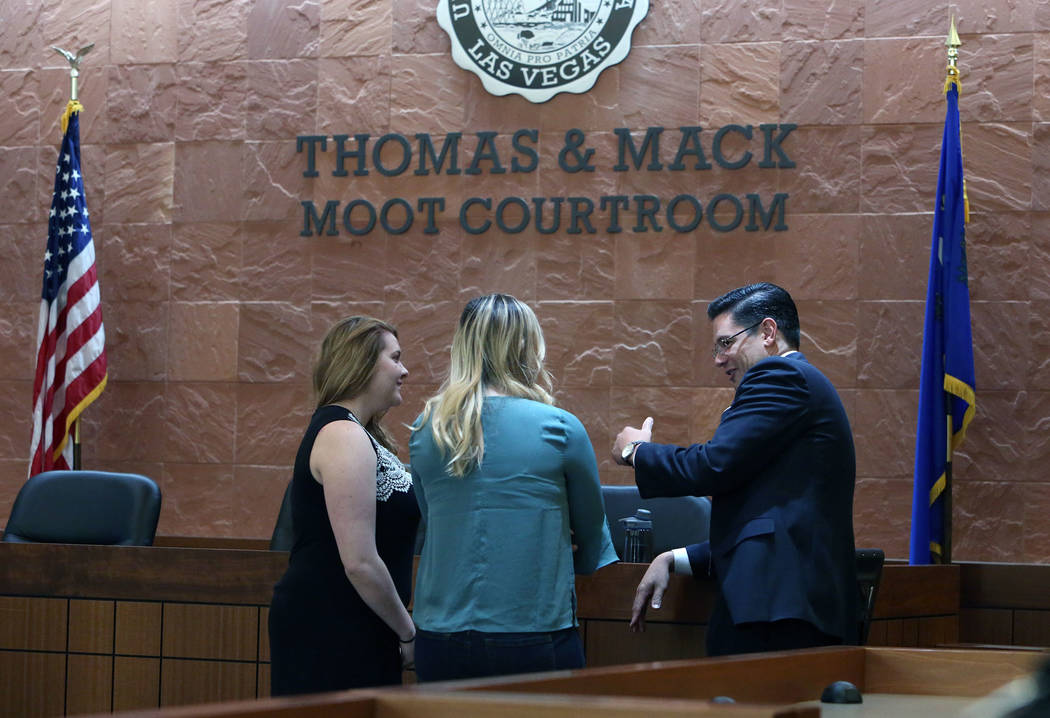 UNLV senior Jamie McInelly confidently tells a jury of students that she's seeking a charge of attempted murder.
Fortunately for the defendant, the fictitious courtroom battle is an activity for UNLV's mock trial team.
"I thought I wanted to go to law school, but it wasn't until I joined the team that I realized this is a big dream and it's what I want to do with my future," McInelly said.
The mock trial team competes against other universities' teams, and teams are given the same case file to pore over before competition begins. This year, teams were given a case revolving around an attempted murder of a woman whose husband was having an affair with the would-be killer.
The cases are crafted to ensure that either the defense or the prosecution can win.
"If you're really trying to prove your case as the prosecution, what do you need to get 12 people to see it your way?" asked Jason Mitchell, the team's coach. "If you're … trying to defend someone, what do you need to disprove; what do you need to put reasonable doubt into the minds of the jurors?"
McInelly's teammates called witnesses to the stand, sometimes struggling to work through the procedural steps of court.
This is the program's third year at UNLV, Mitchell said. It's open for any undergraduate student, and the club practices in class, as well as twice a week out of class.
The team welcomes students of any major, not just those looking to go to law school, program director Joel Lieberman said.
"Some of it is really just great to see students who are shy and really have great difficulty with public speaking learn to develop as a person and gain that confidence to be able to go up in an adversarial situation and stand their ground," he said.
The team will compete in five or six tournaments beginning in October, Lieberman said, and UNLV hosts the Rebel-Trojan tournament Jan. 21-22. After those competitions, 25 regional tournaments are held across the country, according to the American Mock Trial Association.
UNLV will participate in a regional tournament in Tempe, Arizona, in February. The top eight teams go on to one of eight Opening Round Championship Series events nationwide, in Fresno, California, in March. The top six teams at each of the eight championship tournaments go on to face off April 20-22 in Minneapolis.
Contact Diego Mendoza-Moyers at dmendozamoyers@viewnews.com or call 702-383-0496. Follow @dmendozamoyers on Twitter.
Online
For more information about mock trial, visit collegemocktrial.org.