11-year-old Meadows School student wins international history competition
Updated September 3, 2023 - 10:16 pm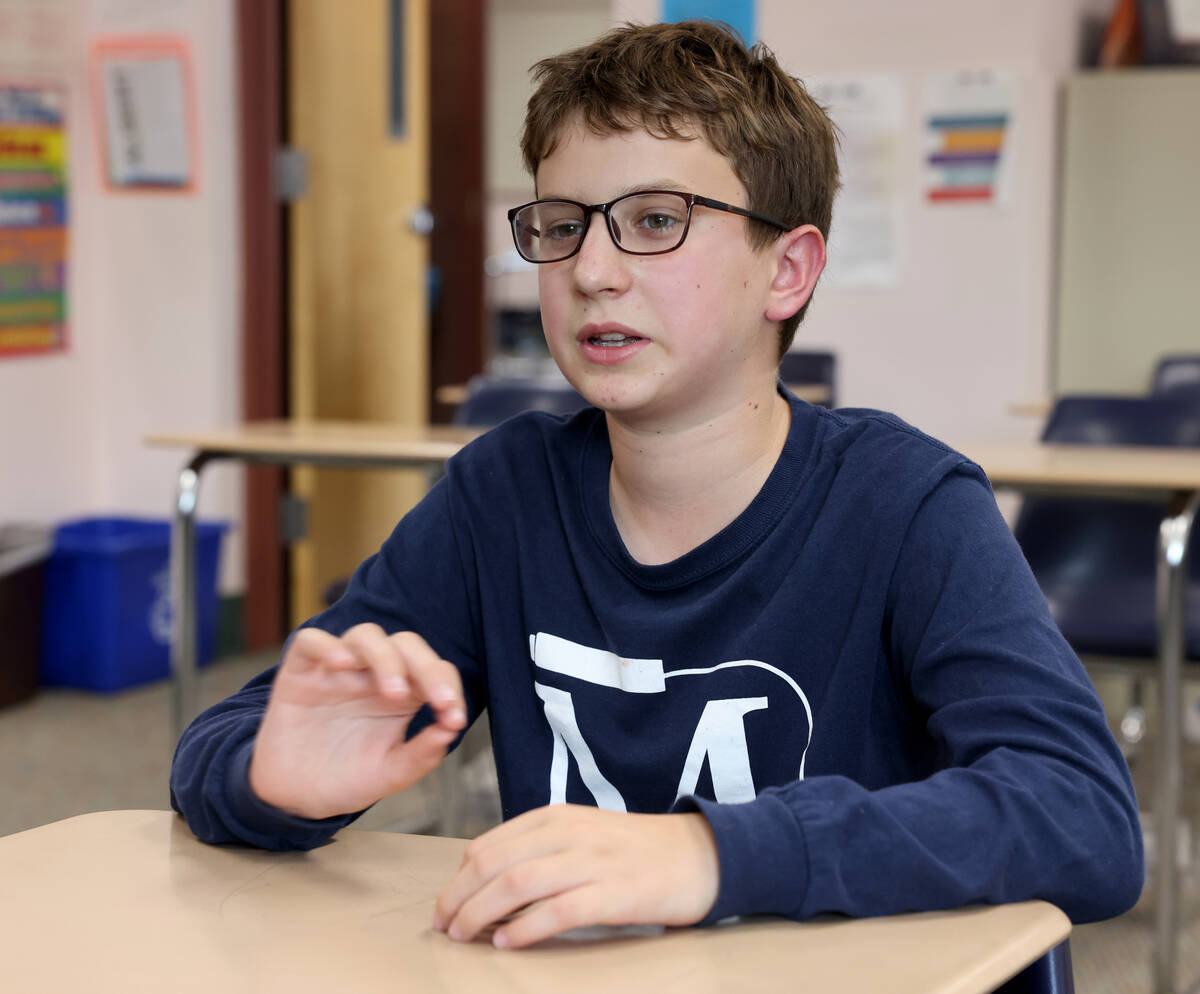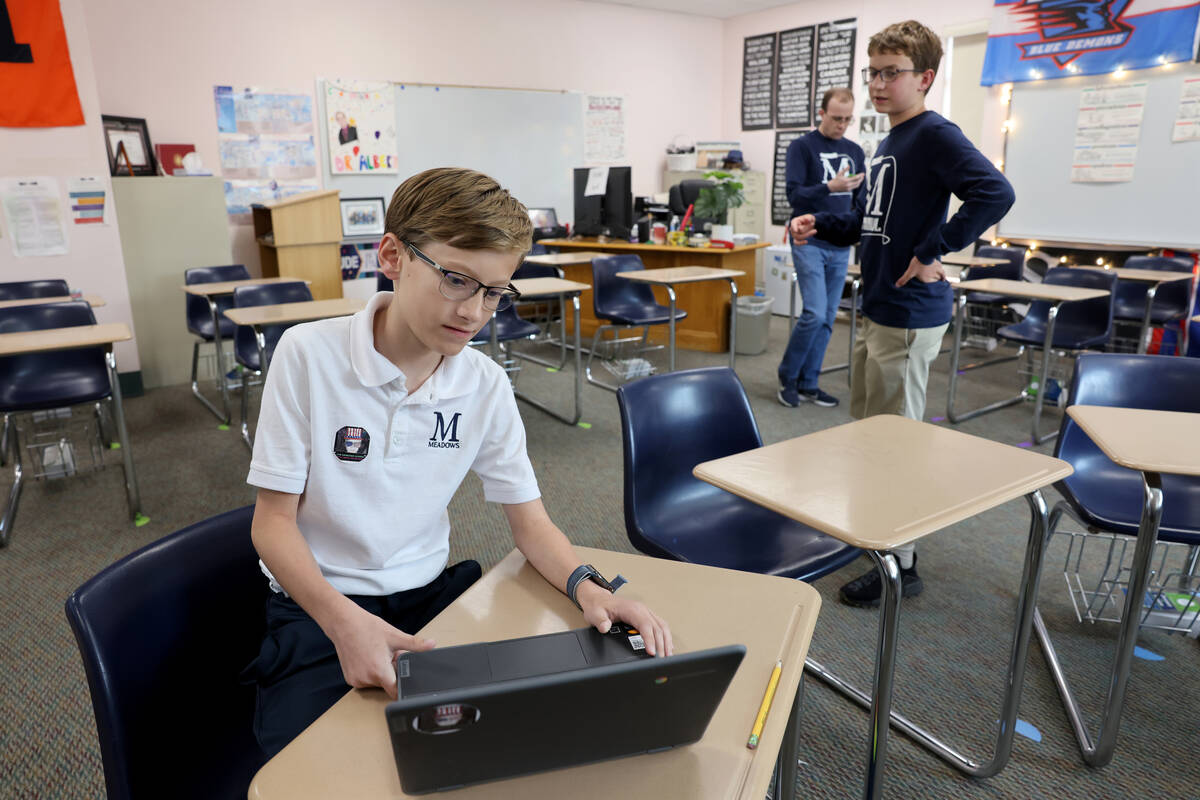 Sixth grader William Russman started reading history books at a young age. Little did he know back then how far his penchant for history would take him by age 11.
The Meadows School student doesn't remember quite when he started devouring books about the past, but William noted, "It got to the point where that's all I was reading."
Last school year, he found himself getting bored in his fifth grade class because he already knew the material offered during history lessons.
That's when Linda Bookout, his fifth grade teacher at the private school in Summerlin, recommended that he participate in a regional history bee.
William decided to give it a try. He never expected to make it all the way to an international competition and outperform students from across the world.
For William, the road to the international competition began with a series of tournaments organized by International Academic Competitions.
William started his run with a regional competition in February at the Alexander Dawson School in Las Vegas. He came in first in the fifth grade division.
His performance landed him in the National History Bee, held in June in Arlington, Virginia. He placed 64th in the fifth grade division.
Competing at nationals proved "slightly stressful," William said, because there were a lot of students. Another challenge: Some students used the strategy of memorizing answers to questions "instead of actually learning," he said.
In late July, William competed in the International History Olympiad in Rome. He was part of the U.S. south team, which won a gold medal in the elementary division.
William — who says he's most interested in 20th century history — and his teammate Miller Angevine from Georgia made it through multiple rounds.
He said he found the format of the competition "really confusing" in Rome and was surprised when the duo kept advancing in the competition.
Joy and stress
The international competition "felt very intense," William wrote in an email. "I feel like everyone was there to win and it made everything all the more competitive. The pressure is slightly nerve-wracking and it gets into your head when your opponents start getting points or go on a streak."
William noted some strategy involved with the history bowl. Depending on the team's name, you can kind of guess where they're from and what they know, he said.
For example, when they were playing against a team from the United Kingdom, they steered clear of choosing a category about European monarchs.
Asked how he reacted to their win, William responded with a single word: "joy."
His father also weighed in. "We are proud of William's achievements and hard work in history and are excited to follow and support him on his academic journey," Jared Russman said via email.
Not the only one to make national stage
William wasn't the only student from The Meadows School to compete on a national stage this year.
Elliot Lefebvre earned third place in the sixth grade division at the National Science Bee in June.
"Before I did Quiz Bowl, I loved reading science books," Elliot, now a 12-year-old in seventh grade, said, explaining his penchant for science.
Brian Siegel, interim K-8 director at The Meadows School, said the school hopes to feed students' passion for knowledge and discovery.
"We are proud of William, Elliot, and so many of our other students who excel in these specialized programs we are able to offer," he wrote via email.
For his part, Elliot said the national championship proved to be a "very welcoming atmosphere."
"I felt like it was the perfect place for people like me who are avid for science and history," he said via email. "And I felt like I fit right in. It was also exciting because in a competition like that, just one point can change the tide of the game."
Elliot said he also enjoyed spending time in the nation's capital, where the science bee took place.
"I just think it was such a fun experience in D.C.," he said.
'Celebration of learning'
Elliot and William are among 46 students in sixth through 12th grades participating in The Meadows School's Quiz Bowl program, an extracurricular activity.
"The game itself is a celebration of learning," said Quiz Bowl coach Matt Albert, who is a sixth grade English teacher at The Meadows School.
It values students who can see the interdisciplinary nature of subjects, he said.
The school is part of the Las Vegas Quiz Bowl Alliance, which includes teams from public and private schools across the valley.
The regular season, which starts in September, includes about 20 matches. The program uses a national-style "pyramidal format" with harder clues given first.
'Just the pursuit of knowledge'
At The Meadows School, Albert helps students with off-season training plans. Depending on their interests, they could focus on one area or a broader range of subjects.
Albert said he meets with each student to come up with interactive ways to learn — not just memorizing lists.
One of Elliot's goals was to gain an understanding of quantum physics. William's plan included learning the order of U.S. presidents.
Quiz Bowl students also receive a book about 99 topics that come up most frequently during competitions and are required to learn it, Albert said.
In addition to practicing in person, students use an online trainer — a real-time app called Protobowl — that feeds them Quiz Bowl-style questions to answer.
Both William and Elliot said they'll continue participating in Quiz Bowl competitions.
The competitions are fun, Elliot said, noting that what he likes best about them is "just the pursuit of knowledge."
Contact Julie Wootton-Greener at jgreener@reviewjournal.com or 702-387-2921. Follow @julieswootton on X.