2 more CCSD schools cancel classes after staffing shortages
Updated September 8, 2023 - 9:42 pm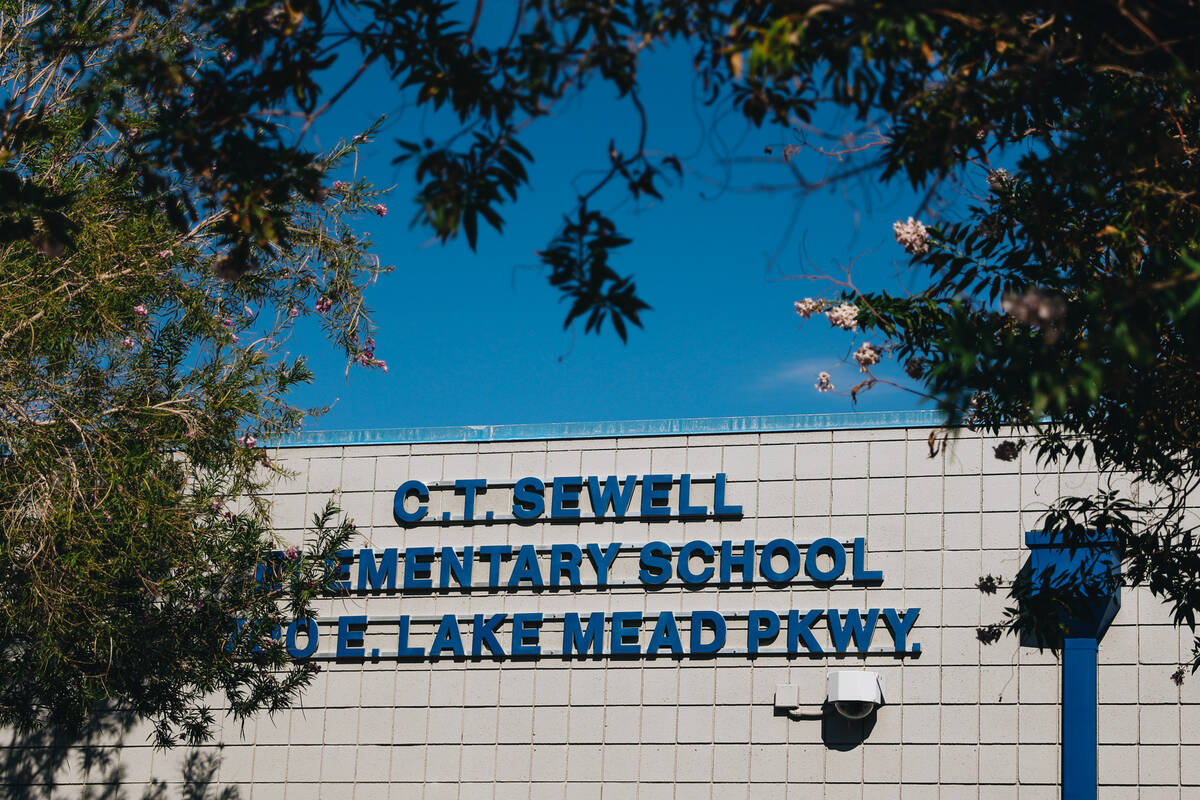 Classes were canceled Friday at two Clark County School District campuses because of unexpected teacher shortages.
Sewell Elementary School in Henderson and Givens Elementary School in Summerlin both sent messages to parents Friday announcing the closures.
It was not immediately clear what caused the staffing issues, which have occurred four days within the past week at some campuses.
Rebecca Garcia, an administrator for the "CCSD Parents" Facebook group, said staffing issues have been happening for a week and she questioned why something isn't being done about it.
She also noted there are people in the district who have a teaching license but aren't in classrooms.
"There has to be a way for CCSD to better plan staffing contingency so that we're not shutting down a school," Garcia said.
She said there is more widespread concern among families since closures are rolling out across the Las Vegas Valley, leaving them to wonder if their school will be next.
Gibson Elementary School in Henderson was closed Tuesday. And Southeast Career Technical Academy and Monaco Middle School each had one day where they relocated some students to large areas on campus.
The Las Vegas Review-Journal requested information from the school district about the number of employee absences and substitute teacher availability for each of the affected schools, but hasn't received a response yet.
The district also didn't respond to questions Friday about who makes the decision to close a school and whether affected students will have to make up those days.
The Southern Nevada Health District is aware of the school closures, "but we have not received reports of an outbreak associated with any particular illness or symptoms at this time," spokesperson Jennifer Sizemore wrote via email Friday.
It's not the first time in recent years that staffing shortages have spurred school closures or combining classes in large spaces such as auditoriums.
The district called a "five-day pause" — two canceled school days combined with a holiday weekend — in January 2022 for all campuses because of a surge in COVID-19 cases that led to extreme staffing shortages. Students had to make up those days.
The district is facing a teacher shortage, with more than 1,000 positions listed on its hiring website.
'Bargaining leverage'
The district said in a statement earlier this week about the Gibson closure that "CCSD students should not be used as bargaining leverage by (the Clark County Education Association) or its members."
But union officials say the staffing shortages over the last week aren't associated with any union actions amid contentious collective bargaining.
The district filed a lawsuit in late July against the teachers union seeking a court injunction to prevent a future teacher strike. Public employees aren't allowed to strike in Nevada.
Last month, a judge denied the request, saying there's not enough evidence that a strike will occur but that she found CCEA Executive Director John Vellardita's statements concerning and she could reconvene court with one-day notice if needed.
Union officials said last week that a strike isn't an option on the table.
The definition of a "strike" under state law includes, "stoppage of work, slowdown or interruption of operations," and an "absence from work" by employees under any excuse such as illness "which is not founded in fact."
Two school closure messages
Both messages Friday told parents at Sewell and Givens, "Please do not send your children to campus today."
"There are an unexpected number of licensed staff/teachers absent from school today and we have made the difficult decision to not have school today," according to the messages. "We appreciate your understanding and apologize for the inconvenience."
The city of Las Vegas provided child care for Givens families Friday at Veterans Memorial Community Center.
As of 10 a.m., about 20 children were at the center, a city spokesperson said.
The city of Henderson offered its "Battle Born Kids" program at Silver Springs Recreation Center "for parents needing childcare due to unexpected school closures," according to its website.
There weren't any children enrolled as of 9:30 a.m.
Monday is a staff development day so no school will be held that day for all district students.
Parent reaction
Andrea Brai, who has a son in second grade at Sewell, said she received a message a little less than an hour before school was supposed to start Friday about the closure.
"Honestly, I wasn't surprised because it seems to be a trend here every day," she said.
Brai said she received three messages from the school, including about the city of Henderson offering child care and that students could go to Sewell to receive lunch.
She said the closure was "actually more of a disruption" for her son than some students because he has autism and changes in routine are difficult.
Brai said her mother was able to watch her son on Friday, noting she wouldn't have been able to go to work otherwise. "I was one of the lucky ones."
She said the situation with the school closure was "just really upsetting."
"Calling off (work) isn't always an option and can mean us getting fired," she said, adding that teachers can do it and they're not worried about that repercussion.
"They're just not thinking about the children first, honestly," Brai said.
There are many different comments in the "CCSD Parents" Facebook group about staffing issues and school closures, Garcia said.
"Obviously, there are some who want to see the contract settled so that this doesn't continue, even though officially we don't know if that's why it's happening," she said.
Other parents are frustrated with the reality that it's affecting the ability of children to go to school, she said.
For families, finding out about a school closure an hour before children are supposed to be there makes it really difficult to figure out work and childcare arrangements, Garcia said.
She said there's more frustration among families with children who have special needs since closures impact their routine and services they're supposed to get.
Although cities are opening up recreation centers to provide accommodations, for most families "oftentimes, it's really hard to pivot on the fly with child care," Garcia said.
Also, people in Las Vegas often don't have the same family support systems as other communities, she said.
Garcia said parents are also pointing out the district's emphasis on student attendance. "Now, schools are just being closed."
On Tuesday — the same day as the Gibson closure — the district announced a new campaign called "Every Day Matters" to address chronic absenteeism.
Contact Julie Wootton-Greener at jgreener@reviewjournal.com or 702-387-2921. Follow @julieswootton on X.