4 topics from CCSD's State of the Schools speech
Updated January 27, 2023 - 5:10 pm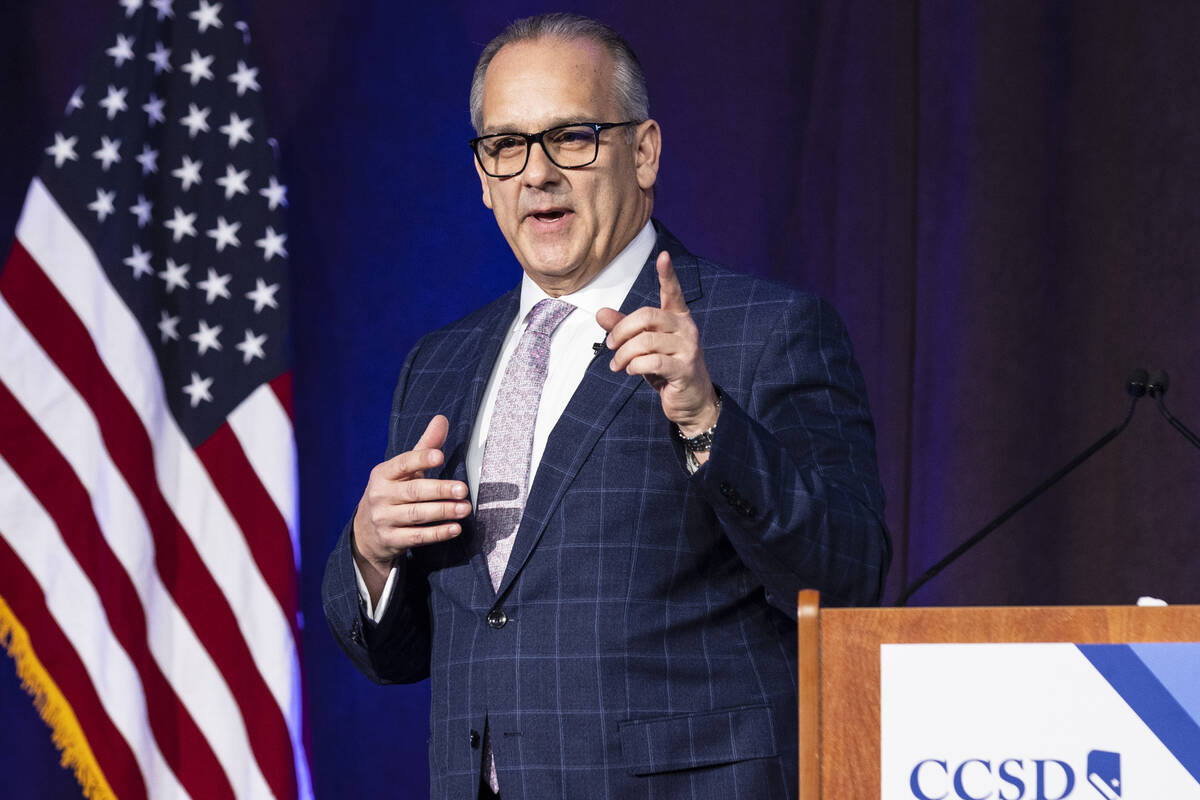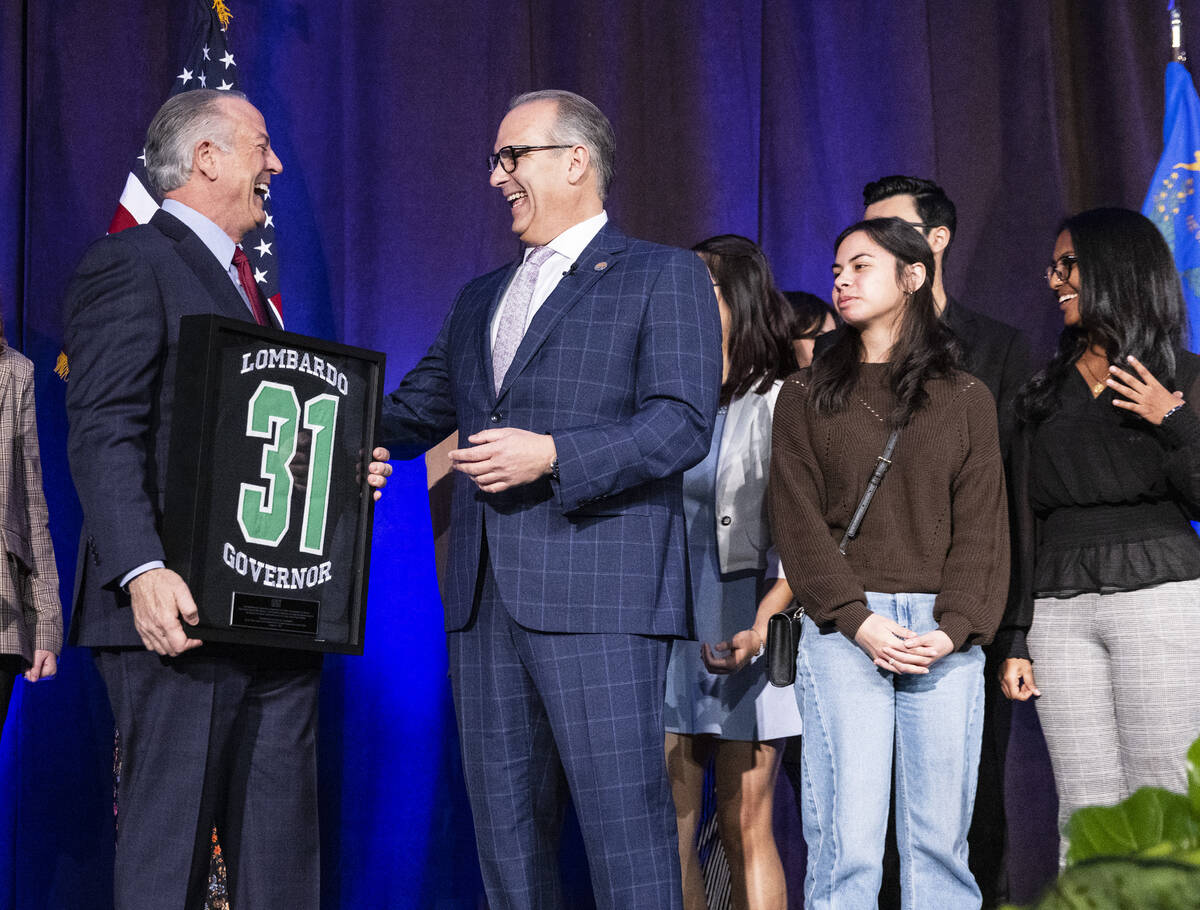 Clark County School District Superintendent Jesus Jara called for boosting state funding for education while acknowledging challenging working conditions for teachers.
Jara delivered his yearly State of the Schools address Friday at Resorts World Las Vegas. The speech was also livestreamed online.
To improve academic outcomes for children in the nation's fifth-largest school district — with more than 300,000 students — teachers must be paid their worth and given more time, and their skills must be valued, Jara said.
It's also necessary to "restore respect in the profession" and optimally fund public education, he said.
Jara's message to educators: "The struggles you face are real and we hear you."
Teachers have said they're fearful, overwhelmed, disrespected, overworked and underpaid, Jara said, yet they continue to show up to work because they believe in the power of education.
All children deserve a high-quality educator, Jara said. Students succeed when teachers succeed — when working conditions facilitate educational success, he said.
Beginning in February, Jara said he will meet with teachers throughout the school district for roundtable discussions.
Jara also said wellness centers for support professionals and police will open in the "coming months."
The district is facing a teacher shortage that has led to effects such as larger class sizes, teachers selling preparation periods in order to cover vacancies and fewer class offerings.
On the topic of academics, Jara said the district now has 23 elementary schools that are part of "The Transformation Network" that's providing additional academic support and interventions.
Jara recognized Pablo Macias Lopez, a Legacy High School student who will be the first in his family to go to college. He earned a $350,000 scholarship to Yale University.
During the event Friday, with the theme "We are CCSD," students participated through speaking roles and performances. The event included a moment of silence for 16-year-old Ashari Hughes, a Desert Oasis High School student who died this month after collapsing while playing in a flag football game.
Prior to Jara's remarks, students presented Gov. Joe Lombardo, a Rancho High School alumnus, with a Rancho game jersey.
"Obviously, this is not about me today," Lombardo told the audience. "This is about CCSD and the superintendent's ability to convey what is going on in the education space."
Lombardo said Jara asked him to speak at the event. His remarks come just days after his State of the State address Monday, where he called for an additional $2 billion in K-12 public education funding for the biennium.
Here are other topics that came up during the address:
School safety and facilities
Addressing school safety, Jara said calls for service and violence on campuses have decreased. He didn't provide specific numbers.
An instant alert system is now in use at every campus and department, he said.
The district also reallocated $85 million for campus security, including single points of entry, perimeter fencing and security camera upgrades, Jara said.
Regarding sustainability efforts, Jara said that starting this year, the district will spend $290 million installing artifical turf at schools — in addition to high school football fields already completed — saving about 500 millions gallons of water annually.
Call for better funding
Student performance and proficiency rates for every student group must improve, Jara said.
Education must be optimally funded, according to the superintendent, who also pointed to the state's low national education rankings.
"If our children are to achieve better outcomes, we must focus on supporting them optimally," he said.
As long as Nevada funds education below average, "our students will continue to suffer the consequences," Jara said.
School district breakup effort
Jara thanked those who declined to sign on to the effort seeking to break up the school district. His remarks were met with applause.
"Because if we are going to prepare our children with the best education that we can fund, we must recognize the value of public education, and why it's so critical to community cohesion and workforce preparedness," he said.
The Community Schools Initiative — a campaign that sought to break up the school district and allow local governments to create their own districts — announced in December it didn't have enough valid signatures after a state review to go before the legislature this session.
Jara said in his Friday remarks that pitting urban children against suburban children "is not the recipe for success."
He said he wants to challenge local municipalities to ask how to help children before they come on to school campuses.
More than 10,000 Clark County School District students "and growing" are homeless, Jara said, and school employees are providing food.
Later in the speech, Jara also said he welcomed the school choice conversation, saying the district has the most robust options for school choice in the state, including through nationally recognized magnet schools.
Serving immigrant families
Jara began his speech by talking about educators he encountered during his time as a student in Florida, including a football coach who made a difference in his life. He said that at that time, he was an undocumented immigrant.
In Nevada, 17 percent of families are undocumented, "just like my family," Jara said, noting it's the highest per-capita rate in the country.
He also talked about new school district facilities that opened this school year, including Global Community High School — which serves new immigrants — and Central Technical Training Academy, which share a campus on South Maryland Parkway.
The school district also opened its Family Support Center, which focuses on newcomer and refugee families, this fall. It provides services such as classes for parents and an onsite health clinic.
Contact Julie Wootton-Greener at jgreener@reviewjournal.com or 702-387-2921. Follow @julieswootton on Twitter.