'A really special day': Miller School students celebrate graduation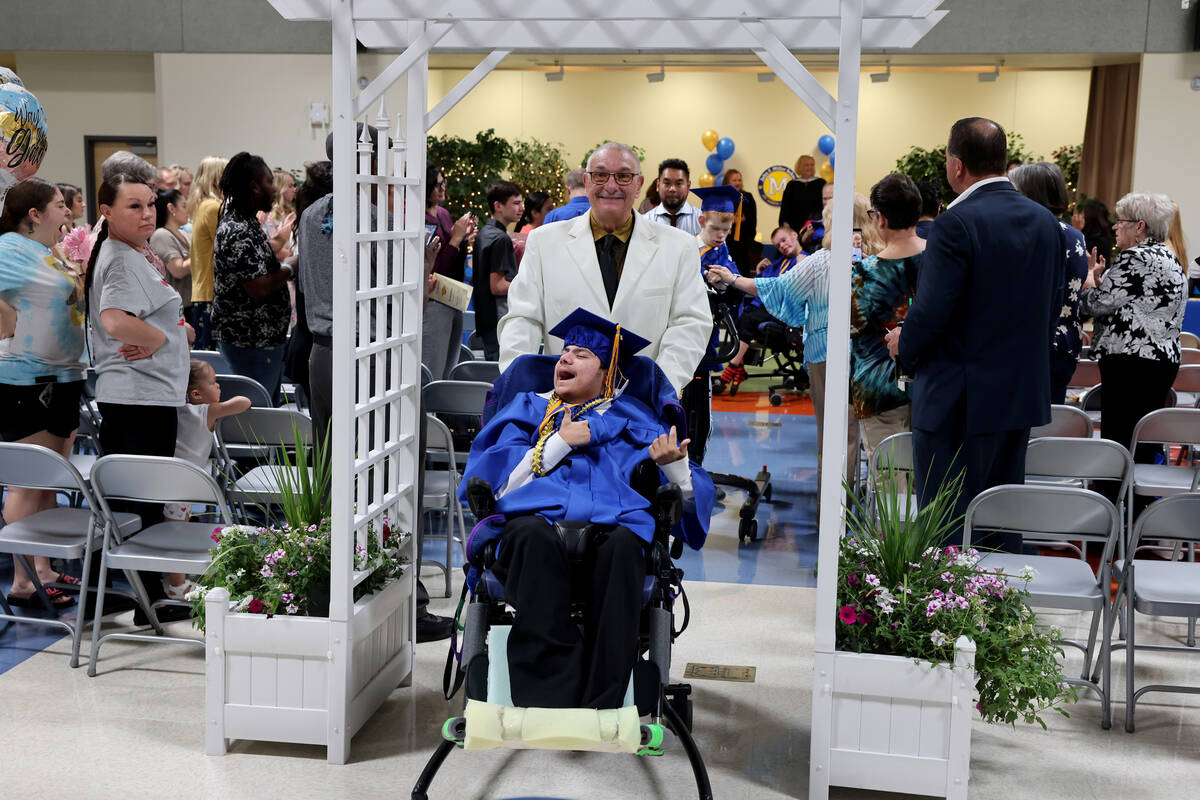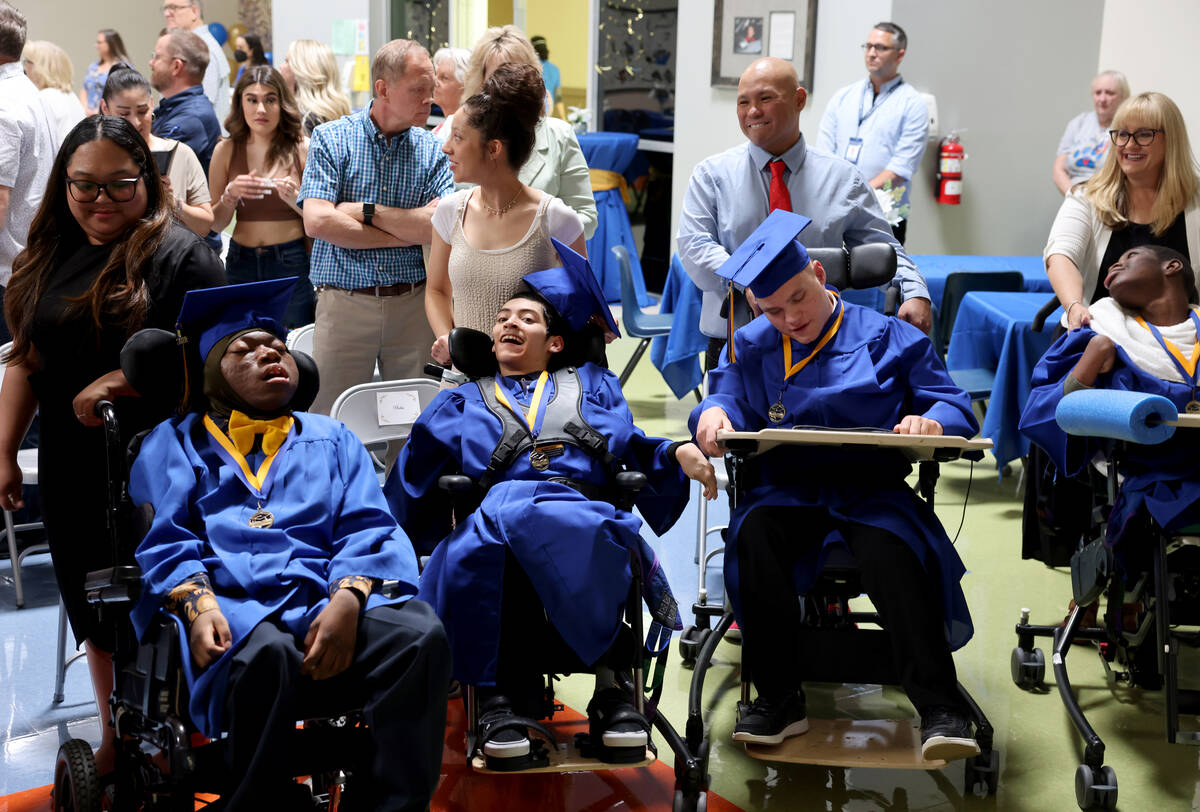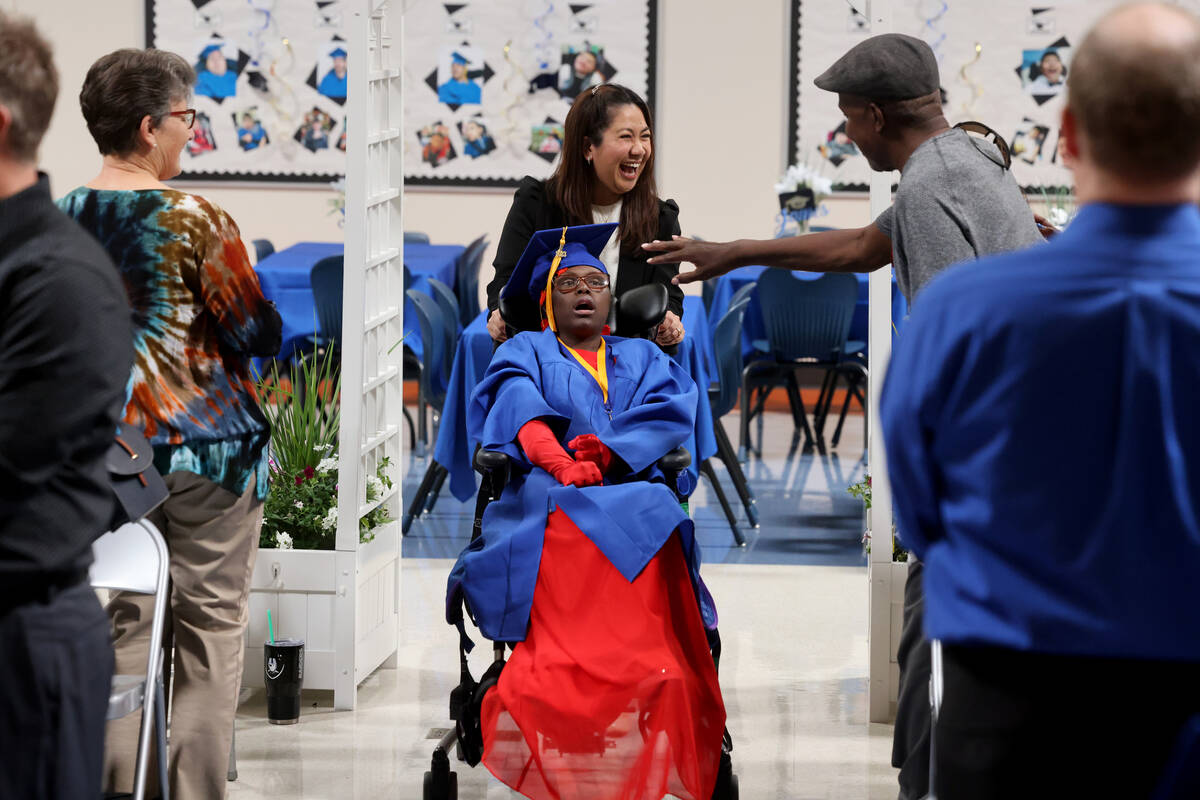 Just before his son's high school graduation ceremony, Jose Escobar conveyed his emotion by putting his hand over his heart.
On Friday, Alexander Escobar-Gomez — a 17-year-old who has cerebral palsy — received his diploma at the Miller School in Las Vegas.
Alexander, who has received special education services since he was a 3-year-old preschooler, plans to continue at the school for another several years.
"It's a blessing," Jose said.
He said the school is amazing and the family hasn't had a single issue: "They are on top of everything."
Miller School, part of the Clark County School District, serves students ages 3 to 22 who are medically fragile and have disabilities.
"This is a really special day," Assistant Principal Angela Pajak said before the graduation ceremony. "This is one milestone in students' lives that's like everyone else."
The school had four graduates this year and most will continue at the school.
They're among an estimated 21,000 high school seniors in the nation's fifth-largest school district who are expected to graduate this month during more than 60 ceremonies.
Friday's ceremony at the Miller School also recognized 10 graduates from 2022 and one from 2020.
Last year's graduation ceremony was canceled the day before it was supposed to happen because of a COVID-19 outbreak, Pajak said, so those graduates finally had their chance to be recognized.
Stoney Alder — a 19-year-old who has cerebral palsy and epilepsy — was a star student in the class of 2022, his mother Kristina Alder said before the ceremony. He remains at the campus.
"We're thrilled," she said about graduation day.
Stoney's father — who shares the same name — said, "We're so lucky to get to celebrate it twice."
Stoney previously attended Stewart School, also a special education school, before making the transition to Miller in sixth grade.
Celebrating the graduates
A multipurpose room at the Miller School was decorated Friday with pictures of each graduate. Tables, each reserved for a family, were covered in blue tablecloths with graduation-themed confetti sprinkled on top.
Graduates — most of whom were using wheelchairs — were each assisted by a school employee as they processed into the room wearing blue caps and gowns as "Pomp and Circumstance" played.
Each one stopped underneath a white arch for a moment so their family members could take pictures.
Members of the senior class have overcome many obstacles, Principal Elizabeth Poglitsh told the audience. "Without the love and dedication of their family, they would not be here today."
School Board trustee Linda Cavazos — whose district includes Miller School — said she's inspired by the dedication and heart of the school community.
Cavazos and Monica Cortez, chief of health and student services for the school district, presented the diplomas. The principal read remarks about each graduate written by their teacher.
In the audience, family members laughed at some of the anecdotes and some wiped away tears.
Alexander arrived at the school as a baby-faced young boy, according to his teacher's remarks, but now he's grown up and sports a mustache.
He was described as someone with a good-natured attitude.
Stoney has a strong will and determination, and often shares a witty phrase or two, his teacher wrote.
After the ceremony — which lasted about 30 minutes — there was a lunch and reception for graduates and their families, followed by senior prom.
Kristina said her son Stoney, one of the 2022 graduates, brings joy and light to their family.
His sisters doted on him growing up and he influenced their own life choices, including one who is now a special needs teacher in the school district, Kristina said.
"We just feel like he was a gift from God," she said.
Contact Julie Wootton-Greener at jgreener@reviewjournal.com or 702-387-2921. Follow @julieswootton on Twitter.