ACT test scores put Clark County college-ready students at less than 10 percent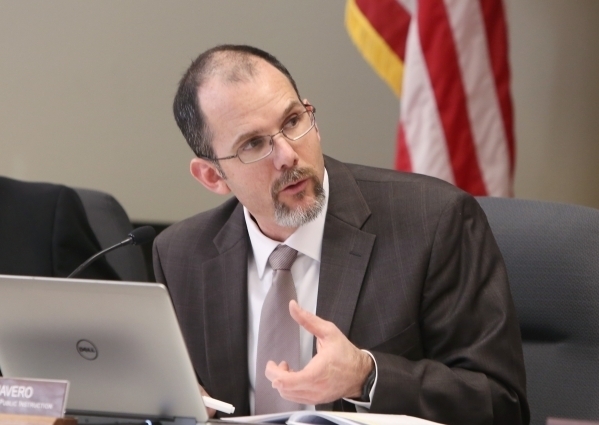 About 72 percent of seniors in the Clark County School District graduate on time, a more-than-double-digit-percentage increase from five years ago.
However, less than 1 in 10 high school juniors in the nation's fifth-largest school district are ready for college, according to new ACT scores released Monday.
In a repeat from last year, only 9 percent of juniors who completed the college-entrance exam last spring scored well enough to be considered college-ready in four core subjects — reading, math, English and science. Statewide, 10 percent of students met that benchmark.
The Nevada Department of Education reported Monday that the average composite score on the ACT was 17.4 out of 36, unchanged from last year. This is the second year that virtually all 11th-graders in the state took the exam, rather than just students already bound for college.
Although those numbers were stagnant, graduation rates in Clark County and across the state have risen over the past several years, raising questions about the value of high school diplomas if students can't succeed in college.
The district's graduation rate, for example, rose from 61.6 percent in 2012 to 72.1 percent last year. The state rate in 2015 reached 70.8 percent, up from 63.1 percent four years ago.
Of the Clark County graduates, nearly 61 percent were placed in a remedial math or English course once they entered a college or university in Nevada. Statewide, the average remediation rate was 57.7 percent. "Grad rates are on the rise nationally. We've had more than ever," said Steve Canavero, the state superintendent of public instruction.
However, "there are more folks out of work or displaced or kids who aren't prepared," he added. "We also know there's a question there of alignment with post-secondary success. That's undeniable (and) an issue in our state."
Still, Canavero highlighted initiatives started last year to help improve student performance.
A state committee, for example, has spent the past several months re-evaluating requirements for graduation. And Canavero wants to see new types of high school certificates that indicate each student's specific skills in college and the workforce.
In Clark County, more than 1,900 graduating seniors this year earned nearly 2,200 certificates of skills attainment. "There's a wonderful opportunity to align experiences with students, whether they're dual enrollment (programs) or workplace learning opportunities," Canavero said.
Students who earn a college-ready score, according to the ACT, have a 75 percent chance of getting a C or higher in a corresponding college course. Education officials expected the state's average composite score, which was 21.2 in 2014, to decline after mandatory participation went into effect last year.
Grant Havenold, former principal of Sunrise Mountain High School in the eastern valley, described the ACT as "probably the best estimate" of whether students are college-ready. Nonetheless, he cautioned against comparing local scores with those in other districts and states.
"You almost have to have an asterisk since certain states only test a percentage of students compared to Nevada testing all," said Havenold, an assistant chief student achievement officer. He was named as the state's principal of the year in 2015.
Havenold noted that Nevada education officials haven't yet set an official passing score for the mandatory test, which could affect student willingness to perform well.
"Whenever you throw a test at a 17-year-old and you let them know the only requirement is to take it and not necessarily pass, you sometimes will get a result that is skewed a little bit based on the attitude of the student," Havenold said.
A spokesman for the state department said late Monday that he was unaware when a passing score would be set for the ACT as a requirement for graduation.
Nevada is one of 10 states that require all 11th-graders to take the exam. The number of juniors who took the test, according to the ACT, increased from 29,954 in 2015 to 31,851 this year, a 6.3 percent increase.
The Associated Press contributed to this report. Contact Neal Morton at nmorton@reviewjournal.com or 702-383-0279. Find him on Twitter: @nealtmorton