AP computer science course participation takes off in Nevada
February 20, 2018 - 9:07 pm
More Nevada students took Advanced Placement computer science courses and exams last year amid efforts at the federal, state and local levels to guide more students into science and engineering fields.
After a push last year from Gov. Brian Sandoval, more Nevada high schools began offering an AP computer science principles course and students responded. In spring, 483 Nevada students took an AP computer science exam, and just more than 61 percent passed.
That's more than four times as many as the 104 students who took the test in 2016 and a tenfold increase from just 47 students in 2007.
That's faster than the national growth rate. Last year, 103,797 U.S. students took AP computer science exams, compared to 57,937 the previous year. In 2007, 20,041 students took such exams.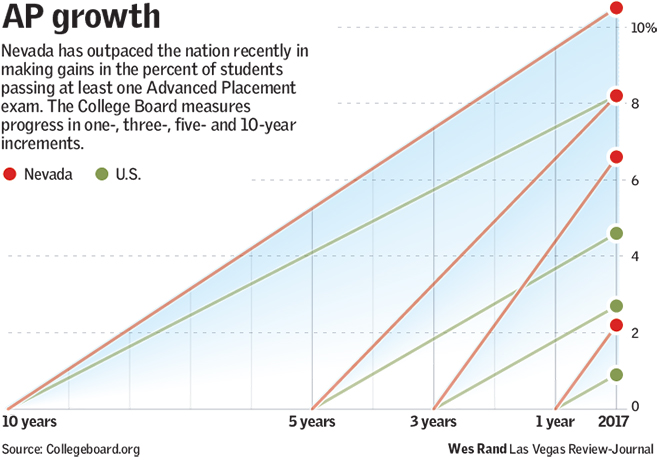 Nevada also increased participation among groups often underrepresented in science fields. Data shows 125 females took the computer science exam in 2017, compared with 22 in 2016.
More minority students also took the exams last year, including 18 black students (up from two the preceding year) and 123 Hispanic students (up from 12 in 2016).
Contact Meghin Delaney at 702-383-0281 or mdelaneny@reviewjournal.com. Follow @MeghinDelaney on Twitter.
Related
AP exam figures give Nevada rare chance for education celebration