AP exam figures give Nevada rare chance for education celebration
February 20, 2018 - 9:04 pm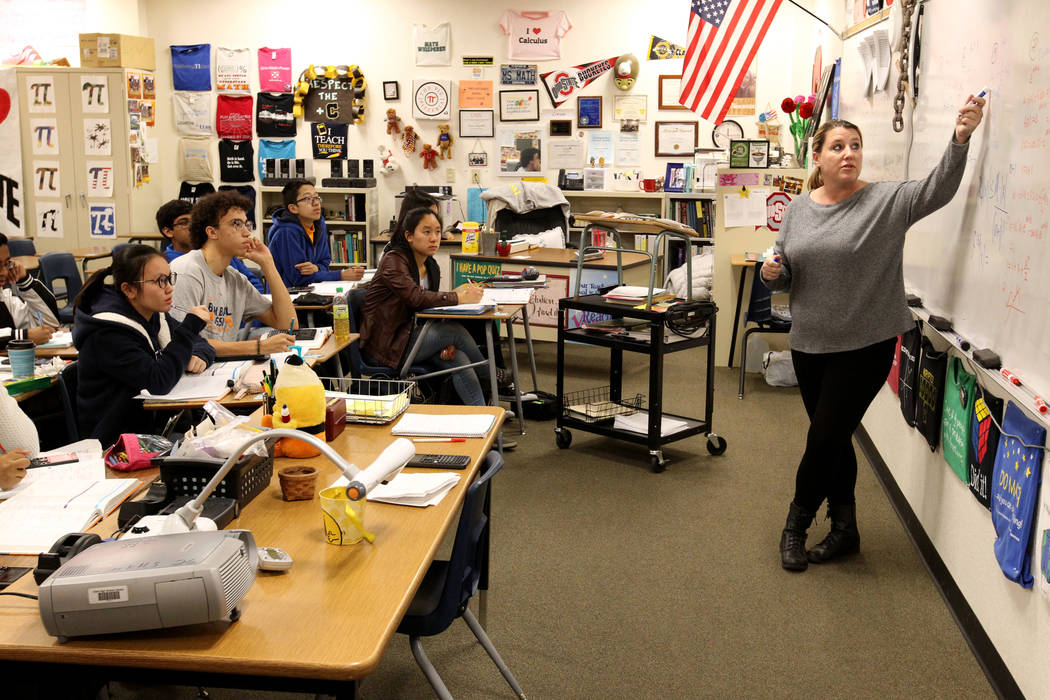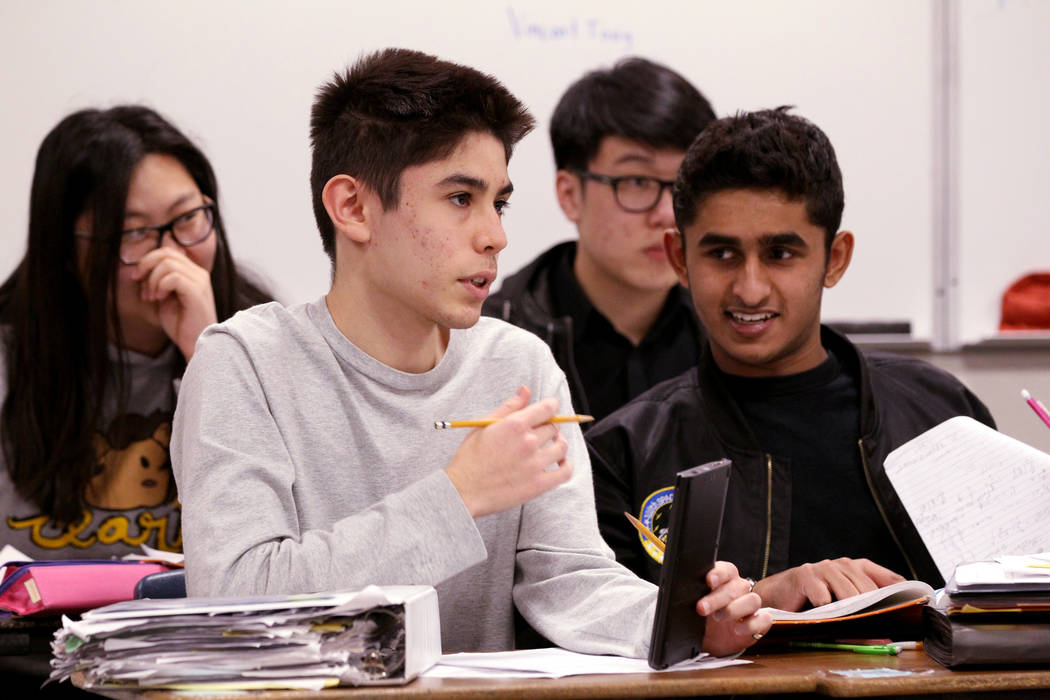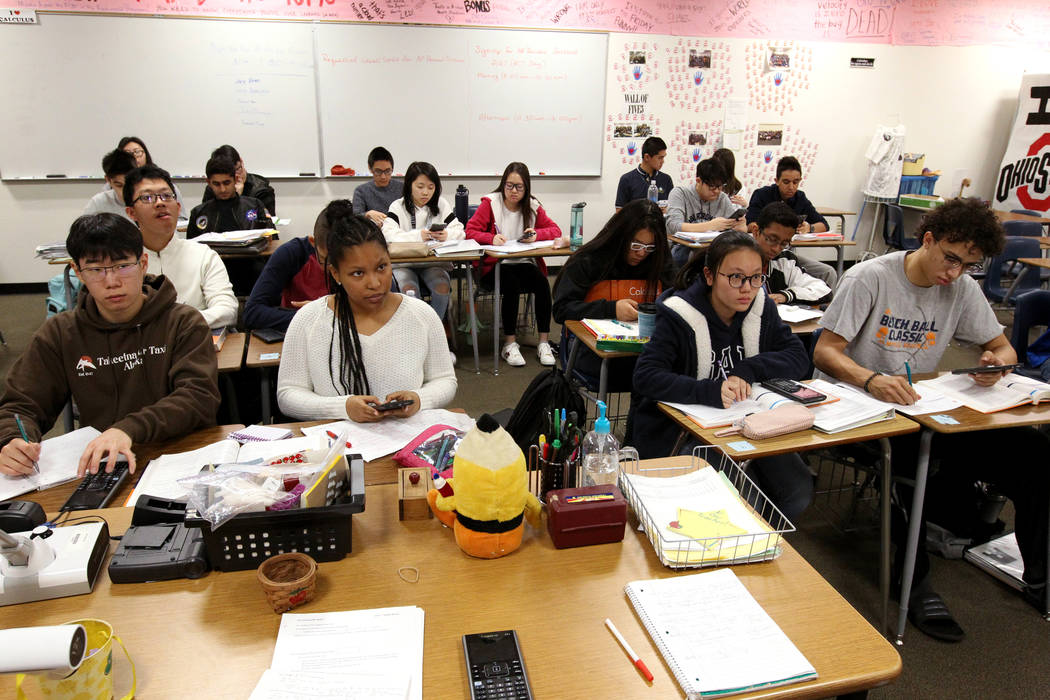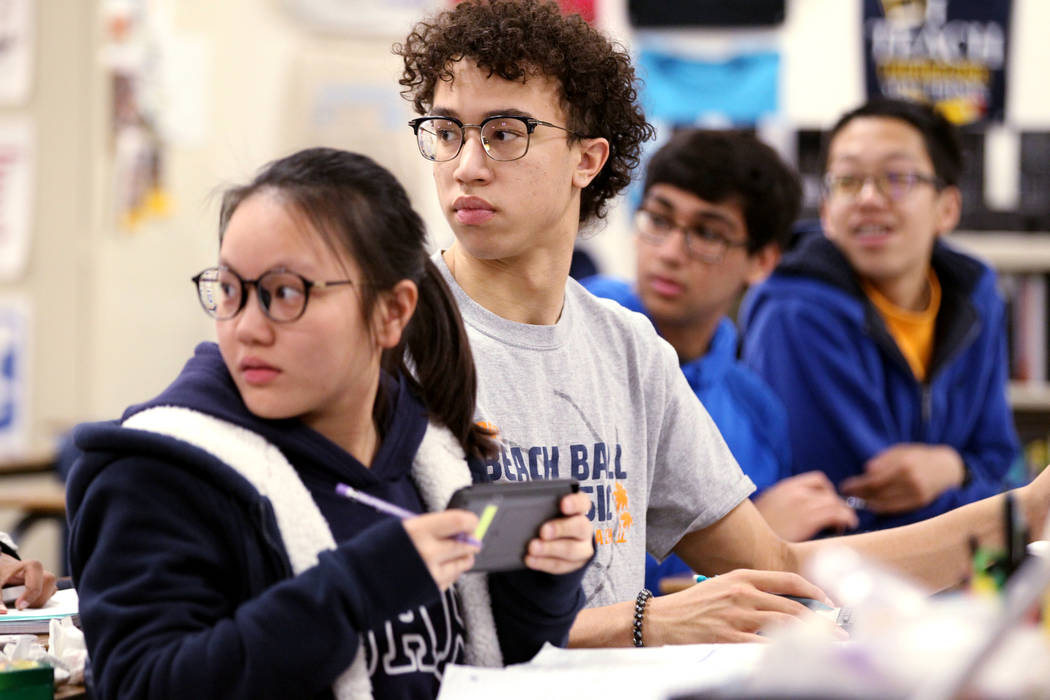 Nevada is normally at the bottom of national education rankings, but new data released Wednesday gave the Silver State a rare opportunity to celebrate.
For the second year in a row, Nevada's performance on Advanced Placement exams was highlighted in an annual report by the College Board for showing one of the biggest year-over-year increases.
"Nevada is sort of the star of this year's AP report, alongside Massachusetts," said Trevor Packer, who administers the AP program for the College Board. Massachusetts, for the second year in a row, led the nation in overall passing rate, but Nevada posted one of the sharpest gains to finish 14th overall.
AP offers courses for high school students in a number of topics, including history, math, science and foreign language. Exams at the end of the courses are scored on a scale of between one and five, with a three considered a passing grade that can often be used as college credit for students.
Nevada's passing rate for students who graduated in 2017 was 24.7 percent, compared to the national average of 22.8 percent. Massachusetts' rate was 32.1 percent. The rate is calculated based on the number of students who earned a 3 (on a scale of 1 to 5) or higher on the exams, compared to the number of students who graduated from Nevada schools, whether they took an AP exam or not.
"Our high school graduates are the fastest improving in the nation on the AP Exam," State Superintendent of Instruction Steve Canavero said in a statement. "That's good for our economy and the development of the skilled workforce that Nevada's new economy is demanding."
In addition to the high overall ranking, Nevada showed the largest three- and five-year increases in the percentage of public high school students passing an AP Exam. Last year Nevada was highlighted for posting the largest 10-year increase.
How did this happen?
The report was welcome news for state education officials, but it raised a big question: How does a state that seemingly ranks near the bottom of every other education ranking end up in the top 15 on AP courses?
First, a caveat from Parker, the College Board official: AP classes are advanced courses and shouldn't necessarily be used to measure a state's overall education system.
"This is AP. It's an advanced program. It's not the full indicator of Nevada (educational) health," he said.
Other measures, like the ACT college exam, which is taken by all students in Nevada, may provide a more comprehensive view of a school system's performance.
That said, Clark County in particular has done an amazing job of expanding access to AP programs, using data to do it, Parker said. When students take the PSAT — a precursor to the SATs, another College Board program — the results include a measure of "AP potential."
In Nevada, 31 percent of schools use the measurement to identify students to enroll in AP courses, compared to a national average of 21 percent. That makes a difference, Parker said.
Nevada also is unusual for its guarantee that any student who passes an AP exam will earn college credit for the course at Nevada System of Higher Education schools, which Canavero noted is worth $242 per credit hour. That's a clear incentive for students and parents to take AP courses and to do well, Parker said.
Access is another factor, Parker said. In Nevada, there's been a push to ensure that all high schools offer AP courses. That's rare in a state that has both large urban districts, which typically only offer AP at certain schools, and rural districts, which struggle to find the resources.
Kirsten Searer, a spokeswoman for the Clark County School District, also cited access as a reason for the continued performance lift.
"It's part of our overall strategic plan," she said, referring to the district's Pledge of Achievement.
More to the data
Other factors may contribute to Nevada's improvements. The AP program tends to cater to high-achieving students who plan to go to college and want to earn credits along the way.
Also, in Clark County at least, it's not required that students who enroll in an AP course take the exam. That means students can take the class but opt out of the test if they don't feel like they'll score well.
District officials reject the suggestion that the state numbers may be skewed by only the best and brightest students taking the test, pointing to a concerted effort launched more than five years ago to expand AP access to underrepresented students.
"I think our push to get more access contradicts that," said chief academic officer Mike Barton. "We were never about you don't have the prerequisites to be in the course. We open it up, and we continue to open it up, because we think that access will help with college readiness, even if they're getting that score of 2."
In Clark County, students who enroll in AP courses are "strongly encouraged" to take the accompanying exam, although they're not yet required to. They do get a slight bump in their grade point average as an incentive to take the test, however.
Previous district numbers show that a majority of students taking AP courses took the spring exams in 2016. Of 29,083 course enrollments (including students who take multiple AP courses), 21,130 exams were administered, for a participation rate of about 73 percent.
In spring 2017, there were 30,837 course enrollments and 25,240 exams taken, for a participation rate of about 82 percent.
Those figures are in line with the national average, where 75 percent of students who take the course also take the exam, Parker said.
A state anomaly
While the AP results are a bright spot for Nevada, other mileposts indicate the state has work to do.
Nevada's ACT scores — taken by every junior in the state — haven't budged in three years, with Nevada students continuing to score below the "college-ready" level.
Among younger students, the latest state data show 47 percent of students in Nevada and Clark County in grades three through eight are proficient in English, and 35 percent are proficient in math. That's based on student test scores from the 2016-17 year, the latest available.
That wasn't much an improvement over the results from the 2015-17 year. Clark County's English rates stayed flat year to year, while the overall state English proficiency rate dropped 1 percentage point. In math, the county improved 2 percentage points, while the state ticked up 1 percentage point.
In other nationwide rankings, Nevada continually ranks at or near the bottom. This year the state was rated 51st among all 50 states and the District of Columbia in the influential Quality Counts report by Education Week magazine.
Contact Meghin Delaney at 702-383-0281 or mdelaney@reviewjournal.com. Follow @MeghinDelaney on Twitter.
The case for AP
AP exams are a good indicator of college success, according to the research. Students who take AP exams are more likely to enroll in a four-year college, partly because passing scores often translate to college credit.
First-year college students who took AP exams in high school are more likely to return to their second year of college, which is termed "retention" in the education world. Students who take AP exams in high school are more likely to finish and graduate college than their peers who did not take AP exams.
Related
AP computer science course participation takes off in Nevada