CCSD announces tentative deals with teacher, administrator unions
Updated October 22, 2021 - 8:51 pm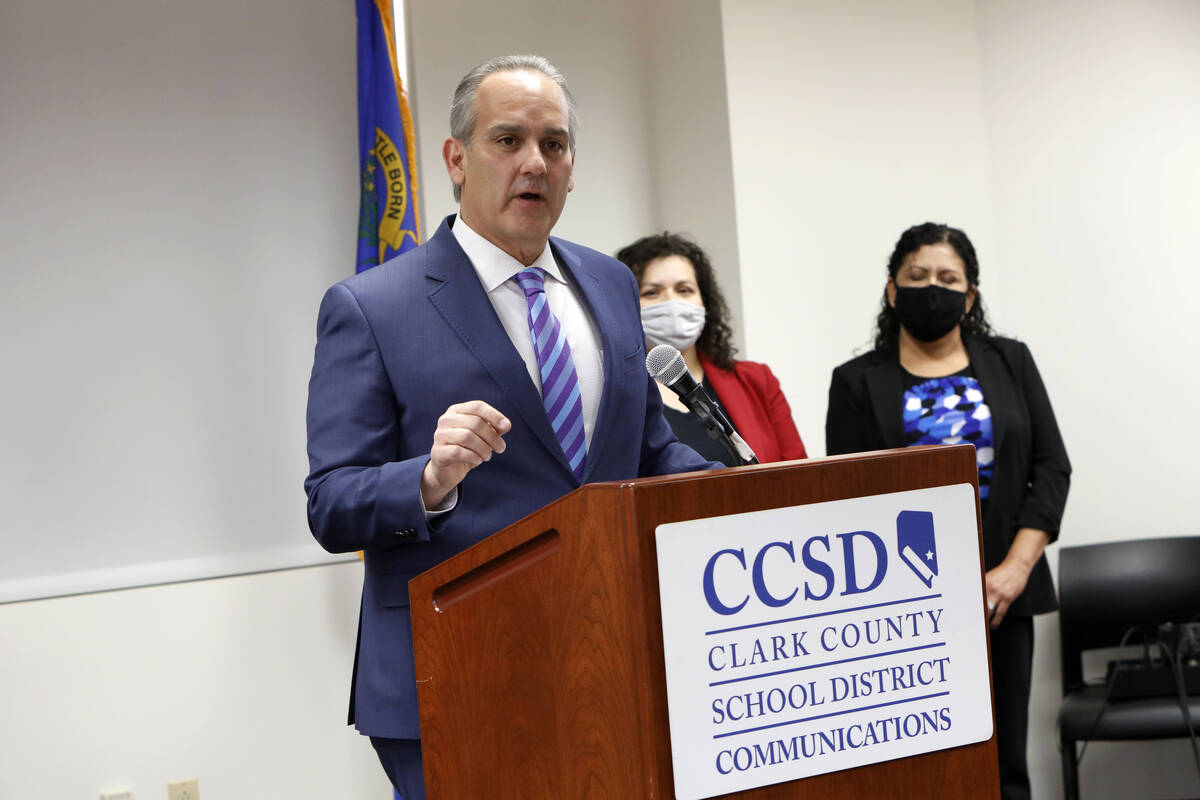 The Clark County School District announced Friday it has reached tentative contract agreements with two employee unions after months of bargaining.
The agreements were reached with the Clark County Education Association, a teachers union that represents about 18,000 licensed educators, and the Clark County Association of School Administrators and Professional-Technical Employees, the district said in a news release.
Superintendent Jesus Jara was joined at a news conference by School Board Trustee Evelyn Garcia Morales, CCEA President Marie Neisess and Executive Director John Vellardita.
The tentative agreements — which typically cover topics such as pay, benefits and working conditions — will be presented to the School Board for possible approval Oct. 28. Agreements also will need to be ratified by the unions.
Jara thanked bargaining teams from CCEA and the school district for reaching an agreement.
"I know negotiations are challenging sometimes," he said.
Jara said it's important for the district to do what it can to reward educators within its current budget, noting the teacher in the classroom is the biggest predictor of student achievement.
Teachers and their family members also deserve health care, he said, adding the agreement is "not perfect, but it really resolves a lot of the anxiety that our educators have."
In a news release, Jara said: "The pressures experienced through this pandemic have been unprecedented, and we could not have made it through without the cooperation of the bargaining units representing our employees."
The CCEA agreement is for this school year and next. It includes a 3 percent salary increase for licensed employees, who also will receive step increases for both years.
An extra pay rate for instructional services will increase from $22 to $31.50 per hour. The agreement also allows for special education teachers to have extra time to complete Individualized Education Program plans.
The agreement also takes steps to address financial and past due claims problems with THT Health, which is overseen by the CCEA.
It said THT Health must make payments and settle past due claims by June 30 and specifies that the district will deliver an additional $15 million payment to THT within 30 days of the ratification. At least $5 million must be used to resolve medical debt for employees within 45 days.
It also said the health trust must repay the $35 million advance the school district provided over the summer by June 30, 2024, and must maintain timely payments on all current "clean claims" and ensure no balances exceed 60 days.
CCEA's agreement with the district has been a long time coming, and there have been a lot of challenges, Neisess said, adding that negotiators worked through them to reach solutions.
She said one issue has been recruitment and retention of educators during challenging times — and she believes the contract will help with that.
Morales also thanked employees and said they should know that trustees are listening to their concerns.
Clark County Association of School Administrators and Professional-Technical Employees officials weren't at the news conference and didn't respond to a Review-Journal request for information.
Full contract negotiations are still underway between the district and the Education Support Employees Association, Police Officers Association of the Clark County School District and Police Administrators Association of the Clark County School District.
An agreement was reached with ESEA related to hiring and retaining transportation workers, according to a district news release. "These incentives will be funded to address delays in student arrival and departure times."
ESEA started full contract negotiations in March and it's hard to say when things will conclude, spokesman Alexander Marks told the Review-Journal via email Friday.
ESEA and Teamsters Local 14 have launched a joint campaign, "Demand Your Respect: Dignity, Not Disdain" and that has guided recent negotiations, he said.
"Simply put, we want a respectful contract; one that raises the standards for working families in Nevada," Marks said. "We are making some headway on our issues. With millions of dollars in new money that CCSD was given from the State of Nevada from the COVID-19 packages, we're hopeful the contract will be better than the current one."
Contact Julie Wootton-Greener at jgreener@reviewjournal.com or 702-387-2921. Follow @julieswootton on Twitter.