CCSD records detail dozens of complaints about Trustee Kevin Child
October 30, 2018 - 4:46 pm
Updated October 30, 2018 - 8:21 pm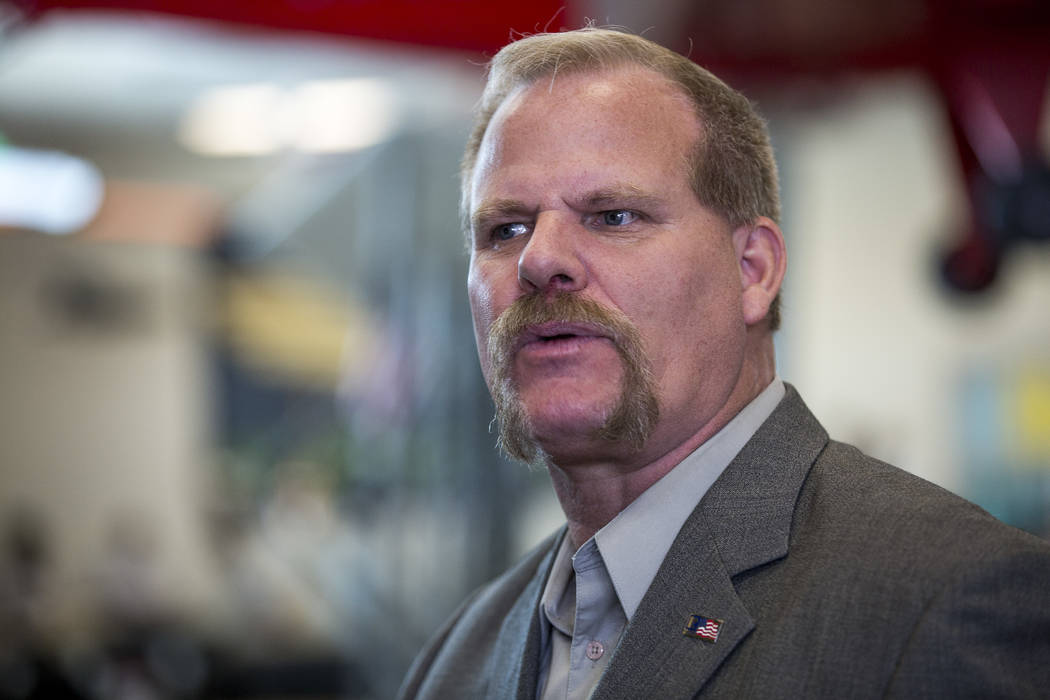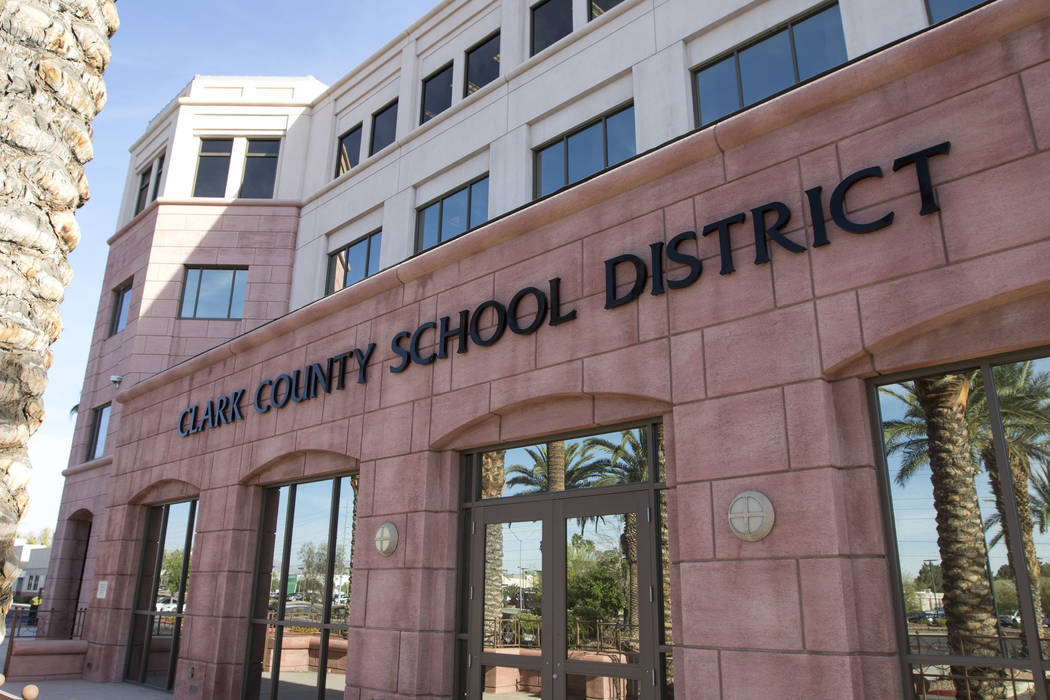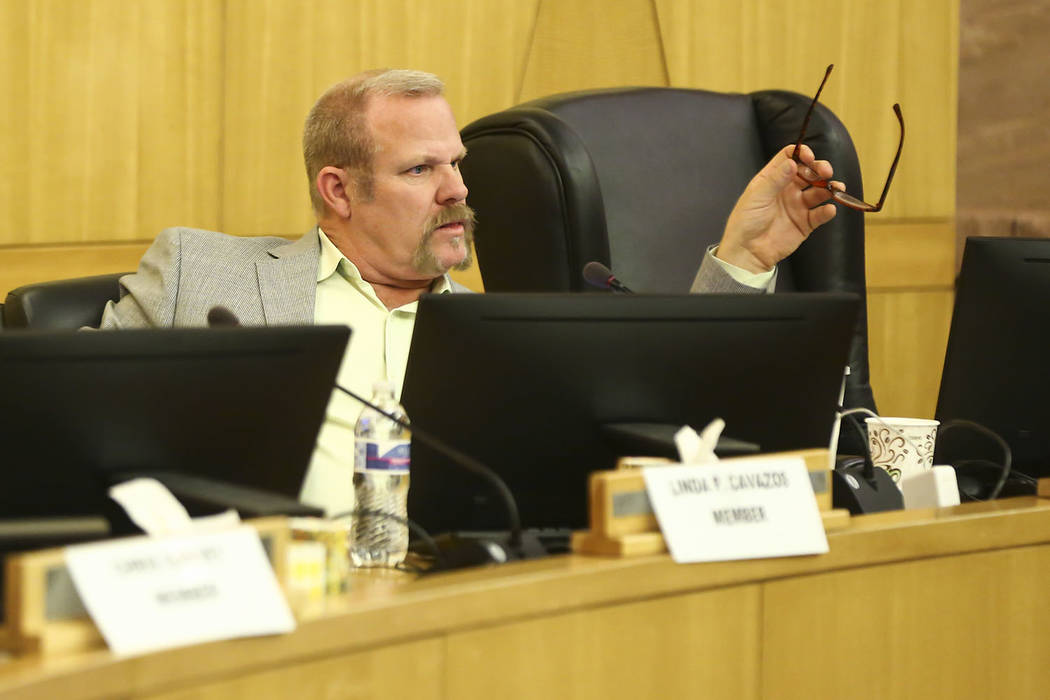 A female employee in the Clark County School District was so fearful of Trustee Kevin Child that she wrote to officials she would "often look in my mirror to see if he is following me," according to internal documents obtained by the Las Vegas Review-Journal.
That account was among a litany of accusations of inappropriate behavior leveled against Child in 104 pages of internal investigative documents released by the district to the newspaper Tuesday in response to a Nevada Supreme Court public records ruling last week.
The records were turned over by the district to meet a deadline set this week by a District Court in Las Vegas, which acted on an expedited basis to ensure the material was made public before Election Day. Child is finishing his first term and is being challenged by political newcomer Irene Cepeda for the District D seat on the School Board.
The heavily redacted records include handwritten and typed notes from Cedric Cole, the district's head of diversity and affirmative action, who led the internal investigation of Child's behavior.
That investigation included interviews with 29 staff members from January 2016 to May 2017, including at least 20 women and at least three men. In other cases it was not possible to discern the gender of the interview subjects.
Cole later concluded that Child had created a hostile work environment and violated district policy on harassment and, by extension, Title VII of the Civil Rights Act of 1964. That led former Superintendent Pat Skorkowsky to ban him from visiting schools and other district facilities without express permission.
'That's why I have a lawsuit'
Child has consistently denied the allegations and alleged a widespread conspiracy aimed at him because of his role as a fiscal watchdog on the School Board.
He has since sued the district, four School Board trustees and several former officials alleging civil conspiracy, defamation and a number of other causes of action.
Child said Tuesday that he hadn't seen the documents yet. He declined to answer questions.
"That's why I have a lawsuit, because most of these things are contrived," he said. "That's why I have a lawsuit, period, end of story."
Those interviewed by Cole described several types of inappropriate behavior from the first-term trustee.
Numerous female employees described "overly friendly," "weird" and "creepy" behavior toward them by Child, who frequently stopped by district offices and schools unannounced early in his tenure on the School Board. Those accounts included one accusation of inappropriate touching and another alleging an unwelcome sexual advance. They appear to indicate the existence of two previously unknown formal complaints.
The interviews reveal other areas where Child's behavior raised red flags.
Two administrators expressed concern about Child taking selfies with female students and "constantly fawning" over them.
"(One) states that he is 'really creepy' and she doesn't want him taking pictures with the little girls on her campus," Cole wrote.
Child also was alleged by several employees to have made racially insensitive comments at a school event focused on cyberbullying.
At the event, one employee claimed, Child went on a "tirade" and blamed bullying on "poor black kids."
"He also made a comment about kids bragging about their momma's welfare check being more than your momma's welfare check," one teacher told Cole.
Another teacher likened Child's comments to being at a "Trump rally or Klan rally."
Employee Z
More than 20 pages of documents were submitted by one employee, referred to in the documentation only as "Employee Z."
"I am so fearful that I have had to ask my staff for assistance to intervene when he is around," the employee wrote. The documentation was submitted to Cole in May 2017 and included interactions with the trustee dating back to shortly after his election in 2016.
At one point, the employee writes that Child grabbed her hand "without permission or invitation" when members of her staff were walking by. She stated she immediately took back her hand and felt at a "low point."
Child continuously asked the employee about her family, including plans for weekends or vacations. He also attempted to push her into refinancing her home, she said.
Near the end of her statement, the employee pleads with district officials to intervene.
"I ask for safety protection from the toxic, harassing, and intimidating interaction of the trustee," she wrote. She later added, "I do not want this complaint to interfere with my employability at the CCSD. I feel that making this complaint could affect my employment, and I fear retaliation."
New complaints
Documents released to the Review-Journal also include concerns from employees "S" and '"T" that were classified as "elements of proof" for the Equal Employment Opportunity Commission and the Nevada Equal Rights Commission.
Employee S indicated that Child would show up at her office during the instructional day, stare at her and comment on the "sexiness" of an article of clothing.
The investigation into Employee T's complaint, which is heavily redacted, also concluded that she was subjected to unwelcome physical advances, comments of a sexual nature or a hostile and intimidating work environment.
It's not clear which of the three complaints described in the documents was filed by former Deputy Superintendent Kim Wooden, who settled with the district in March. The settlement granted Wooden an amended contract stating she no longer has to work in the office or with trustees if she doesn't wish to.
Wooden could not be reached for comment. Her lawyer, Anthony Golden, declined to comment.
Not everyone interviewed by Cole was disturbed by Child's actions and comments. One employee told the investigator she didn't believe he made his comments with malice, but she indicated he seemed unable to discern what is appropriate in the workplace.
"I mean, he's harmless to me and I try not to be offended by everything because so many people are. … I just don't think he fully understands how his comments can be construed," the employee said. "It may be a cognitive issue."
Other interviews
Numerous interview subjects, including female administrators, teachers and principals, also described Child showing up at their offices unannounced.
Two female employees told the investigator that whenever Child was in the building, they shut their doors and pretended they were not at work.
One of the few names remaining in the documents is that of Stephen Augspurger, head of the administrators union. It describes a September 2016 phone call in which he told Cole he had no confidence that anything would be done at the conclusion of the investigation.
"(Augspurger) says that in years past nothing has been done out of this office," Cole's notes state.
Child denies improprieties
Child has long maintained the allegations against him were made up, even after trustees settled Wooden's complaint against the district. He has welcomed the release of the records, saying he deserves to know who is making unfounded allegations against him.
The October 2016 internal memo written by Cole, which the Review-Journal obtained in December 2016, concluded that Child had created a hostile work environment and violated district and federal policies.
Skorkowsky used the memo as a basis to deny Child access to district facilities. Skorkowsky, who retired at the end of June, reiterated his ban of Child in October 2017. At that time, Skorkowsky revealed that an outside agency had received a complaint about Child's behavior.
After the Review-Journal went to court to force the district to produce public records related to the case, it released more than 100 pages of documents but withheld records related to the investigation that triggered the internal memo until Tuesday.
The district lawyers argued that a full release of the records could put employees in danger of retaliation.
But in its ruling last week, the Nevada Supreme Court upheld a District Court decision ordering the release of the documents. The Supreme Court justices returned the case to the District Court to consider if additional redactions might be required.
The court said that, in addition to the names of students, support staff and victims of alleged sexual harassment whose names already had been withheld, the district could consider redacting the names of teachers or other witnesses who spoke to investigators.
"We are complying with the decision of the Nevada Supreme Court," school district spokeswoman Melinda Malone told the Review-Journal on Tuesday after the release of the records. The district had no further comment on what was contained in the documents.
A previous version of this article said the documents appeared to indicate the existence of two previously unknown formal complaints against Child. School district officials, who declined to discuss specifics of the documents, now clarify that the documents refer to "two other concerns from employees" – not formal complaints – that were "elements of proof" for the Equal Employment Opportunity Commission and the Nevada Equal Rights Commission.
Contact Meghin Delaney at 702-383-0281 or mdelaney@reviewjournal.com. Follow @MeghinDelaney on Twitter.
Kevin Child document 1 by Las Vegas Review-Journal on Scribd
Kevin Child document 2 by Las Vegas Review-Journal on Scribd