CCSD sues teachers union to prevent strike
Updated July 31, 2023 - 8:11 pm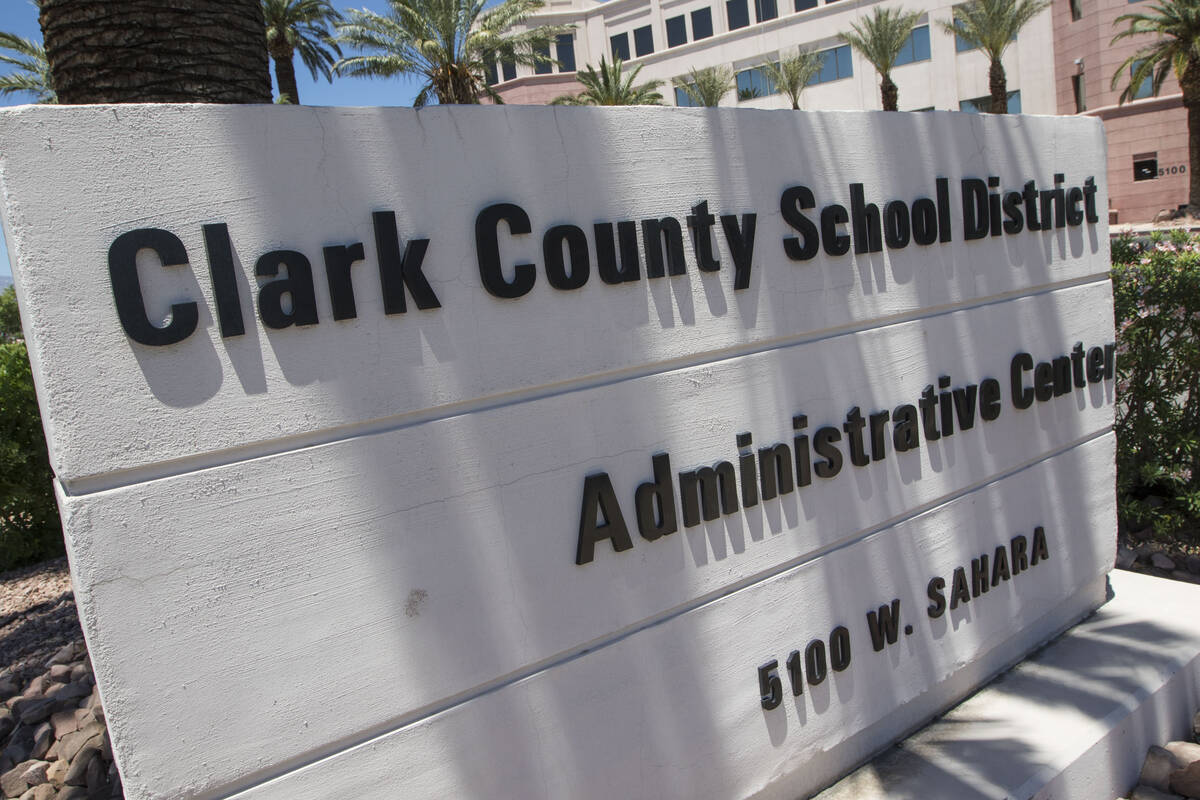 The Clark County School District announced Monday night that it has filed a lawsuit seeking to prevent the teachers union from striking and a complaint with the state seeking to withdraw the union's collective bargaining agent status.
According to a news release, the district filed a lawsuit in Clark County District Court seeking an injunction to prevent the Clark County Education Association from striking in violation of state law.
The action is in response to the union's statements Saturday following a member meeting that it will consider "work actions, clearly amounting to a strike" if a contract isn't reached by Aug. 26, the district said.
Because of "this impending threat," the school district said it also filed a petition with the state's Employee-Management Relations Board seeking to withdraw the union's bargaining agent status.
"The District does not take these actions lightly as our educators await a new contract, but Nevada law is crystal clear that a strike or a threat of a strike is unlawful and, when undertaken, is grounds for withdrawal of recognition as the bargaining agent of a local government employee group," the district said.
The union did not immediately provide a comment Monday night to the Las Vegas Review-Journal.
'Actions amounting to a strike are imminent'
A copy of the complaint with the state's Government Employee-Management Relations Board wasn't immediately available after business hours Monday night.
A new school year begins Monday and more than 294,000 students are expected to return to classes. Public employee strikes — which includes public school employees — are illegal in Nevada.
The district alleged in the complaint filed Monday that based on CCEA's "threats," that "actions amounting to a strike are imminent."
"The District will be severely prejudiced by a strike and hundreds of thousands of children and their families will be impacted," the complaint says.
The current negotiated agreement between the district and union — which covers the 2021-22 and 2022-23 school years — remains in effect until a new pact is negotiated, the district said in the complaint.
The complaint references statements that union officials have made while contract negotiations are underway, including during interviews with reporters and at Saturday's press conference following the CCEA member meeting.
Court documents also reference union protests earlier this month outside of planned "Java with Jara" community events.
The district is seeking for the court to rule that CCEA is violating state law by "unequivocally and publicly threatening to strike" after Aug. 26, and an injunction prohibiting the union from engaging in a strike and "specifically mandating that (CCEA) communicate the strike cancellation to its members and urge them not to engage in any such work stoppage," according to the complaint.
No hearings are scheduled yet in the case, according to online court records.
Union seeks salary hikes
The union is seeking a salary raise for all educators — 10 percent for the first year and 8 percent in the second.
The district says the request would lead to a budget deficit and that it can't sustain that degree of an ongoing increase. Instead, it wants a new salary schedule, which it says would lead to a pay increase for an estimated 78 percent of licensed employees.
The district also alleged Monday that the teachers union "repeatedly misrepresented" the district's contract proposals.
The district said it has proposed pay increases for all CCEA bargaining unit employees in both years of the contract, paying teachers for additional instructional time at their contracted rate, for special education and hard-to-fill positions at a higher amount than the union's proposal, significant increases toward health insurance, and continuing a recruiting bonus for new, out-of-state teachers.
The next bargaining sessions are slated for Aug. 17 and 18.
Contact Julie Wootton-Greener at jgreener@reviewjournal.com or 702-387-2921. Follow @julieswootton on Twitter.