CCSD Superintendent Pat Skorkowsky announces retirement
September 7, 2017 - 10:49 am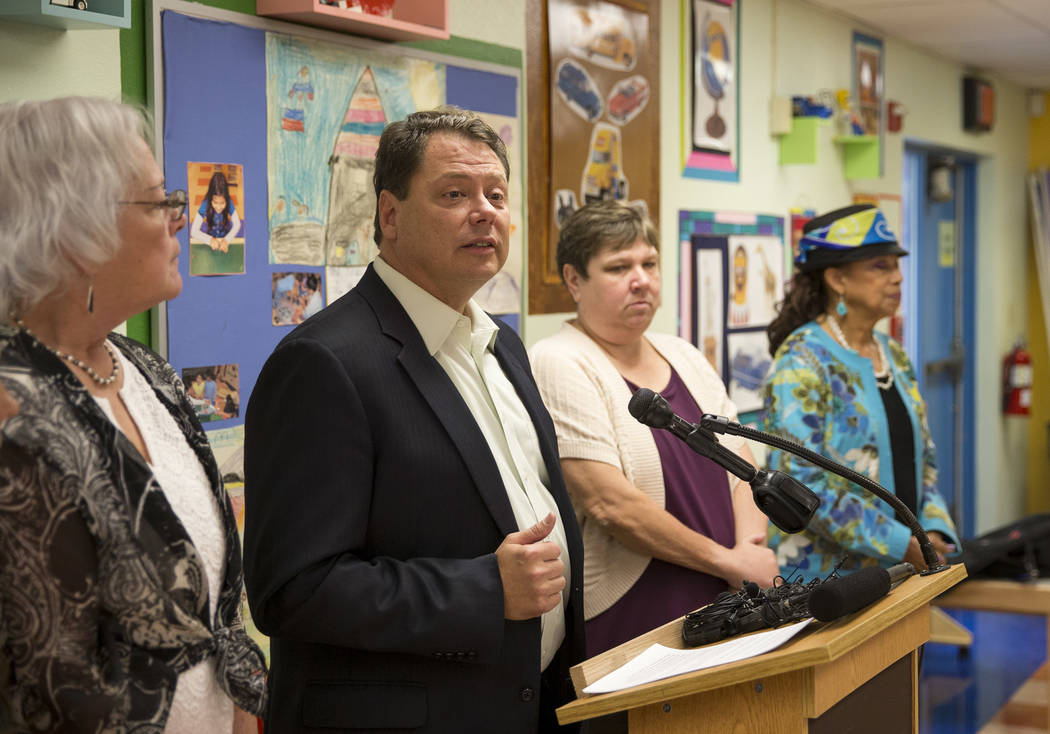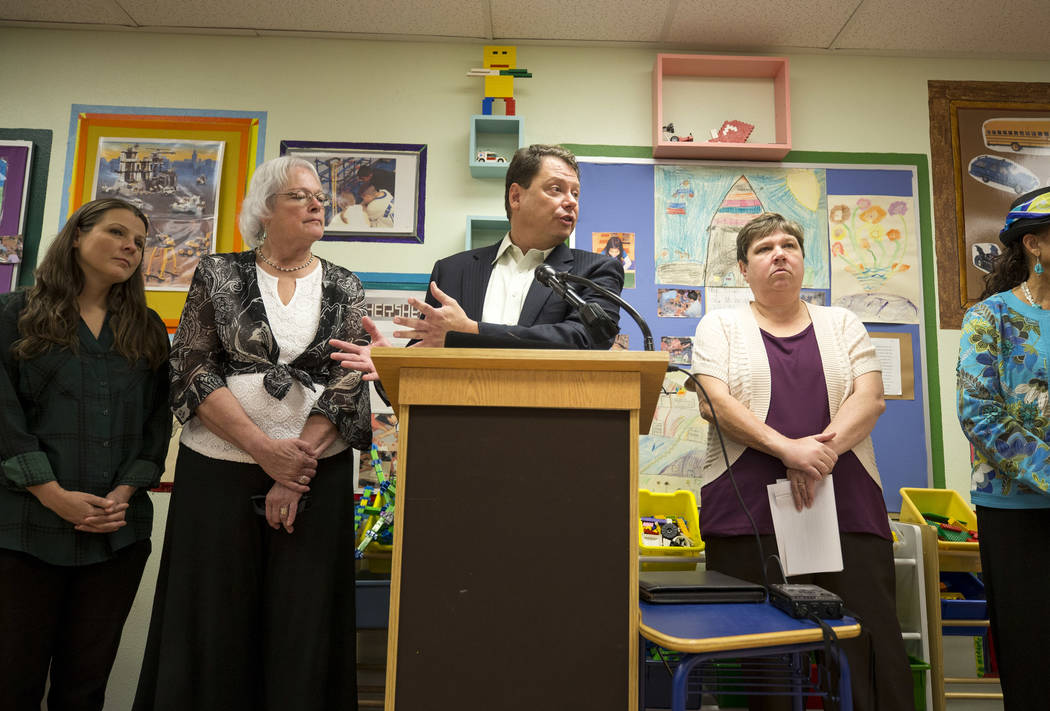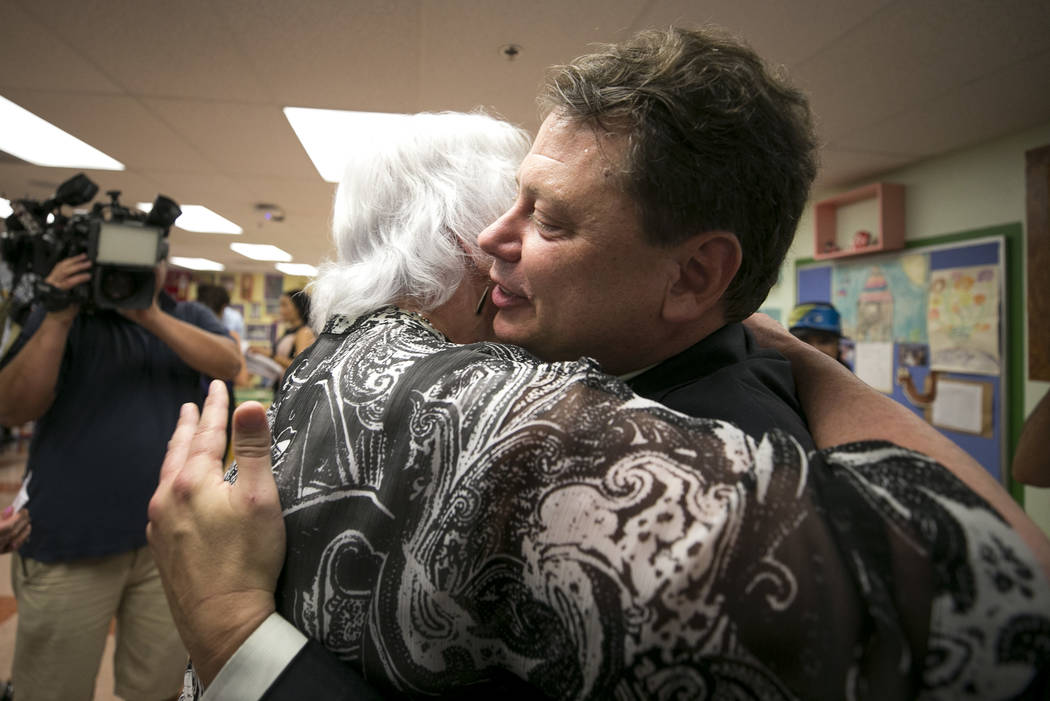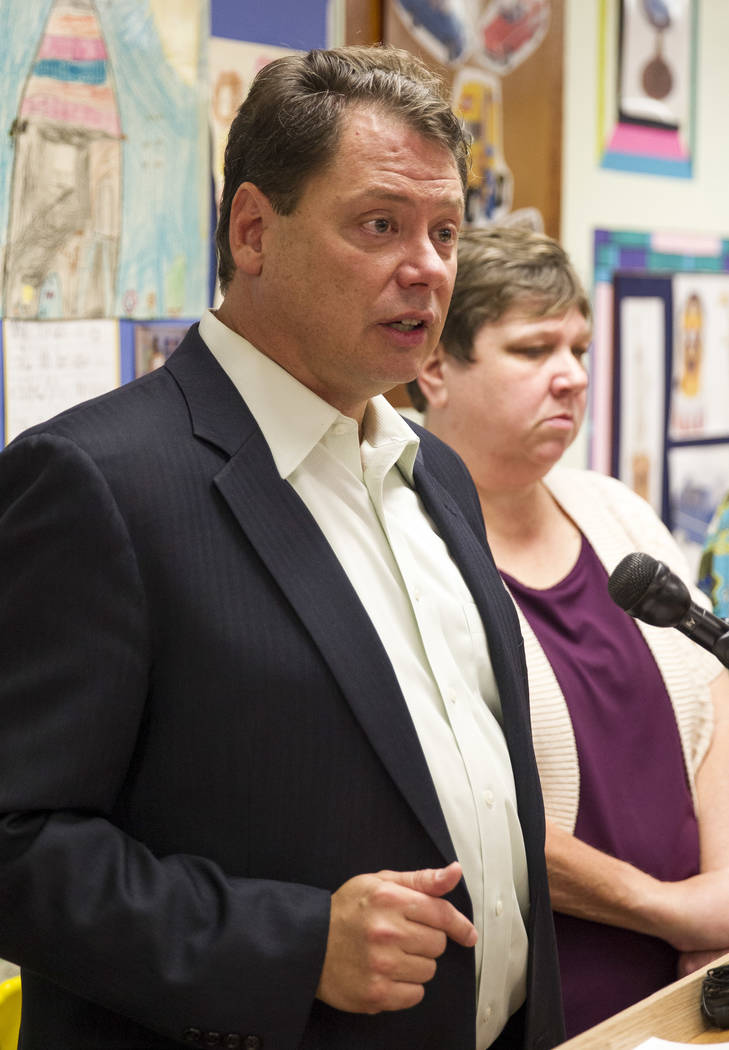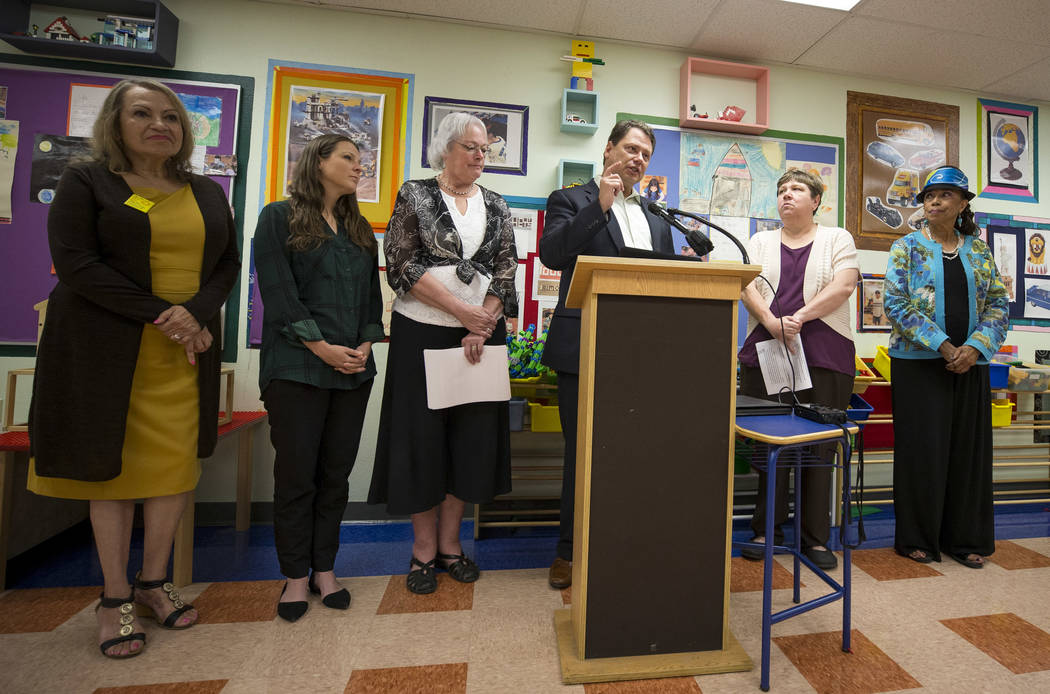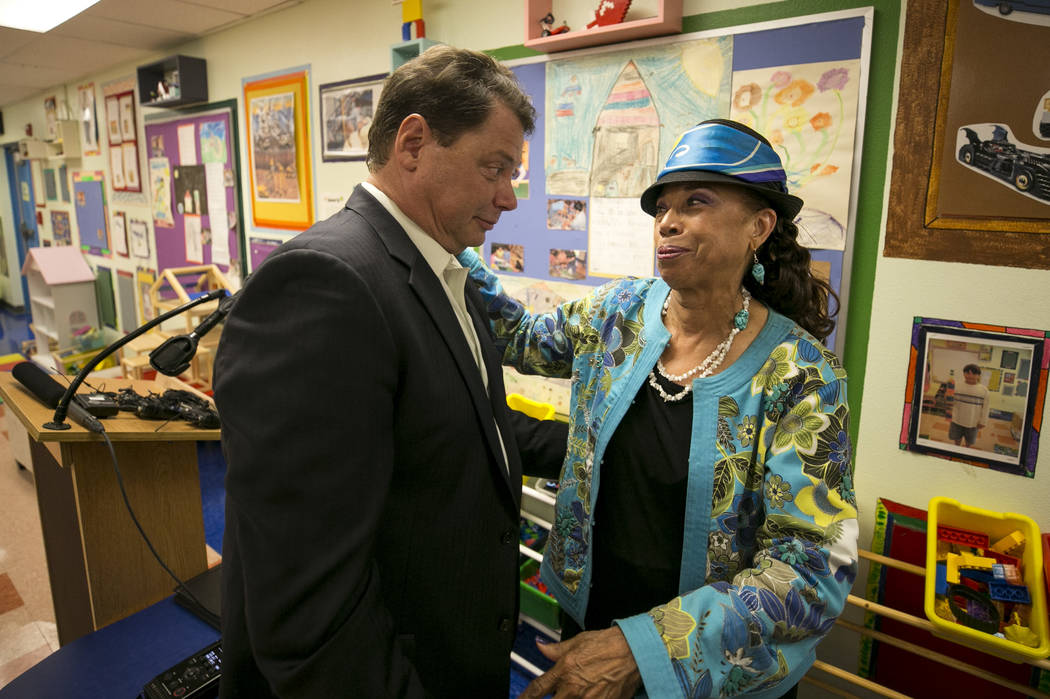 Superintendent Pat Skorkowsky, at the center of a swirling controversy over the Clark County School District's growing budget deficit, announced Thursday that he will step down when his contract concludes at the end of June 2018.
"I am not resigning. I am leaving on my terms," he said at news conference at Bracken STEAM Academy, a Las Vegas elementary school.
"This will allow me to confront problems — and problem-makers — head on, without holding back."
Skorkowsky, whose salary is $280,788 this year, stressed that his retirement was his decision, and did not link it to the furor surrounding the district's budget shortfall, currently estimated at between $50 million and $60 million.
But Skorkowsky, 53, said the move will make it easier for him to respond to critics and address what he sees as the underlying reason for the financial crisis: an unfair state funding scheme for education.
"The decision today allows me greater freedom to deal with those attacks and address the real issues," Skorkowsky said. "I have nothing to lose, and you can be guaranteed that I will speak my mind."
By June, Skorkowsky will have spent five years as the superintendent and 30 years total in the Clark County School District. That will make him eligible for the maximum pension benefit through the Nevada Public Employees Retirement System, which means he would make 75 percent of the average of his 36 highest-paid consecutive months.
His announcement came just days after he was harshly criticized by union officials over the district's deficit, which was first announced on July 5.
At that time, district officials said the deficit was estimated at $34.5 million. The number has grown since then to reach the current estimate of $50 million to $60 million. The district has said the funding gap will continue to grow until it is fully addressed, and could ultimately require between $70 million and $80 million in cuts.
The teacher's union has called for a forensic audit of the district and the administrator's union sent a scathing four-page letter earlier this week.
Both blamed Skorkowsky and his team for the crisis.
"The superintendent's financial decision-making reflects a repeated disregard for the guiding principles of effective budget management and has resulted in a budget deficit approaching $80 million and growing," wrote Stephen Augspurger, executive director of the administrator's union, which represents the district's principals. "This decision-making will now deprive many CCSD students of a quality education and many employees of their livelihood."
The teacher's union also blamed Skorkowsky for turmoil in the budgeting process, pointing out the district has "churned through" three chief financial officers in less than a year.
'It's unacceptable'
"It's unacceptable for CCSD to scare the public and educators with such a cavalier approach to budgeting," union officials said.
Skorkowsky fired back at the unions in an email on Wednesday, accusing them of capitalizing on the district's budget issues for political gain.
At the same time, he took responsibility for the deficit and issued an apology to staff, trustees, politicians and the media.
"I take responsibility for not seeing the confluence of events and the severity of this crisis until July 2017. I apologize to you and to our community for that," he wrote. "However, even if we had known about this series of events sooner, we still would have had to reduce costs in the 2017-18 budget."
Combative and apologetic
Skorkowsky maintained that alternatively combative and apologetic tone at Thursday's news conference, reiterating that his staff should have spotted the budget crisis months earlier but also saying he would not let critics pin the shortfall on him.
"Not because I'm unwilling to take the responsibility for what happened — I certainly am and I will continue to do so," he said. "But resting the fault of this budget shortfall entirely on me misses the real culprit: a chronic underfunding of the system."
Skorkowsky was referring to Nevada's formula for funding education, which he described as an outdated relic from 1967.
"We need to get out of the '60s and recognize the way that we fund students in this state is wrong, and it is not adequate to support the student population," he said.
Skorkowsky also called on the unions to bring forward solutions. But then he fired back at the teachers union, saying that if it wants a forensic audit of the district, it also should be willing to conduct one of its embattled Teachers Health Trust, which manages health care for the district's teachers.
"They need to come forward and let us see what they are truly going through before we even think about giving them more money," he said.
Two trustees not invited
Two trustees who've been vocal critics of Skorkowsky's handling of finances — Chris Garvey and Kevin Child — said they were not invited to the news conference or aware of his decision to retire.
"I am one of his employers, as a trustee," Garvey said. "And the professional courtesy of informing me before the public and the newspapers … would've been nice."
Both Garvey and Child have raised concerns about the budgeting process. Child said he has filed a public records request for emails between the district's accounting director and Skorkowsky, which could show if the district knew about the shortfall even earlier than July.
"Yes, I understand that the state didn't give us a certain amount of money," Child said. "But why would you count money you don't have?"
Skorkowsky side-stepped the question of why the two trustees were not at the event, saying it was important to have his mentors and his people there.
Reaction to depature
The announcement drew reaction from across the state's education community.
The teacher's union reiterated concerns about Skorkowsky and called for new leadership sooner than the end of his contract.
"We thank Pat Skorkowsky for his years of service. However, we do think it would be in everyone's interest that he step aside and let interim leadership take the helm while a national search takes place to find a new superintendent," a statement said. "Lame ducks never have and never will gets things done. CCSD is no exception."
Augspurger, the administrators union official, agreed Skorkowsky and the board should part ways immediately.
"There's no way he will be effective over the next 10 months, he cannot fix the problem that he created," he said.
But Steve Canavero, state superintendent of instruction, said he was pleased that Skorkowsky was going to stay on and speak more freely.
"Quite frankly I find the candor refreshing and he's incredibly smart so he's going to have good, good ideas and perhaps he feels unbridled now," Canavero said.
Even when Canavero and Skorkowsky disagree, which they did recently over the district's budget issues, Canavero said he recognized the difficult role that Skorkowsky had to play in moving the district forward.
"This is tough work, tough enough that when you look at Pat's tenure, he is on the absolute high side … (in) length of tenure among district chiefs who have been doing this, which says something about his ability to navigate and lead in that challenging large urban school district environment."
Contact Amelia Pak-Harvey at apak-harvey@reviewjournal.com or 702-383-4630. Follow @ameliapakharvey on Twitter. Contact Meghin Delaney at 702-383-0281 or mdelaney@reviewjournal.com. Follow @MeghinDelaney on Twitter.
What's next?
The Clark County School Board will discuss the process of hiring a replacement for Skorkowsky at a future meeting and could launch a national search.
"We'll go back and look what we've done in the past and have discussions with the entire board, from an (agenda) item, so the public would be very aware of our thoughts and what direction we're going to go," Board President Deanna Wright told the Review-Journal on Thursday.
— Amelia Pak-Harvey