CCSD trustees put underperforming charter schools on notice
October 18, 2018 - 9:18 pm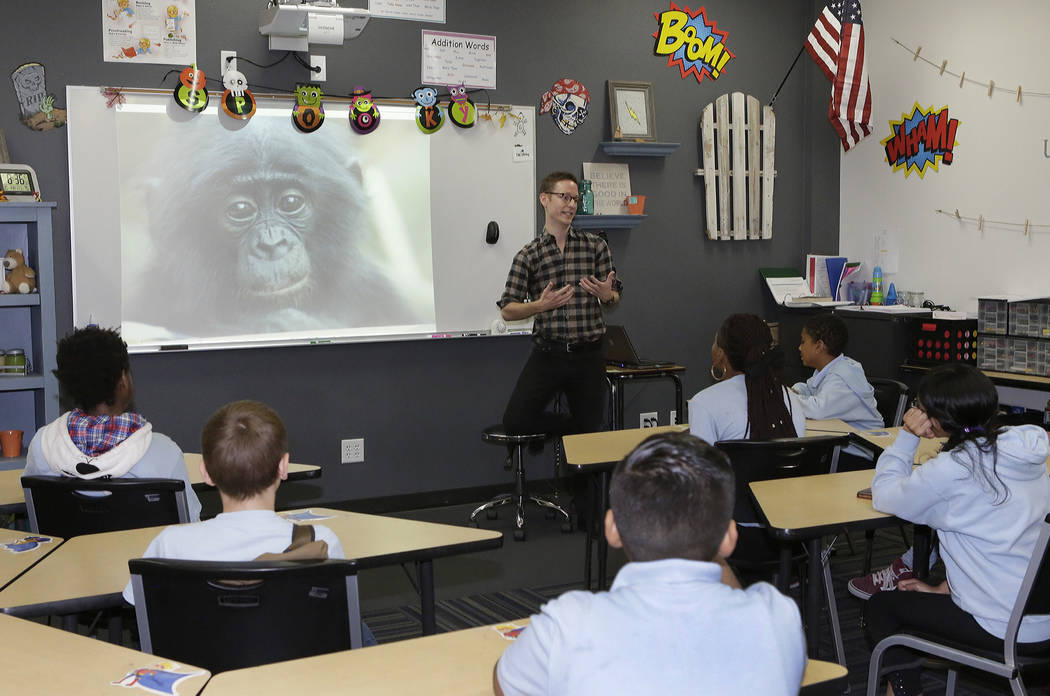 The Clark County School Board put three underperforming charter schools on notice Thursday night, recommending a reconstitution of the leadership in two schools and a remediation plan for a third.
The board voted to recommend a shake-up in the governing boards of Delta Academy and 100 Academy of Excellence, a move that could include receivership.
Both schools landed on the state's 2018 Rising Stars list, which includes one-star schools, those with graduation rates below 67 percent or those in the lowest 5 percent.
Delta Academy has a one-star middle school and a high school graduation rate below 67 percent. Its middle school was previously a Rising Star in 2016 and its high school landed on the list in both 2016 and 2017.
Meanwhile, 100 Academy of Excellence has a one-star elementary school and a two-star middle school. Both grades were also on the 2016 Rising Stars list.
Both schools will be notified of the action in writing and given at least 30 days to provide a response on how they are trying to boost student achievement.
Rainbow Dreams Academy's elementary and middle schools will receive a remediation plan, a less punitive option that is reserved for schools that landed on the Rising Stars list for the first time. Its one-star elementary school is on that list, while its middle school has two stars.
The move follows a memo from the state Department of Education that outlined four accountability options for Rising Stars.
District-sponsored charter schools can face a termination of their charter contract; a reconstitution of their board; participation in the Achievement School District, which pairs a charter operator with underperforming schools; or a remediation plan.
But charter school leaders voiced some opposition to the vote.
Kyle Konold, superintendent of Delta Academy, said the middle school would have scored two stars if one student who did not participate in state testing had done so.
He also argued that the high school has far-exceeded goals set forth in a performance contract from 2017 — which should make the school eligible for a remediation plan, because it showed significant improvement.
100 Academy Principal Rachelle Conner also listed accomplishments, arguing that the school's students are more than test scores.
"We have sought and received a multitude of grants and other in-kind donations that allow us to fund positions, such as a full-time counselor, which is not common in most charter schools," she said.
Trustees also approved contracts for support staff and administrators through 2018-19, both of which provide a one-time, 3 percent bonus.
The support staff contract costs roughly $9.6 million, while the administrators contract will cost roughly $3.5 million.
But trustees made it clear that the offer was not enough for support staff, stressing the need to do more for that employee group in the future.
"You deserve a lot more, because you are the lifeblood of this district," said Trustee Kevin Child. "But again, we need to start fighting up with the legislators, not amongst ourselves."
Contact Amelia Pak-Harvey at apak-harvey@reviewjournal.com or 702-383-4630. Follow @AmeliaPakHarvey on Twitter.
In other action
The School Board also approved a contract for new general counsel Eleissa Lavelle.
Lavelle, who chairs the district's bond oversight committee and teaches at the UNLV Boyd School of Law, will have an annual salary of $159,192.
She replaces Carlos McDade, who retired from the district in July to take a job in Henderson.