Cepeda leads incumbent Child in race for CCSD trustee seat
Updated June 12, 2018 - 10:58 pm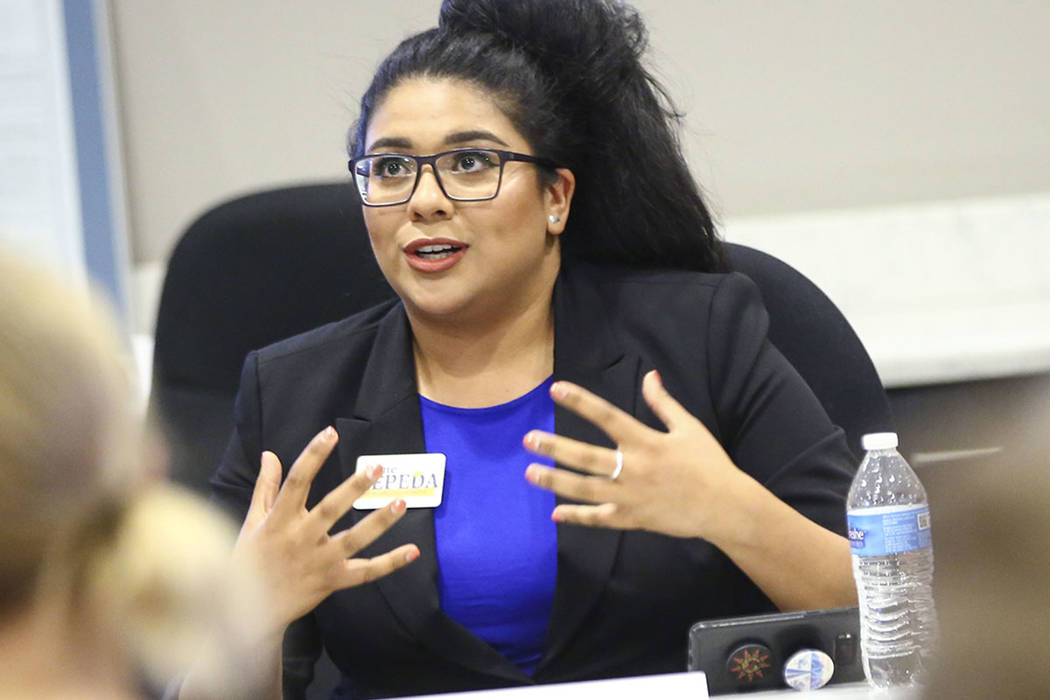 A newcomer challenging first-term Clark County School Board Trustee Kevin Child jumped ahead of the incumbent in early primary election returns.
Early, unofficial results showed Irene Cepeda with a healthy lead over Child, who has been embroiled in a number of scandals his first term. As of 10:25 p.m., she had earned 47 percent of the vote, against Child's 24 percent. The two other candidates split the rest of the vote.
Nine candidates appeared on the District F ballot, including former Republican Assemblyman David Gardner, who withdrew from the race in May.
Danielle Ford, a marketing consultant and high school dropout, took an early lead with 16 percent of the vote by 10:25 p.m. Kali Fox Miller and Gardner came in next, with Miller leading Gardner by 112 votes.
In District D, Cepeda and Child will move on to the general election in November. In District F, Ford and Miller appeared likely to move on, but Gardner was a close third as of 10:25 pm.
District D
Trustee Kevin Child, who is finishing his first term in the District D seat, faced three challengers in Cepeda, Leobardo Martinez Jr. and Eli Thompson. Challengers said Child's behavior — which has resulted in him being banned from schools and has caused the district to settle a harassment complaint with Deputy Superintendent Kim Wooden — was inappropriate for a school board trustee.
In return, Child alleged that Cepeda changed her name from "Zepeda" to "Cepeda" to move up on the ballot and receive more votes. Cepeda said the name change was made without regard to the election and was a way to honor her family heritage, which has used both spellings.
Cepeda said she planned to continue to talk to voters between now and the general election.
"I love that my work speaks for itself, the countless hours that we put in canvassing, we put in making phone calls, really showed off in the polls today," she said.
Child could not be reached for comment Tuesday night.
District F
Eight candidates were vying for the District F seat to replace Carolyn Edwards, who cannot run again because of term limits. Gardner, who championed the reorganization of the school district, was considered the leading candidate until he dropped out of the race in early May to take a job in the district attorney's office.
Ford said she thinks her honesty helped her earn votes.
"I'm just going to keep doing what I'm doing. Keep on telling my story and my thoughts and my opinions and trying to answer questions as honestly as I can about the issues," she said.
Miller also touted the value of talking to voters moving forward in the election.
"I plan to meet with a lot of teachers, a lot of parents, a lot of people in the community so we can get together and look at what do we want to be moving forward," she said.
When Gardner dropped out, he endorsed Jacquelyn Trumbull, a 43-year-old mother of three and the founder and administrative director of Mojave Springs School, a preschool in the valley. As of 10:25 p.m. Trumbull had earned just about 13 percent of the vote, not enough to qualify for the general election.
Other candidates for the seat included Mary Ballinger, Eileen Eady, Tammi Musemici, Mike Thomas, Jacquelyn Trumbell and Johnny Wilson.
This is a developing story. Check back for updates.
Contact Meghin Delaney at 702-383-0281 or mdelaney@reviewjournal.com. Follow @MeghinDelaney on Twitter.