Clark County high school students to share ideas at CES 2018
November 5, 2017 - 11:03 pm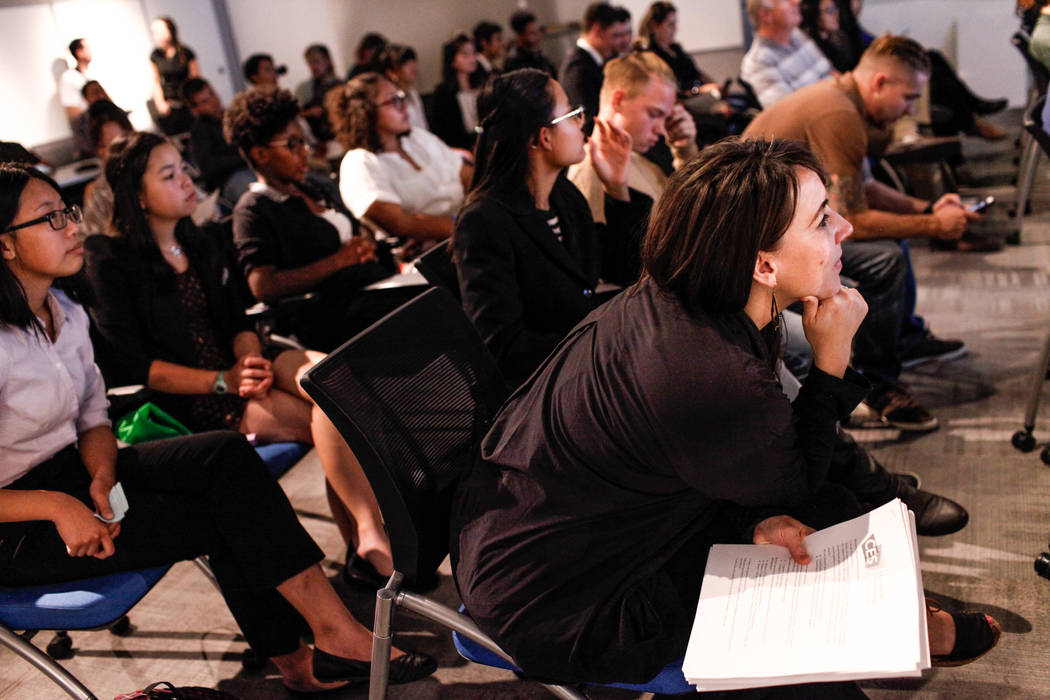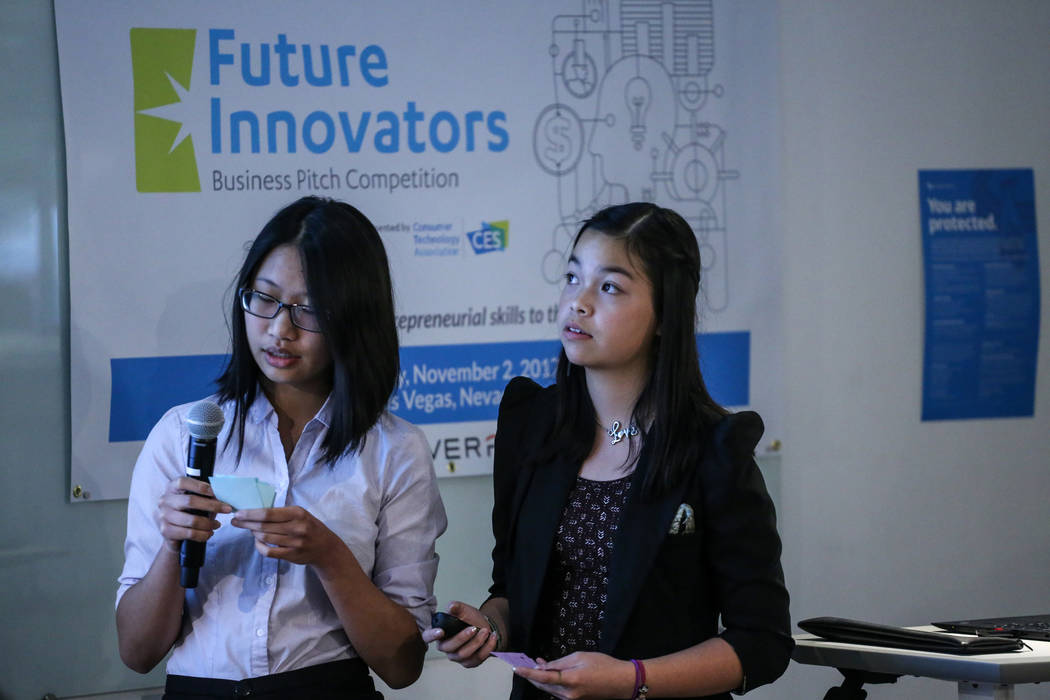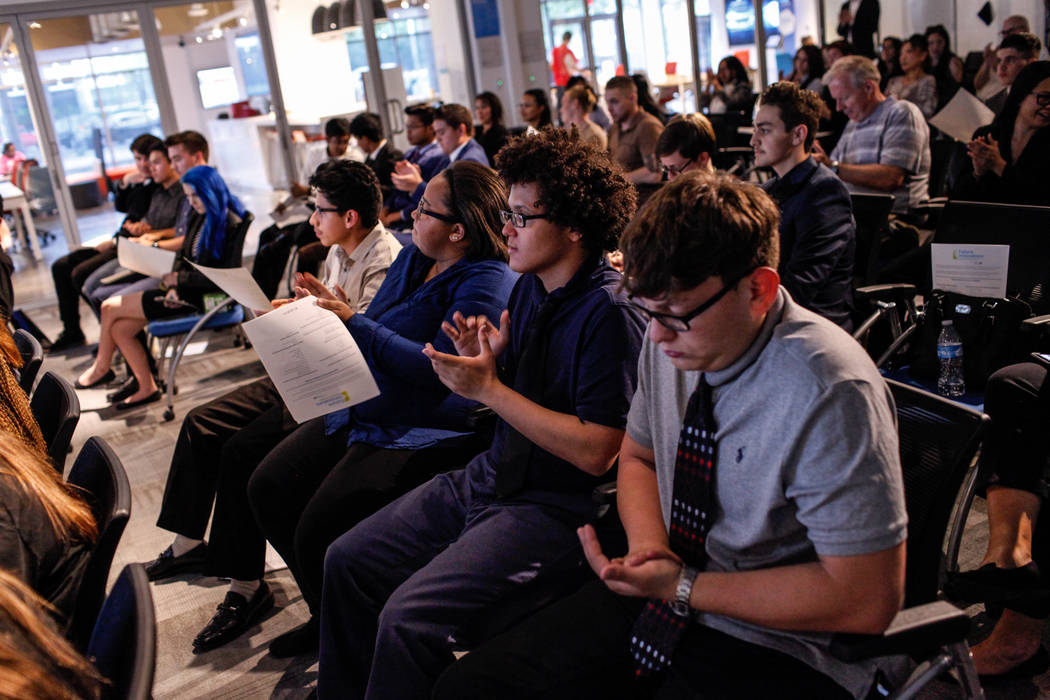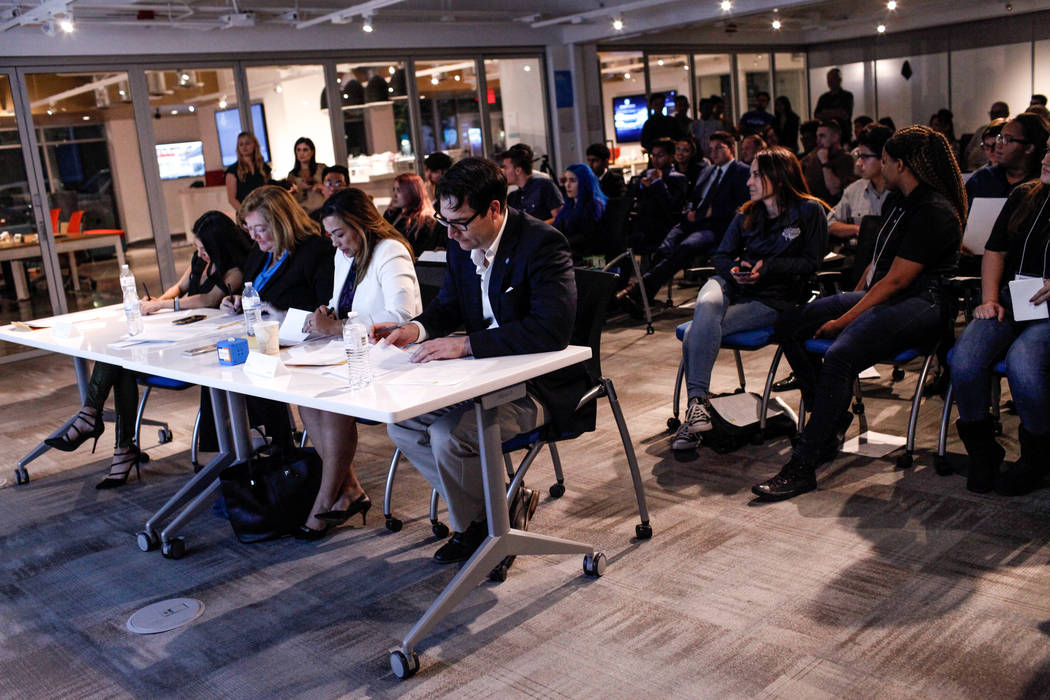 The presentations included all the hallmarks of first-timers: false starts, awkward transitions and half-formed sentences.
But three golden ideas, the brainchildren of Clark County School District high school students, will be refined, perfected and presented center stage at CES 2018.
They are an app that relieves stress, a tiny laptop that mirrors your smartphone and a cube that teaches coding and can perform household tasks.
It's the first time the district has embarked on a project like this, said Snehal Bhakta, Clark County School District career and technical education lead. The district partnered with EVERFI, an education technology company, and the Consumer Technology Association, which puts on the annual consumer electronics show at the Las Vegas Convention Center, to create the program.
About 20 student teams pitched their ideas in front of a panel of judges last week at RedFlint Experience Center in downtown Las Vegas. A panel of four judges whittled them down to three.
"I think this really takes what they're learning in the classroom and helps them apply it in a real-life setting," Bhakta said.
Pitches that didn't make the cut include a sticker with GPS abilities, grippy tape that would absorb sweat and keep video game controls dry, edible sticks for ice pops and lollipops and two ideas to help reduce carbon dioxide emissions from cars.
Addendum device
Southwest Career and Technical Academy sophomores Anish Chejerla and Ishaan Raja, like many other teens and young adults, spend hours upon hours on their smartphones.
Even in their classrooms, where teachers are harnessing the ubiquitous phones for schoolwork. That quickly leads to a problem: Even for digital natives like the 15-year-olds, some tasks are just too hard to perform on a small screen.
Introducing Addendum 1, a small, lightweight laptop-like device that connects to the smartphone and mirrors what's on the screen.
Typing essays will be easier than ever, and zooming in will be a cinch, without the high cost of a laptop.
"It's taking advantage of the money you already spend on your smartphone," Anish said.
Between now and January, when they pitch their idea again, they'd like to create a physical device to show off.
"I want to work on describing it more and making some kind of prototype," Ishaan said.
Stress reliever
A third-party device that plugs into a smartphone and detects elevated heart rates and high stress will sync to an app on the phone, allowing users to color, draw, listen to calming music or engage in a host of other activities to help relieve stress immediately, according to the pitch from Northwest Career and Technical Academy students Cherese Lisama and Jaslin Estavillo.
"We just really wanted to find a solution that would help cure and reduce stress," said Jaslin, a 16-year-old junior.
The product is directly aimed at stressed-out high school and college students. A device will plug into the phone, and by touching it, users can track their heart rate, stress levels and other factors, according to the pitch. Then, they can open the corresponding app and be shown activities that will help them ease the stress.
The students said they were surprised and excited about being chosen to move forward.
"We'd like to have more time to present and go further in-depth with our product," said Cherese, also a 16-year-old junior.
Conditional cubes
Coding and programming are all the rage, and parents and children will be able to brush up on their skills at home with Conditional Cubes, a proposal from Cimarron-Memorial High School students.
Users will be able to go online and write their own code using a drag-and-drop method to program the cube to do simple household tasks, including notifying users when a dog door is used.
"A lot of parents are computer illiterate," said 17-year-old Morgan Branch, a senior.
The cubes are simple enough that even those parents can use them, she said. The students want to refine their pitch so they can better convey their idea before January.
"I'm super happy," said 17-year-old Aspen Anderson, also a senior. "This was just an idea we had in our heads."
Ajaya Branch, a 15-year-old senior, described freaking out and having her hands shake during the presentation.
"I feel relieved now," she said.
Contact Meghin Delaney at 702-383-0281 or mdelaney@reviewjournal.com. Follow @MeghinDelaney on Twitter.