Clark County school budget cuts are getting real
September 22, 2017 - 4:27 pm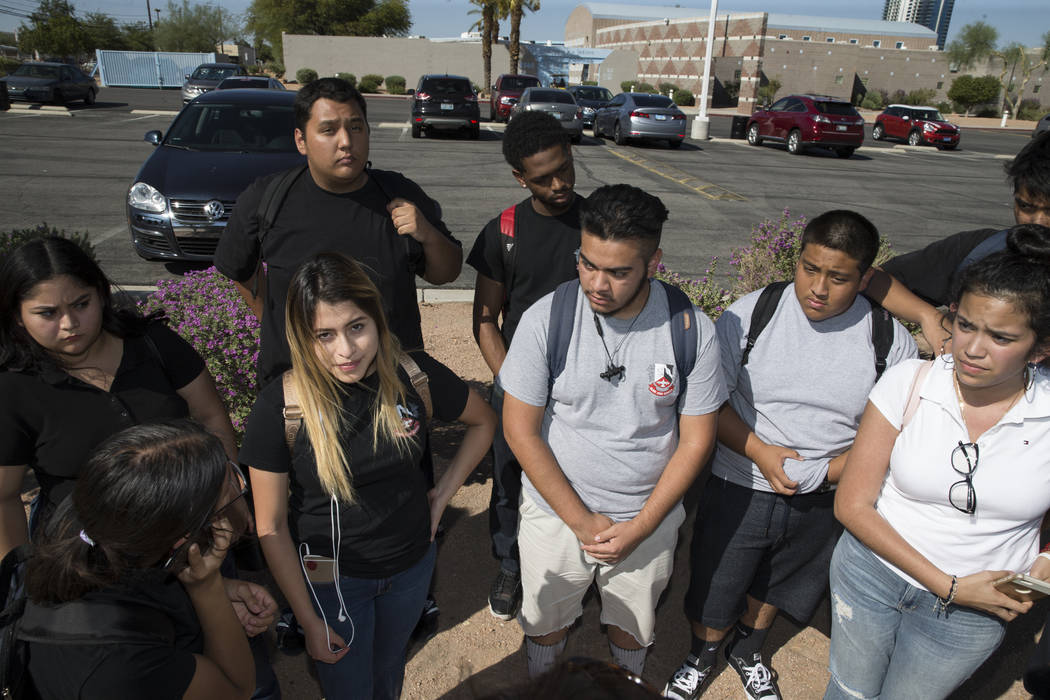 Trace Del Pino is leaning towards dropping out.
He's a second-year senior trying to catch up on credits at Burk Horizon High School through a program for at-risk students who are well behind in credits.
But budget cuts in the Clark County School District will shut down the program offering classes during the day next month, meaning Burk students may take an even longer time to graduate — if they ever do.
"If I go to another school, they're just going to look at me as a number, or look at me as a failing student," Del Pino said.
The program's closure is perhaps the most sharply felt budget cut so far, as the district identifies $70 million to $80 million in spending to eliminate for the current school year. Much like their adult counterparts, Burk students are wondering how this happened.
Senior Itzel Mejia wonders why higher-level staff can't reduce their salaries instead.
"It wouldn't affect them by anything cutting their salary down by 1 percent, 2 percent," she said. "But for us it would mean a lot, because it would actually keep this program going."
Beyond the roughly 89 students at Burk, the deficit will impact employees throughout the district as they are reassigned to new posts through a reduction-in-force process expected to begin soon, or terminated. Because of a budgeting error this week by the district's central administration, schools are waiting for final figures on how much they will need to cut to balance their budgets. They were expected to receive those numbers by Saturday.
A loss for most-vulnerable students
Burk students have other options to continue their educations once the day program ends Oct. 13. They can attend classes in the night program, which will continue, return to their original zoned school or enroll in the virtual Nevada Learning Academy.
But those options often aren't good for individual students, said counselor Kim McMurray, who has been dealing with the fallout from the news of the program's cancellation all week. Many students don't want to return to their original schools, where they ran into problems.
"This is the most despicable, heartless decision I have ever seen," he said, referring to his students, not himself or other staff members likely to find vacant jobs elsewhere in the district.
The loss of the program is another obstacle on already problematic educational journeys that could push students to leave school, he explained.
"If 30 percent of these kids who are getting the rug jerked out from under them … actually get a diploma, I would be surprised at that," McMurray said.
The reductions at Burk could save the district anywhere from $1.1 million to $2.2 million, according to a list of cuts approved at the Sep. 14 School Board meeting.
The students, though, have organized to fight for their school and plan to present their concerns at the next board meeting. They say they never could have imagined they would find themselves defending an educational institution.
"If this school closes, I honestly don't know what I'm going to be able to do," said student Naseem Evans. "I'm probably most likely lost because this is my one and only opportunity."
Reducing employees
For employees, the deficit will trigger a process known as reduction in force, which governs whether staff who lose their current jobs can be reassigned to vacant positions elsewhere.
That process will apply to the 203 occupied jobs that have been eliminated so far, with more cuts likely to come.
The complicated practice depends on whether those employees are qualified for other vacant jobs. If there are no vacant jobs with similar or lesser pay that they are interested in, those employees can "bump" other, less senior employees out of their jobs.
Teachers and administrators are "bumped" based not only on seniority, but also on whether they have been disciplined or rated ineffective in the past. If they have been, they are likely to be fast-tracked to termination.
Those who are displaced and can't displace others also will be terminated. Those people will tend to be among the district's most-recent hires.
The district has stressed that its goal is not to eliminate any teachers, citing the high number of vacant teaching positions. Teachers may, however, be reassigned to other schools.
"There's 152 elementary (teaching) positions open right now," said Chief Human Resources Officer Andre Long. "I anticipate even after all this is said and done, we're still going to have elementary openings."
Been through this before
Terri Shuman, an "itinerant tester" who travels from school to school to administer tests, is expecting the district to formally announce the elimination of her job. She has been through the reassignment process before and said it was not easy.
When her permanent substitute teaching position was eliminated in 2009, she said, she was reassigned to a lower-pay position for which she was not qualified: a teacher assistant job working with kids with severe special needs.
"I don't even have a kid of my own, so I never even diapered a child," she said. "It was very (stressful), very nerve-wracking. And I was written up every single day because I refused to diaper a child."
A few job shifts later, Shuman ended up in her current tester position. Now, she said she's losing sleep over her future and the possibility of a job with fewer months and hours — in other words, less pay.
"I'm very concerned and very scared," she said. "I do have an 11-month, 8-hour position and there just is not that many left in the paraprofessional job family. … I am the only money-maker in my home. I am scared to death."
Like Mejia, a student with an uncertain future, Shuman argued that cuts should come from higher-paid positions.
"We, as support staff, so many of us are either at poverty or below already, and yet they continue to take our legs out from under us," Shuman said. "It really does need to start at the top."
Contact Amelia Pak-Harvey at apak-harvey@reviewjournal.com or 702-383-4630. Follow @AmeliaPakHarvey on Twitter.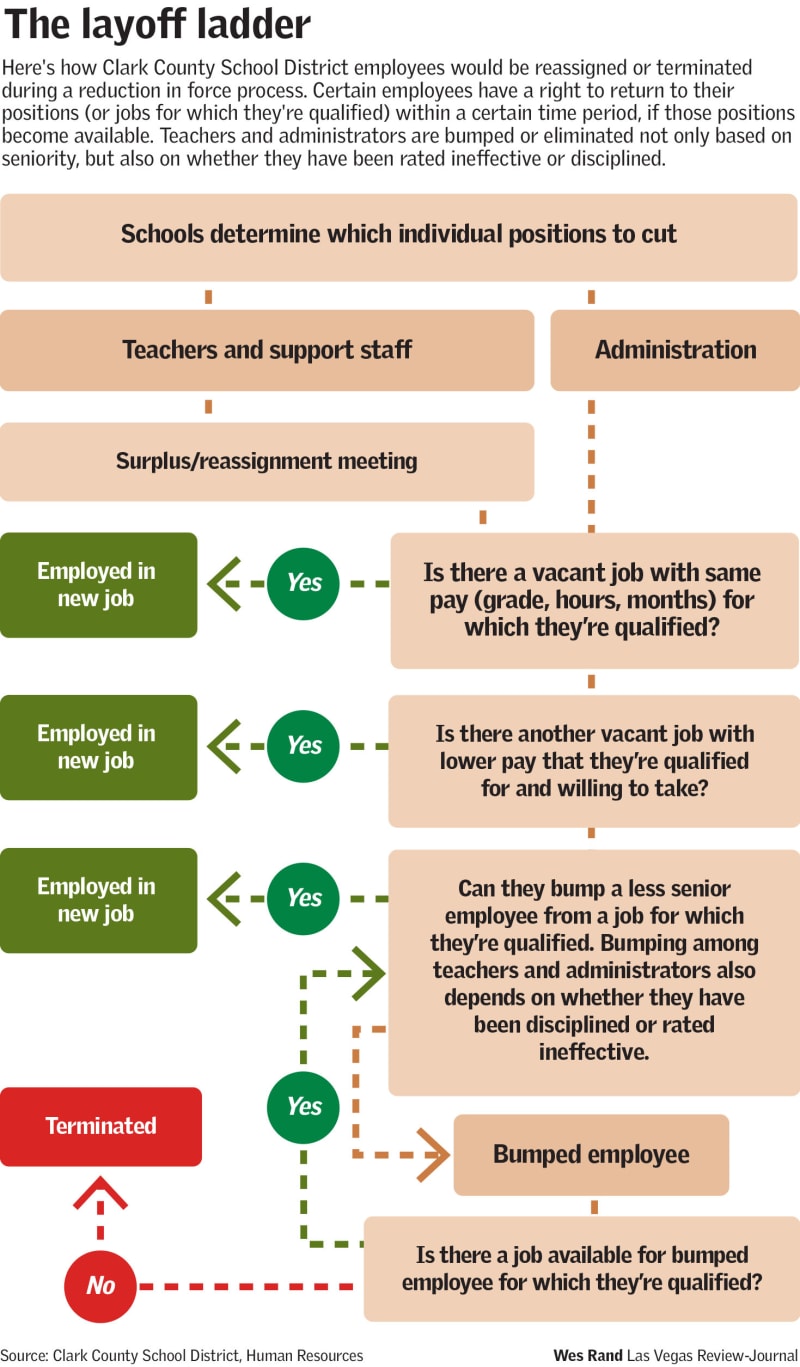 In-district mail service suspended
Pickup and delivery services for mail sent within the district will be halted for schools after Sept. 29 as a result of steep budget cuts.
Instead, schools may pick up or send mail at the Mail Services building at 4212 Eucalyptus Ave., Building 7, Las Vegas.
A district spokeswoman said the district has moving toward using more electronic communications for years, and has already been adjusting some procedures to reduce paper.