Clark County schools move to settle complaint over Kevin Child
Updated March 21, 2018 - 12:08 pm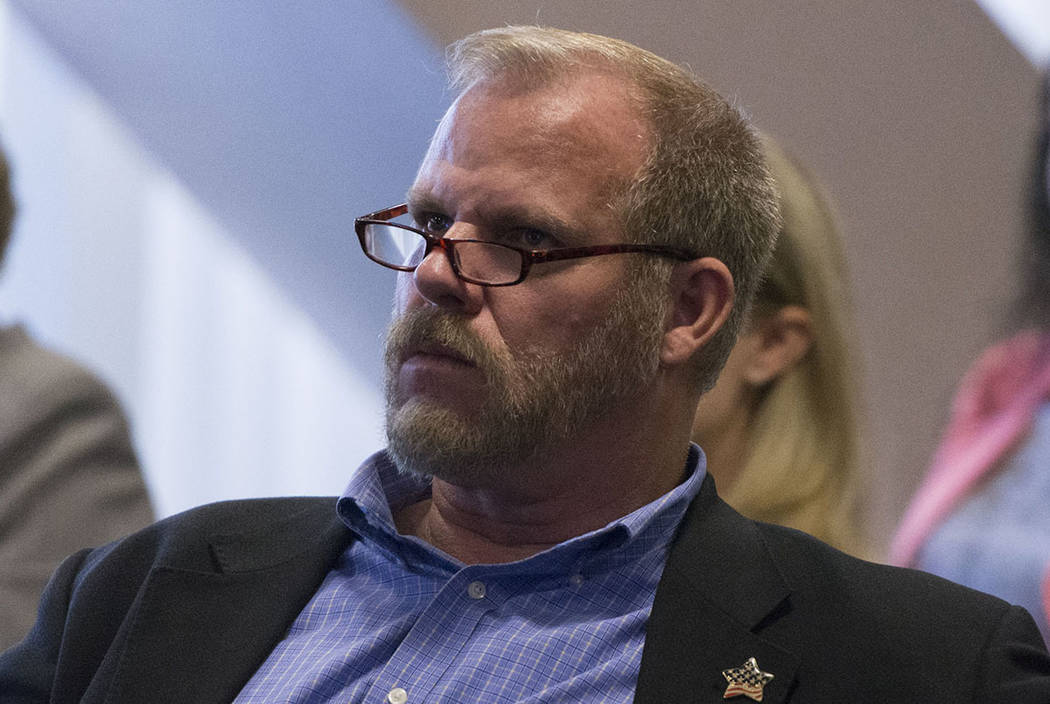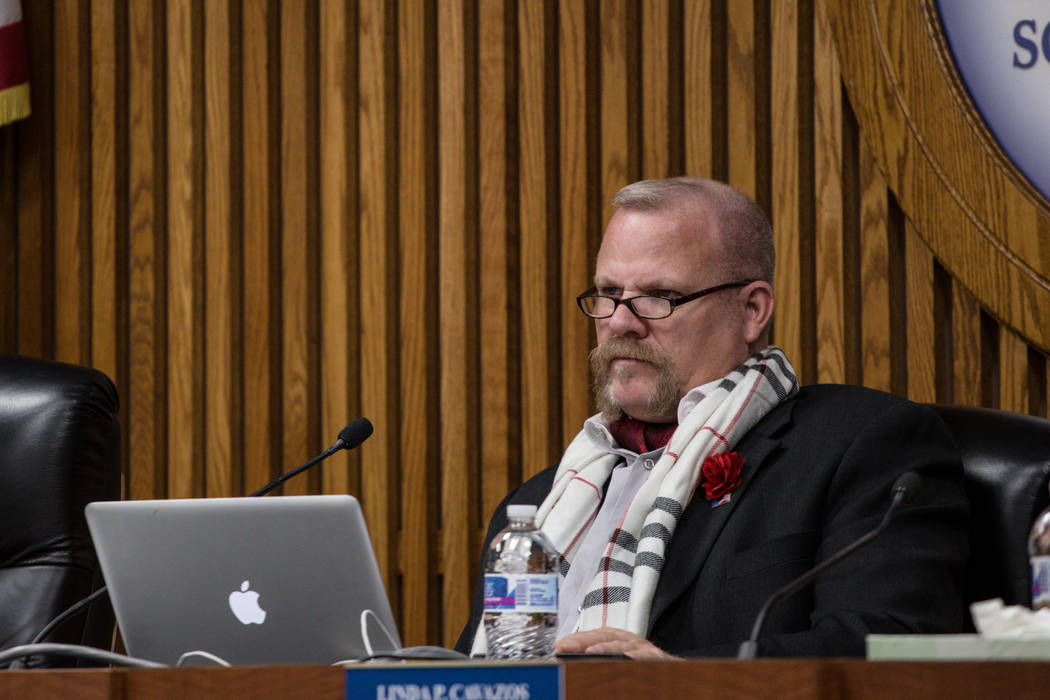 The Clark County School Board is expected to approve a settlement for the school district's second-in-command arising from a complaint over inappropriate actions by Trustee Kevin Child, according to sources familiar with the matter.
If approved by the board on Thursday, the settlement would put to rest a workplace harassment complaint filed by Deputy Superintendent Kim Wooden with the Nevada Equal Rights Commission and the U.S. Equal Employment Opportunity Commission. The item appears on the board's agenda, which was posted online Friday afternoon.
The complaint referred to multiple issues that Wooden had with Child's behavior, according to the sources, who spoke on condition of anonymity due to the sensitivity of the matter.
Under the settlement, Wooden would receive an amended contract stating that she no longer has to work in the office or with trustees if she doesn't wish to, according to the sources. There is no money involved in the settlement — not even for reimbursement for her own lawyer's fees, the sources said.
The district hired Craig Mueller as an outside attorney to represent Child in the matter at a cost of up to $10,000, according to the sources. Mueller, a Republican candidate for attorney general in 2018, could not be reached for comment late Friday.
Details of Child's alleged behavior were not immediately clear.
Child, who filed for re-election on Thursday, did not respond to repeated calls or texts from the Review-Journal seeking comment.
Wooden could not immediately be reached for comment.
The Nevada Equal Rights Commission would not confirm the existence of the complaint to the Review-Journal on Friday, even though the agenda item lists a specific complaint number, saying officials could not do so until a case is resolved. The U.S. EEOC could not be reached.
The item appears under the consent agenda for Thursday's regularly scheduled School Board meeting. Consent agenda items are normally approved with one vote, unless a trustee pulls an item for further discussion.
Twice banned from schools
The settlement is the latest issue to surface regarding Child's actions as a trustee. He has been banned twice from visiting schools without permission by Superintendent Pat Skorkowsky. The second time, the ban included school campuses and other district properties. In November, Skorkowsky said "an outside government agency has received a complaint on Child's behavior." Skorkowsky did not say which outside agency had received the complaint or who filed the complaint.
Child maintains all allegations against him are unsubstantiated. On Thursday, he told the Review-Journal he thought previous allegations were sexist in nature because he's the only male on the school board. He added that complaints about him were leveled because he asks tough financial questions of district officials.
Previous district investigations said Child creates a "hostile work environment" when he visits schools unannounced. According to an Oct. 19, 2016 memo from the district's Office of Diversity and Affirmative Action, the district had not received any official complaints of harassment or sexual harassment regarding Child.
Despite the lack of official complaints, the report said it was evident that female employees at all levels were reluctant to be alone with Child — so much so that building administrators have been forced to resort to special "Trustee Child protocols" that included unique code words to communicate his presence for when he showed up unannounced.
Child is in his first four-year term on the school board, and represents District D. He will face three challengers in the November election.
Opponents react to news
One of them, Eli Thompson, said Friday that Child's behavior is unacceptable, noting that Child has championed his involvement in the district's creation of sexual misconduct policy.
"He's violating the policies he's purporting to spearhead. It doesn't sit right as a member of the community he represents," said Thompson, a 2o-year-old UNLV student and local Realtor. "As for the actual impact on Ms. Wooden as someone who was hired to do a very difficult job, she as a public employee shouldn't have to be subjected to any sort of behavior that would put her in the kind of circumstances she described."
Irene Cepeda, a GEAR UP ambassador at the College of Southern Nevada, said she tried to stay away from the negative news about Child.
"We need to make sure we're running on policy, on the issues and for the best future we can make for our students," she said.
Leobardo Martinez Jr. could not immediately be reached for comment late Friday.
Contact Meghin Delaney at mdelaney@reviewjournal.com or 702-383-0281. Follow @MeghinDelaney on Twitter. Review-Journal staff writer Amelia Pak-Harvey contributed to this report.