Clark County students share school safety concerns at summit
Updated July 21, 2018 - 12:22 am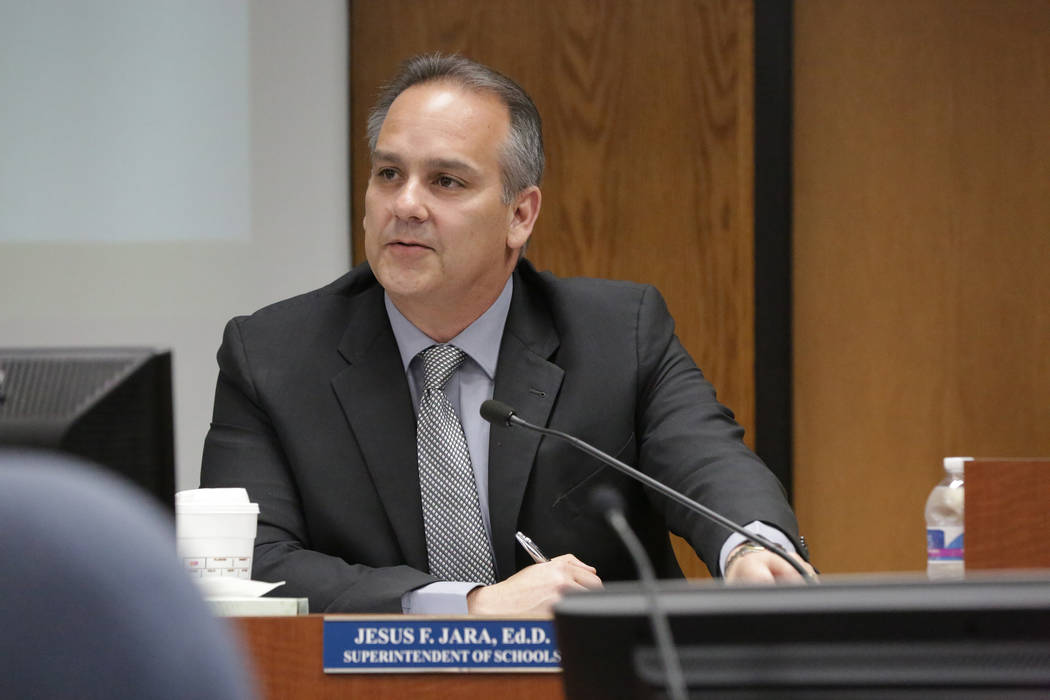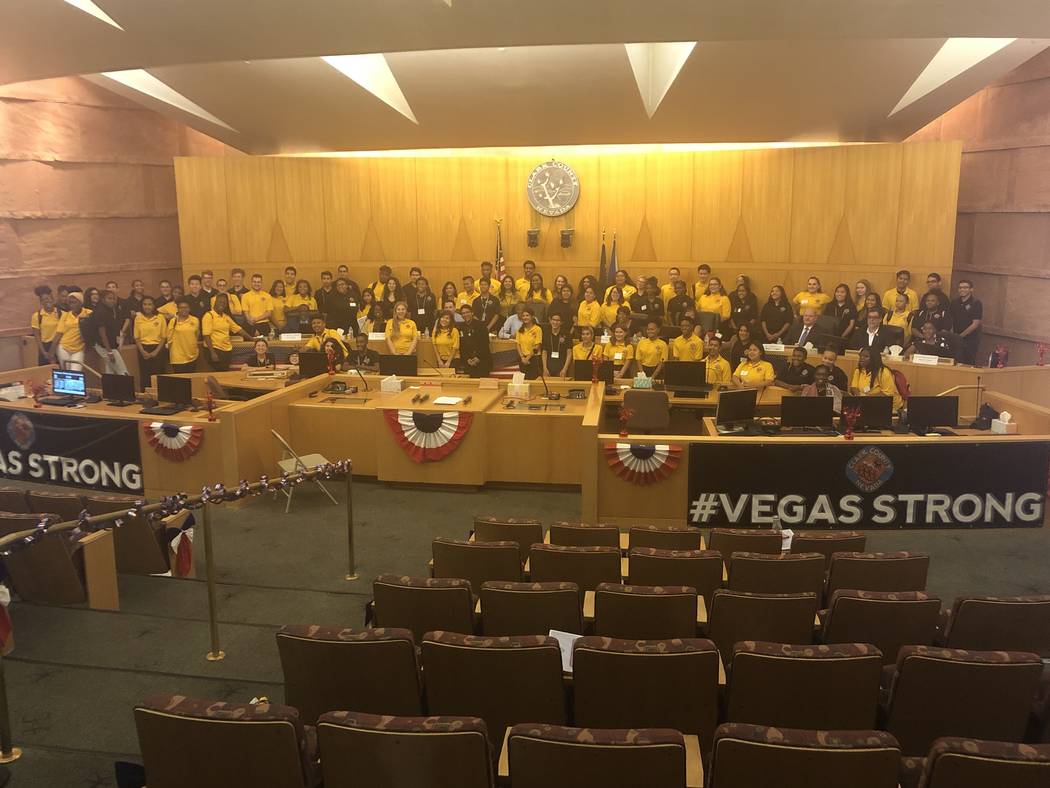 "Do you feel safe in school?" a student asked.
"I don't feel safe," a student responded. Then another. And another. Soon came the refrain in unison, "We don't feel safe."
The skit kicked off the School Safety Summit, an event held Friday afternoon at the Clark County Government Center and organized by students in the county's Summer Business Institute internship program. Students shared their concerns about school safety with nine community leaders, including Clark County School District Superintendent Jesus Jara.
Some students said school no longer feels like a safe haven of learning. "There was so many times where I just felt like there was going to be something bad that was going to happen, just an eerie feeling," 17-year-old Aaliyah Thomas, a recent Canyon Springs High School graduate, said later. "And that was a feeling that I shared among my colleagues. It wasn't just something that I felt personally."
Students emphasized the importance of promoting SafeVoice, an app and website Clark County schools will use during the upcoming school year. The app allows students, parents, teachers and school staff to anonymously report school safety concerns.
SafeVoice representative Tammy Malich said students should encourage their peers to use the app and website, which are now mandated by the Nevada Legislature to be in schools.
"We can make legislative mandates happen to the letter of the law," she said. "The way that it really spreads though and becomes useful is through voice, and students have a very powerful voice in this."
Jara said students should approach school safety officers and administrators about safety concerns.
"We need to go on a campaign; when you see something say something," Jara said. "It's not about snitching; that's the culture that needs to change in our schools."
One student asked CCSD Police Capt. Ken Young how students can be protected from friends or parents when they report on another student.
Students reporting safety concerns are protected because they're considered witnesses, Young said. "You as students have to support each other," he added.
Jara told the students he was impressed by their presentation and wants them to talk to lawmakers in Carson City during the next legislative session in February.
"It's time for folks to put their money where their mouth is, but what would be more impressive than just a bunch of us talking to the legislatures about committing resources would be all you," Jara said. "We're going to figure out a way to get this voice heard up there, and I will do my part to help."
The panel comes amid other work on school safety, including a task force, created by Gov. Brian Sandoval, that may affect the upcoming 2019 legislative session.
The statewide school safety task force recently sent a number of recommendations to Sandoval, who may incorporate some of them into his draft budget or bill draft requests.
The incoming governor ultimately will decide whether to move any of the initiatives forward, as the term-limited Sandoval will leave office before the session begins.
Proposals included creating new funds to improve physical safety on campus, increase the number of police officers on school campuses, and increase the number of mental health professionals.
Friday's panel marks just one step toward seeing changes, students said. Educating people on school safety can help prevent future tragedies, said Colyn Abron, who, along with Thomas, was an ambassador for the Summer Business Institute.
"These people are going to be the decision-makers of our city," the 17-year-old said. "So I think it was really good that we were able to present this information and they were actually absorbing it."
Contact Katelyn Newberg at knewberg@reviewjournal.com or 702-383-0240. Follow @k_newberg on Twitter. Review-Journal staff writer Meghin Delaney contributed to this report.
Who was on the panel
— Clark County School District Officer Ken Young
— Communities in Schools organization representative Tiffany Tyler
— Judge William Voy
— Clark County School District Superintendent Jesus Jara
— North Las Vegas Mayor Pro Tempore and Councilwoman Pamela Goynes-Brown
— SafeVoice representative Tammy Malich
— Deputy Director of the State Public Charter School Authority Brian Scroggins
— Executive Director of Jobs for Nevada's Graduates Inc. Rene Cantu
— Jobs for Nevada's Graduates Inc. Representative Sherrie Smith