Construction starts soon for UNLV housing project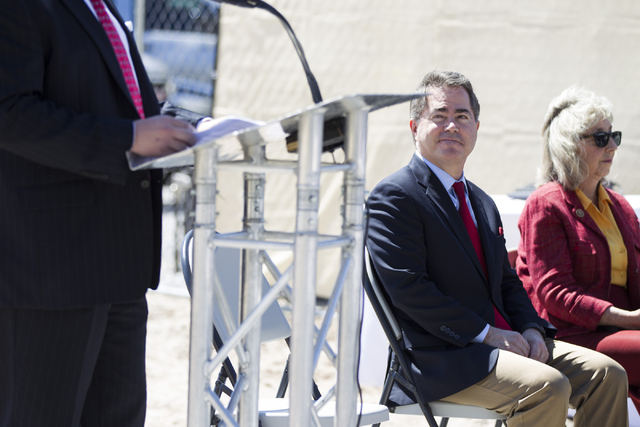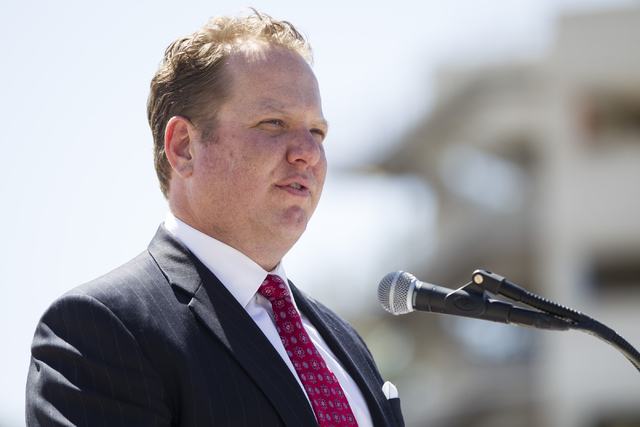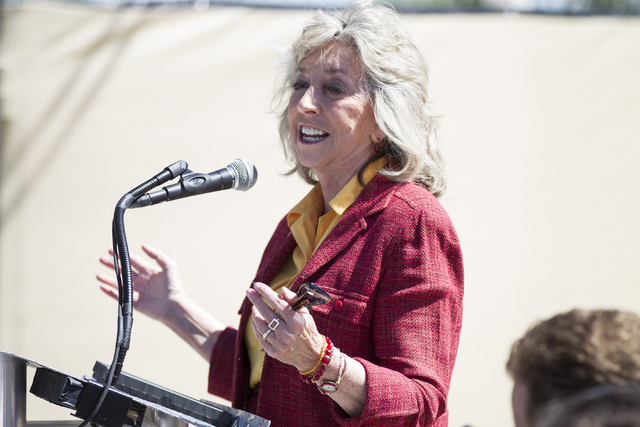 Construction will begin soon for a dormitory-style housing project on UNLV's north edge, driving efforts to lure more students to live near campus.
Dubbed U District, the development aims to replace the aging University Park Apartments complex at Maryland Parkway and Cottage Grove Avenue, bringing 758 beds to the north side of campus as early as next year.
Project leader Eric Midby said crews began tearing down a 116-unit section of the old complex in February, and they will start building over the area this month.
"The kind of traditional notion of UNLV is (that it is) a great university but kind of more of a commuter campus," school President Len Jessup said at a ceremony Tuesday celebrating the project's kickoff. "We have no more room. …We have a waiting list for students that want to live around campus."
U DISTRICT
UNLV is partnering with local real estate firm The Midby Cos. to develop U District. The school spent $18.5 million to purchase University Park from Wells Fargo & Co. last year, with Midby investing the rest to manage and rebuild apartments at the 14-acre site.
By late next year, the company plans to open a five-story, $76 million facility called The Degree, which will have 226 apartments with 758 beds. Amenities include study rooms, a 2,000-square-foot pool area, and a parking garage that can hold 365 vehicles and 86 bicycles.
The Midby Cos. still oversees 160 remaining University Park units, which the company is renovating and rebranding to draw more students. Midby plans to eventually tear them all down to make room for as many as 3,000 U District beds within the next decade — an effort estimated to cost more than $200 million.
"A lot of people are investing in this area," said Midby, the company's chief operating officer and director of development. "Ten years from now, you won't be able to recognize Maryland Parkway."
GOING RESIDENTIAL
UNLV has long yearned to shed its commuter label by transforming the school and its surrounding neighborhood into a more inviting home for students. Administrators have had some success, more than doubling the number of people living in the university's four dormitories from 2011 to 2014. Today, dorms are above capacity with about 1,800 tenants.
School leaders say housing demand has been high in recent years, but UNLV can accommodate only about 6 percent of its 29,000 students. According to an assessment of student housing trends by U.S. News & World Report, the average percentage of undergraduate students at traditional research universities who lived on campus in 2013 was 39 percent. UNLV was one of three institutions that reported 5 percent, the lowest average. Data for the survey were submitted by 252 ranked schools.
"We just hope to attract more students and create a more inviting and secure place for people to call home," Midby said. "It's really exciting."
Most students who live in UNLV's dorms are freshmen, some of whom are required to live on campus. U District will instead cater to upperclassmen and graduate students, said Gerry Bomotti, UNLV's senior vice president for finance and business.
"Besides our housing, there haven't really been a lot of good options," Bomotti said. "We're sort of embracing this as part of the campus. Hopefully, it'll be quite successful."
Contact Ana Ley at aley@reviewjournal.com or 702-224-5512. Find @la__ley on Twitter.