Cost reaches $545K for Nevada in education savings account challenge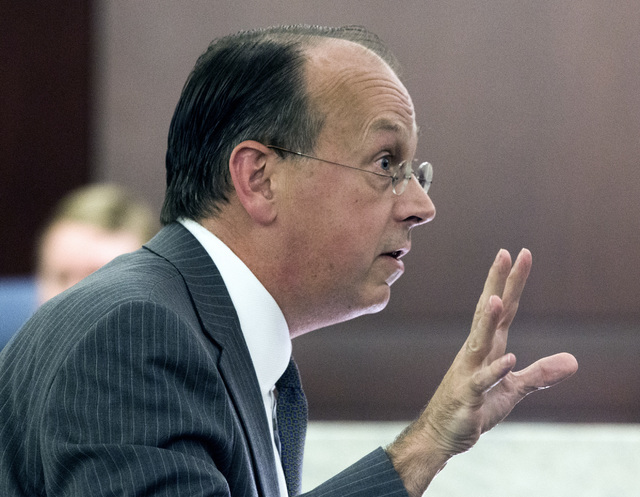 Nevada taxpayers will spend more than half a million dollars to defend the state's contested education savings account program.
The total price tag reached $545,000 on Tuesday as the state Board of Examiners voted 2-0 to approve a $125,000 extension to a contract with the out-of-state law firm Bancroft PLLC, led by former U.S. Solicitor General Paul Clement.
Since October, Clement has assisted the state attorney general's office in crafting its defense of Senate Bill 302, which authorizes a voucher-style program for parents to spend per-pupil state funds on private school tuition.
Clement in July argued on behalf of the state in two hearings before the Nevada Supreme Court on the constitutionality of SB302. The justices are expected to issue a decision soon.
"I've been very supportive of this, and obviously we're all waiting for a decision from the Supreme Court," said Gov. Brian Sandoval, who chairs the Board of Examiners.
He asked Assistant Attorney General Nick Trutanich whether the board can expect requests in the future for additional money to extend the Bancroft contract.
"I'm hesitant to say emphatically, 'No,' without reading the Supreme Court's opinion (but) it's highly unlikely," Trutanich said.
AG rep Nick Trutanich says hiring outside firm Bancroft helped NV get ESA case to supreme court in months, not years, as in other states

— Michelle Rindels (@RindelsAP) August 9, 2016
Trutanich acknowledged the $545,000 as a "substantial amount" but also a "bargain" based on the estimated 2,000 hours that Clement's firm has spent on the SB302 cases.
Without a discounted rate from Bancroft, the state could have spent more than $1.5 million for the same services, Trutanich said.
Often ranked among the bottom-performing states for education, Nevada earned national attention in 2015 when Sandoval signed SB302 into law.
That legislation allows parents who pull their children out of public school to create an education savings account and tap about $5,100 in public money a year to pay for private school or other education services. The bill has no enrollment cap and would provide additional money for students with special needs.
Supporters of the program argue it grants parents more options to better educate their children and provides competition for public schools to improve.
Opponents counter that SB302 would drain resources, up to $40 million by early estimates, away from an underfunded K-12 system and pay for discriminatory practices at religiously affiliated private schools.
Contact Neal Morton at nmorton@reviewjournal.com or 702-383-0279. Find @nealtmorton on Twitter.
RELATED
ACLU sues to stop Nevada education savings accounts
Busting myths about Nevada's groundbreaking Education Savings Accounts
Private school parents decry education savings account rule
Make Education Savings Accounts as inclusive as possible — right away
Parents can't curb ESA enthusiasm
ESAs can cover private school tuition
Nevada leaps forward nationally with education savings accounts
How to best implement education savings accounts
Public schools can fight ESAs by being more accountable