Data tool helps Clark County schools boost graduation rates
November 5, 2017 - 11:14 pm
Updated November 6, 2017 - 4:55 pm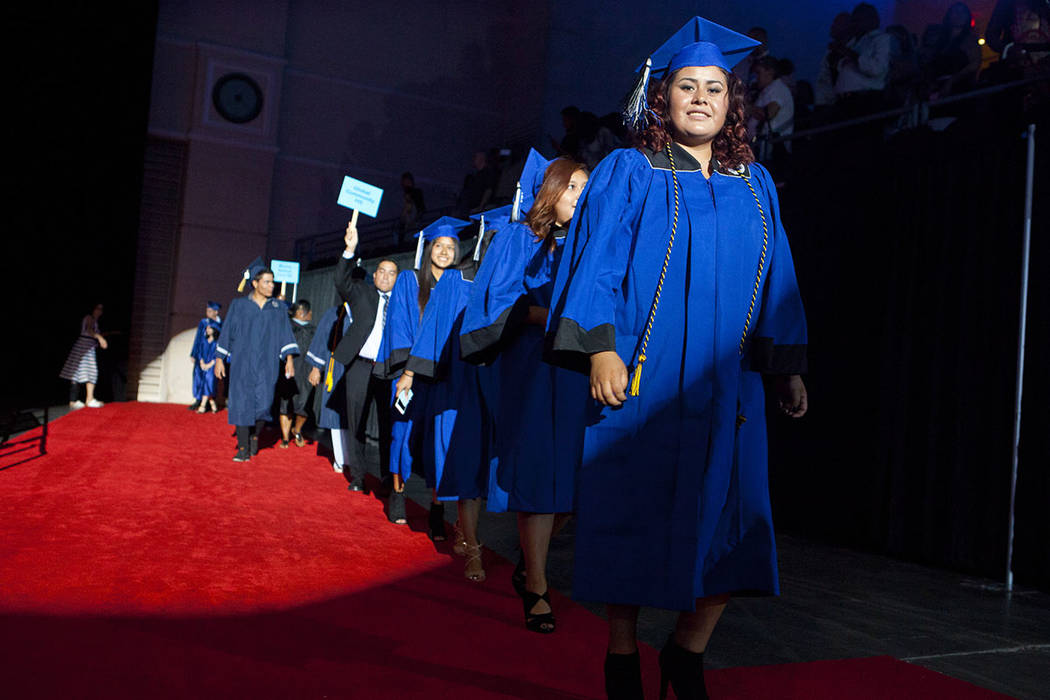 When Lori Sarabyn took over as principal at Cimarron-Memorial High School in March 2013, the school's graduation rate was 62 percent. This year, it's 95 percent.
Sarabyn and her team partially credit the jump to a data visualization tool from the Clark County School District to carefully watch how many of the school's 2,500 students are on track to graduate. Learning strategist Jennifer Joseph downloads a list of student progress weekly but accesses the system two or three times a week to check in.
The tool has allowed the school to make staffing changes to accommodate student needs. For example, in 2014 Sarabyn had a lot of seniors who were missing the required one-half credit in health. To graduate on time, those students would have to retake the class senior year. But she also needed to make sure the rest of her students had the opportunity to take the class, too.
"I knew I had to add staffing," Sarabyn said. "I had to meet their needs. You can see those pockets of stuff all the time with this."
Preliminary countrywide data released by the state Education Department in October show gains across the board in graduation. Mike Barton, Clark County's chief academic officer, also said the data visualization tool is a factor in the increase.
Cimarron-Memorial's 95 percent rate is based on district data and has not yet been released by the state, but Sarabyn said it's the highest among the county's traditional high schools. The state is expected to release school-by-school data in December.
Nathan Trenholm, a former district staffer who helped create the tool, said it completely changed the way schools access data. Trenholm founded Data Insight Partners with Justin White, another former district staffer. The analytics firm studies education trends in the state.
"Outside of the work going on by staff in schools every day, this is the single biggest factor why the Nevada graduation rate has gone from 61 percent to 81 percent since 2011," Trenholm said.
How it works
The tool shows every student and all the credits he or she has earned toward graduation. Schools can use the data to figure out class placements and track down students who are teetering on the edge of graduating.
A recent update allows schools to see whether the student is currently enrolled in a class, a welcome change, Sarabyn and Joseph said.
"We look at everyone quite carefully," Joseph said.
If they notice any trends, such as more students failing math or falling behind in required math credits, officials can look at providing more tutoring for students or more professional development for teachers to help make sure students are learning.
Sarabyn used the data to make charts and graphs to post around office spaces. She calculates what the graduation rate would be if "X" more students graduate. At her school, each additional student represents about 0.12 percentage points.
Using last year's data, she also sets goals on how many students should be on track at certain points of the year.
"Every year I set a goal and everybody just rolls their eyes," she said. "I've exceeded every one."
Unsuccessful transfers
The tool also helped principals such as Sarabyn track down what the district calls "unsuccessful transfers."
When a student leaves the district for a charter school, a private school or an out-of-state school, it's expected that the new school will call the district's central office and request the student's official transcripts. If that doesn't happen, the school is still on the hook for graduating that student — because it then appears as if the student dropped out.
Until the data visualization tool, principals could only guess about which students those were. Now, they can do more.
"Many were completely unaware that there were students who left their school in ninth, 10th and 11th grade who were impacting their graduation rate because there was no evidence in the student information system that they had enrolled in another diploma-granting school," Trenholm said.
That's the case at Cimarron. When Sarabyn began using the tool, there were more than 500 unsuccessful transfers. Now, the number stands at 79.
"It's the lowest we've ever been," Joseph said.
"We've gotten much better at following up," Sarabyn added.
Once a student's transcripts are transferred, it helps boost the graduation rate because the school has fewer students.
They also pester students who have dropped out, trying to persuade them to come back.
"We have kids who just need someone to be there, someone to believe they can do it," she said. "With this tool, you show them that they can do it and the timeline for how they can do it."
Contact Meghin Delaney at mdelaney@reviewjournal.com or 702-383-0281. Follow @MeghinDelaney on Twitter.