Dueling lawsuits by local, state teachers unions head to trial
January 16, 2018 - 4:13 pm
Updated January 16, 2018 - 5:41 pm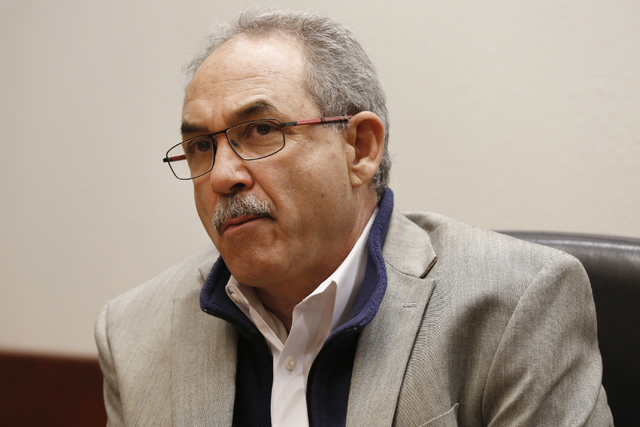 State and local teachers union leaders both found reasons to celebrate Tuesday after judges allowed their opposing lawsuits over dues and representation to proceed.
At the heart of both lawsuits, which were filed in September, are dues paid by Clark County teachers for services provided by the unions.
The local union sued first, alleging the state union was violating its contract by not providing information about how local dues are spent. The state union countersued, claiming the local union was violating the same contract by illegally withholding dues.
In separate hearings Tuesdays, two different judges denied parts of motions to dismiss filed by the defendants and allowed the cases to proceed to trial.
Both sides focused on the positive.
"We're feeling good. We're feeling really good," said Clark County Education Association head John Vellardita. "We want it in the courts. The courts will shine light in this dispute. We'll find justice in the courts."
The head of state union was feeling good, too.
"Nothing was detrimental to keeping our case on track to make sure we address the illegal withholding of members dues," said Ruben Murillo, president of the Nevada State Education Association. "This is a huge victory for our members."
Tensions boiling
The legal dispute between the Clark County Education Association, which is an affiliate of the NSEA, and the state organization is focused on dues. But tensions between the organizations flared during the 2017 legislative session, when they came down on opposite sides of a few high-profile education issues, including teacher evaluations and Education Savings Accounts.
The dues dispute landed in the courts when the organizations filed their dueling lawsuits in September.
In late November, the state union sent a letter warning that local teachers would lose state benefits, certain training and insurance because of the local union's failure to submit dues.
The local union called it a scare tactic and pledged members would not lose any benefits.
Murillo, a former Clark County teacher and local union leader, also says his health insurance has been stripped because of the ongoing fights. In a Jan. 12 complaint filed with the Employee-Management Relations Board, Murillo attributed the move to the ongoing litigation.
"It's kind of a low blow but I'm not surprised by what they did," he said.
A spokeswoman for the local union said she could not comment on the complaint, because she had not seen a copy.
A hearing date for the complaint before the labor board has not yet been scheduled.
Contact Meghin Delaney at 702-383-0281 or mdelaney@reviewjournal.com. Follow @MeghinDelaney on Twitter.