Education Department official touts efforts to boost preschool enrollment in Las Vegas visit
September 15, 2016 - 4:38 pm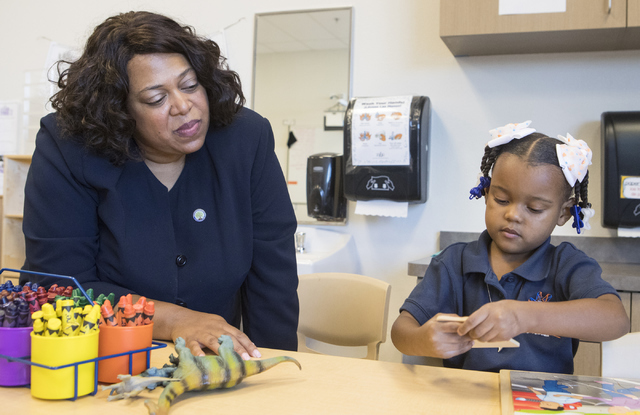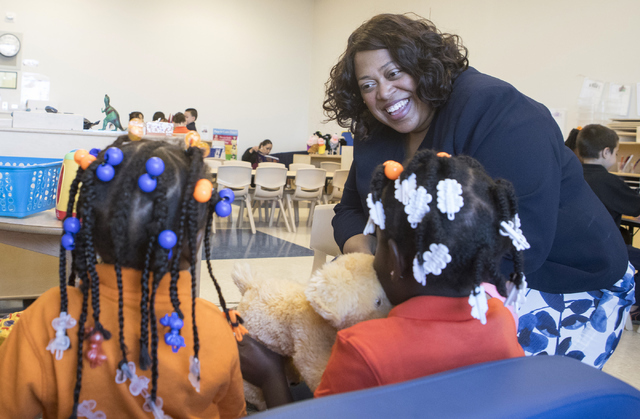 A senior official with the U.S. Department of Education toured a Las Vegas charter school Thursday to see the impact of a multimillion-dollar federal grant to boost preschool enrollment in Nevada.
Monique Chism, a deputy assistant secretary with the department, started her morning at Mater Academy with polite introductions from two preschool graduates, Miguel Gomez and Zoe Gluckler, who started kindergarten classes this year.
Miguel told Chism that he spoke no English last year when he arrived at the campus, located on Mountain Vista Street near Boulder Highway and Desert Inn Road, but now helps the new pre-kindergarten students so they're not scared in class.
"Those early years are the critical years for ensuring that students are on track," Chism said after her tour.
"If you do not have the money to send your child to a private preschool option, there are no options," she added. "So public, high-quality preschool is absolutely essential."
In April, the Nevada Department of Education reported that a multimillion-dollar federal grant helped the state enroll 782 low-income children into preschool last year — a number slightly below what public officials called their aspirational goal of 900.
The four-year grant, announced in December 2014, should bring $43 million to Nevada and triple the number of classroom slots available to 4-year-olds. State lawmakers last year applied another $23 million toward the program, which aims to boost the prospects of at-risk children and improve Nevada's low marks for preschool access.
Nya Berry helps oversee implementation of the grant for the State Public Charter School Authority.
She said the money helps participating schools attract qualified teachers with more acceptable wages. According to Berry, day-care workers in Nevada earn up to $12 an hour, while preschool teachers can bank a salary of $39,000.
"That is going to help them support their families and not be paid the same as they earn in child care," Berry said. "I see it as a positive thing, and we seem to have attracted some really great teachers."
Mater Academy received about $880,000 for its preschool program in 2016-17. It hopes to offer 40 more seats at a community center soon and in 2017-18 will welcome 70 new pre-kindergarten students at a second campus on Bonanza Road and Marion Drive.
The school expects to receive $1.4 million through the federal grant next year.
"This was our first year of the preschool development grant, and we were happy to make awards to 18 states. So we have more than 230 communities across the nation now that have high-quality preschool programs in place," Chism said. "That's an extra 30,000 students who are getting services."
Her visit to Mater Academy was part of the federal education department's annual back-to-school tour of schools and education programs across the country. On Friday, Chism will tour a Clark County School District campus and join a roundtable discussion on teacher leadership.
The Associated Press contributed to this report.
Contact Neal Morton at nmorton@reviewjournal.com or 702-383-0279. Find @nealtmorton on Twitter.