Educator of the Month: Counselor says 'it's all about the kids'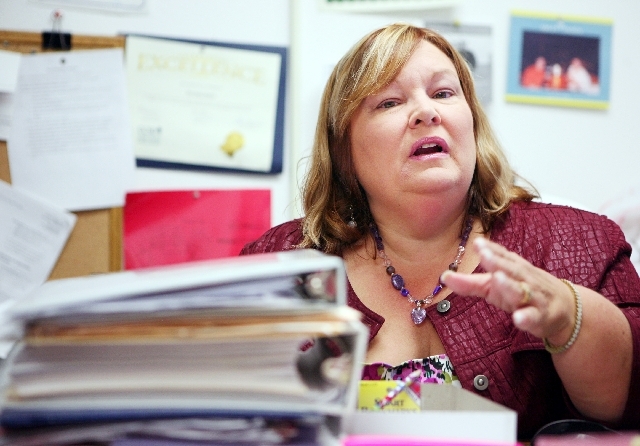 Two years ago, McCall Elementary School counselor Brenda Reeh passed out from dehydration while escorting students from class to an on-campus charity event.
"It was the first day we hit 100 degrees, and I kept thinking I was drinking water," Reeh said. "I worked so hard that I passed out from dehydration. How many people can say they did that?"
Her co-workers then had to call the paramedics. Now, they regularly check on her to make sure she's not over­working again.
Her commitment to students at the school near Carey Avenue and Interstate 15 has not gone unnoticed. Her daughter, Kristyn Vasconcelos , an early childhood special education teacher at McCall, nominated her for the Clark County Educator of the Month award.
"She is always at the school before her contracted time and rarely leaves before 6 p.m.," Vasconcelos wrote in her winning nomination. "She helps coordinate practically every after-school, before-school and Saturday activity. She is truly the lifeblood that keeps the school together at Quannah McCall."
Reeh was chosen from a list of April nominees by a panel that includes members of the Clark County School Board, Public Education Foundation, PTA and Teach for America. Each monthly winner will be honored at an end-of-the-school-year banquet, where an Educator of the Year will be recognized.
"Sometimes being an elementary teacher, you don't know how far your influence reaches," Reeh said. "It's good to be appreciated, and it goes a long way sometimes."
The award came during a difficult time for Reeh, who took medical leave to help her ailing mother. Reeh has continued to stop by the school each week to help ease the workload.
"For some of the work, it's just easier for me to stop in and do it than to try to explain it to someone else," she said.
But Reeh acknowledged she has to be careful not to spend the whole day working while on leave.
"It really sucks me in," she said. "I live here. You will see my car here until 5 or 6 p.m. all the time."
As counselor, Reeh schedules "Parenting Wisely" classes, supervises UNLV student teachers, runs incentive programs for students, writes grant applications, and coordinates many of the charity events for the children.
"I believe that a child that's worried about where they're going to sleep at night cannot learn. A child that's hungry cannot learn," Reeh said. "We try to meet the needs of the families and the children so the academics can go up, and they do."
Reeh also makes sure that students have clothes, shoes, and even glasses. In one instance, she purchased new glasses with her own money for a needy third-grade student. The Las Vegas Emblem Club later reimbursed her with a $500 grant.
"She ensures students have all of their basic needs met so that they can focus on their education," Vasconcelos wrote. "She is known in the community by parents, business partners, and students for being able to accomplish whatever she puts her mind to."
In return for her commitment, students and parents show their appreciation with cards and small gifts. One student surprised her by making a card last year after being reprimanded for talking back to her.
"It had a picture on the front that he had drawn," she said. "On the inside, it read, 'Thank you so much for all that you do. I hope I can grow up and be a counselor like you some day.' "
Reeh has worked in education for 15 years and at McCall for 12 years. She started as a classroom teacher at McCall after moving to Las Vegas from Alaska. She has since worked as a literary specialist, behavior specialist, and school counselor.
Reeh became emotional when sharing her motivation as an educator.
"It's all about the kids, and that's one reason I've continued to stay here," she said, holding back tears. "These are good, sweet kids, and they deserve a good foundation and good teachers."
Contact reporter Caitlyn Belcher at
cbelcher@reviewjournal.com or 702-383-0264.