Few know identity of mystery $25M donor to UNLV med school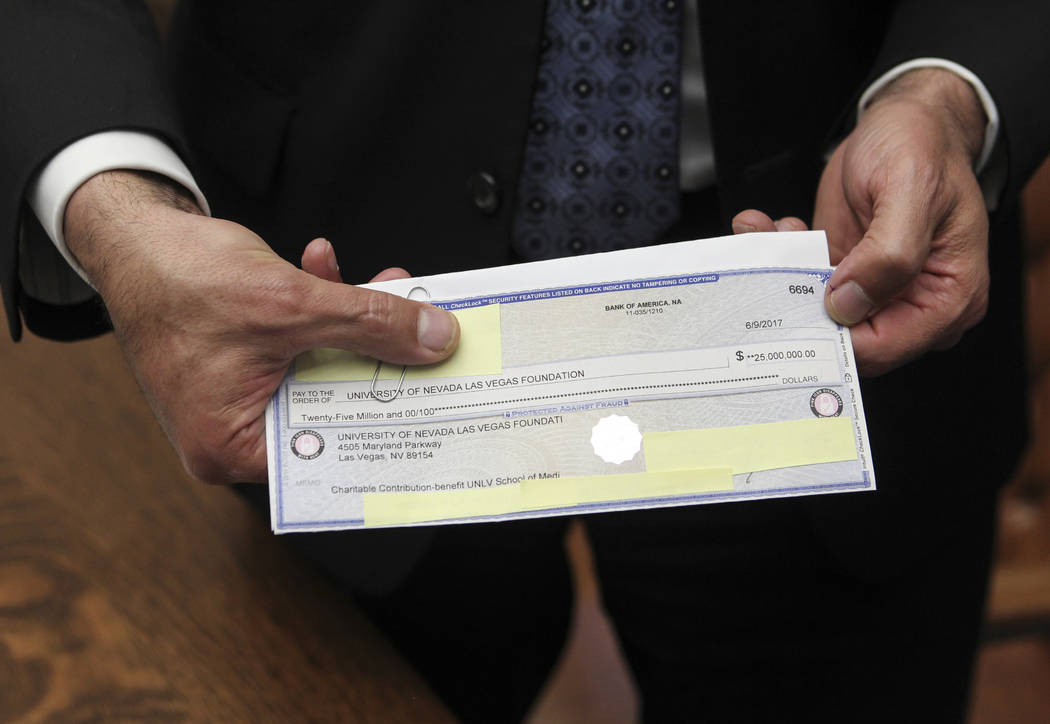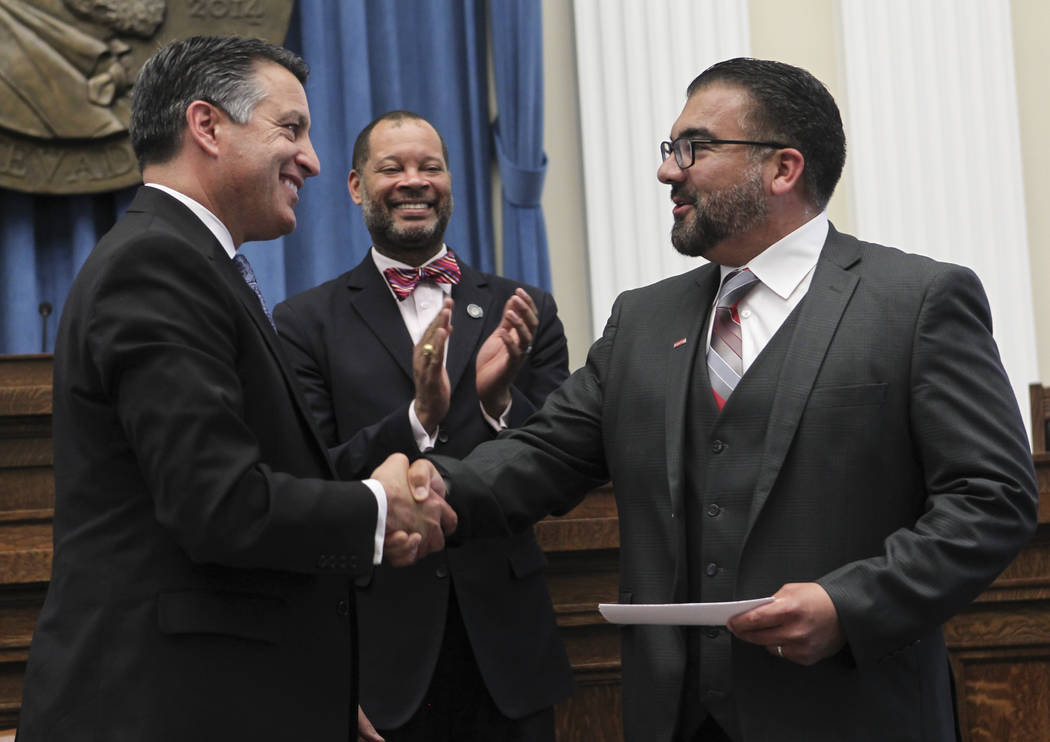 The check with yellow strips of paper hiding the signature and address was not the oversized cardboard variety typically produced for such occasions.
But the amount on the "pay to" line — $25 million — stole the show at the Nevada Legislature on Monday.
The surprise gift to UNLV's new medical school from an anonymous donor immediately unleashed speculation about the identity of the deep-pocketed contributor with an aversion to publicity. It's a secret that, for now at least, is known to very few.
Mari St. Martin, spokeswoman for Gov. Brian Sandoval, said only a few members of his administration and UNLV representatives know whose name was beneath the yellow strips.
UNLV President Len Jessup is one of them.
"I wouldn't accept the gift otherwise," he said. "This gift is fantastic and transformational for the medical school. And again, a great example of a public-private partnership and how well that works in Nevada. We're very excited about this gift."
Jessup said both he and Barbara Atkinson, the dean of the UNLV School of Medicine, were personally involved in the cultivation of the gift. He said the relationship has been in the works for a "long, long time." He would not disclose if the donor had given to the university in the past.
Matching funds required
In a surprise move Monday morning, the Legislature approved $25 million for the school, which was above and beyond the $21.8 million for 2017-18 and $30.2 million for 2018-19 allocated from the state's general fund.
Lawmakers attached a stipulation, however: The money to help pay for construction of the school's planned $100 million medical education building would require the university to raise an equal amount in matching funds.
Those matching funds appeared in the form of a nondescript check just a few hours later, suggesting the donation may have preceded the bill, rather than vice versa.
According to Maria Di Mento, staff writer for the Chronicle of Philanthropy, anonymous gifts — especially large ones — are more common than people realize.
"Once you give a large gift and you attach your name to it, you are inundated, slammed with giving requests from every charity in your city, state and beyond," she said, explaining why many philanthropists choose to remain out of the limelight. "There is so much need these days that charities are desperate to know who can help them."
Tax-exempt public institutions like UNLV, on the other hand, generally prefer to have the donor's name publicly attached to a gift, as that can help raise money from other wealthy donors, Di Mento said.
'We expect a lot more to come'
UNLV School of Medicine Dean Barbara Atkinson's original goal was to find a mega, $100 million donor by the close of the 2017 Legislative session. But she and Jessup both indicated that the sudden appearance of half that amount is a big step forward.
"This very successfully kicks off the fundraising for the school of medicine facility," Jessup said. "We expect a lot more to come."
Atkinson agreed, and said she wasn't concerned that the donor preferred to remain anonymous.
"I'm not worried about that," she said. "… There are a lot of people who give anonymous gifts. There are a lot of people who want to help and are very passionate about doing something that will make a difference, and they don't want their names out there."
She added that the UNLV Foundation, which will hold the money until the full amount for the school's building is raised, would not have presented the check to the governor without proper vetting.
While Board of Regents Chairman Rick Trachok said he didn't know the donor's name, he had "full confidence" that the gift is from a "highly respectable source."
For institutions of higher education, donors can sometimes be swayed to go public in exchange for naming rights for a building, a classroom wing or a department, Di Mento said.
While such considerations were not important to this donor, Atkinson said, the school is still looking for two others who would like to leave their marks on the new program — one willing to put up the remaining $50 million for the new medical education building and one for the entire School of Medicine.
A potential liability
While many donors choose to remain publicly anonymous, most high-profile charities and tax-exempt public institutions are unwilling to accept a donation without knowing who was behind the gift, Di Mento said.
"It could be a real liability to them (the nonprofit)," she said.
Marc Owens, a partner with Loeb & Loeb, an international law firm with headquarters in Los Angeles, California, said he has facilitated anonymous contributions on a handful of occasions. He said such donors generally act out of pure altruism.
"The donor truly doesn't want any public recognition, but feels an intense desire to support a particular charity," he said, adding that some donors don't even want the gift to be publicized.
According to Ellis Carter, managing law partner for the Caritas Law Group in Seattle, some go to great lengths to hide their identity, such as giving money through a donor-advised fund or a community foundation that can then re-grant it to the targeted charity — in this case UNLV's Medical School.
Owens said the Internal Revenue Service doesn't have a problem with anonymous donations, and that there is no duty for the agency to investigate the source of such a gift.
However, he said there are risks for any institution that accepts a gift without knowing the source if, for example, it comes to light that it came from a criminal or a person with a bad reputation. He recalled such a scenario in the wake of the Enron scandal.
"You had universities scrambling to rename buildings that were named after perpetrators of the Enron fraud," Owens said.
While anonymous donors are shy about publicity, they generally don't balk at taking the tax deduction that goes with a charitable contribution, Owens said.
He says a thank-you letter to the secret UNLV donor has likely already been penned by someone within the state government — the proof necessary to claim such a write-off from the federal government.
Contact Natalie Bruzda at nbruzda@reviewjournal.com or 702-477-3897. Follow @NatalieBruzda on Twitter.