Henderson-area charters provide education options
January 8, 2015 - 1:00 am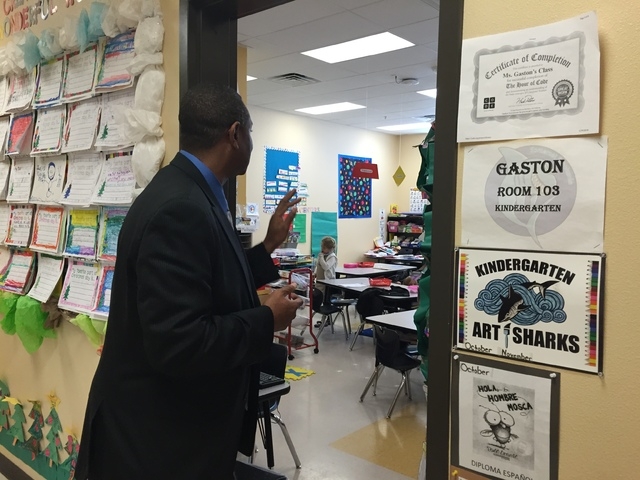 As application deadlines near for most charter schools, the Henderson View explores the institutions offered in the community.
Charter schools are public schools that operate separately from the Clark County School District Board of Education but receive funds from the school district and state according to the number of students attending.
"Too often, public education has meant going to the school you are assigned based on your address to see the principal who was assigned to that school by a large system and have your children taught by teachers who were also assigned by the large system," said Academica Nevada representative Ryan Reeves. "A charter school feels different when you walk in because every single person there made a voluntary decision to be there. Every parent, student, teacher, administrator chose to be there."
SOMERSET ACADEMY OF LAS VEGAS
Due to the school's growth, Somerset Academy of Las Vegas opened its Stephanie campus, 50 N. Stephanie St., in August to serve the Henderson community.
The five-star school teaches 760 students in kindergarten through eighth grade in core subjects as well as electives, extracurricular activities and clubs, according to principal Reggie Farmer.
"While some schools may focus on math and science, we try to promote a well-rounded academic environment," Farmer said. "We all want our kids not only to have the opportunity to learn at school but also have enriching activities and community service opportunities after school."
The charter school started in 2011 in a rented church building with 300 elementary school students. Through word of mouth, the school grew to 440 students the following year.
"By the third year, we had to lease another space because we outgrew the one we were in with 550 students, and we opened this campus to accommodate our phenomenal growth," Farmer said. "We plan on opening a couple more campuses in the next few years because the demand is there. We're going to remain small enough to be effective but big enough to help the community."
Open enrollment for Somerset Academy of Las Vegas is set for Jan. 12-25. Students are scheduled to be selected for the 2015-16 school year through a lottery.
For more information, visit somersetstephanie.org or call 702-998-0500.
PINECREST ACADEMY
While Pinecrest Academy, 1360 S. Boulder Highway, currently teaches kindergarten through eighth grade, an application to include high school is pending approval by the state.
With about 940 students enrolled and hundreds more on the waiting list, the school plans to open a campus near Cactus Avenue and Maryland Parkway and another in Inspirada within the next year, according to principal Carrie Buck.
"The charter movement is growing, and it's actually a perfect storm," Buck said. "The school district only has so many seats for students, and classrooms are already so overcrowded. These two campus will help provide parents not only with another school choice but it will also alleviate the pressure for the district to find space for all these extra students."
Although the academy received funding to become STEM (Science, Technology, Engineering and Math) certified, the school still integrates art and music into its curriculum. Extracurricular sports, clubs and activities are also offered.
"We have before- and after-school activities, so our campus is literally buzzing from 6 a.m. to 6 p.m.," Buck said. "We're a public school, so we have students from English language learners to special education. Our doors are open, and we serve whoever comes."
Open enrollment for Pinecrest Academy is scheduled for Jan. 19-Feb. 1. Students are scheduled to be selected for the 2015-16 school year through a lottery.
For more information, visit pinecrestnv.org or call 702-749-3500.
CORAL ACADEMY OF SCIENCE LAS VEGAS
With three campuses spanning the community, the Coral Academy of Science Las Vegas focuses on preparing students for college through its comprehensive science, technology, engineering and math programs.
"Coral challenges its students," said executive director Ercan Aydogdu. "Our teachers make sure high-achieving students don't get bored and our low-achieving students don't get lost. We set the bar high and give them goals to work towards to get there."
The school's Tamarus campus, 8185 Tamarus St., covers kindergarten through second grade; its Windmill campus, 2150 Windmill Parkway, instructs third-through fifth-graders; and its Sandy Ridge campus, 1051 Sandy Ridge Ave., serves sixth- through 12th-graders.
"Our teachers are trying to motivate students and capture their interest in these subjects by doing different projects and competitions," Aydogdu said. "We've had many students not only compete in national competitions but also international competitions."
In addition to the STEM program, the school offers music, art, drama, athletics and more.
"We believe in providing a well-rounded education in arts and athletics," Aydogdu said. "We also have free clubs, like chess, robotics and cooking clubs."
Open enrollment for Coral Academy of Science Las Vegas is scheduled to run through Feb. 28. Students are scheduled to be selected for the 2015-16 school year through a lottery.
For more information, visit coralacademylv.org or call 702-776-6529.
SILVER SANDS MONTESSORI
As a "hybrid" charter school, Silver Sands Montessori, 1841 Whitney Mesa Drive, serves as the valley's only public Montessori school, according to director Marlo Tsuchiyama.
"The charter school opened in fall 2009 with a mission to provide a Montessori education in an environment that encourages a child's love of learning and respect for self, others, community and the world," Tsuchiyama said.
The school teaches 280 students from kindergarten to eighth grade and adds cultural and social studies, practical life skills, Spanish, art, music and outdoor learning to its core curriculum.
"The Montessori method of instruction … teaches the whole child to help cultivate independence, love of learning, understanding of cultural differences, respect for self and others above and beyond their academic learning," she said. "Students learn how they can contribute to their classroom, their community and the environment around them."
Open enrollment for Silver Sands Montessori is scheduled to begin Jan. 27. Tours of the school are set to be available.
For more information, visit silversandsmcs.org or call 702-522-6220.
NEVADA STATE HIGH SCHOOL
Nevada State High School, 233 N. Stephanie St., allows juniors and seniors to earn both high school and college credits through the state's dual enrollment law, according to chief operations officer John Hawk.
"There's several models for dual enrollment in early college courses," Hawk said. "Our model is to place our students in a real college setting. They're on the college campus with real college professors in a real college class with other college students."
The high school aims to fulfill students' college core classes, but Hawk said students can also declare majors and complete courses toward their degree.
"We have some that are very aggressive in their learning and start deciding on what major they will be in college," he said. "Some students have earned an associate's degree before they even graduated from the high school program."
While the school provides prom, student government and monthly social activities, students can still participate in sports, band, choir and other extracurricular activities at their home school with the school district.
"As a public charter school, we're a school of choice," Hawk said. "When we take public money, we take it seriously. We work hard to successfully get kids in college."
Open enrollment for Nevada State High School is set for Feb. 1-July 31. Students must already be enrolled in their junior or senior year and have a 2.0 GPA. Junior applicants must have 11 credits on their high school transcript, and senior applicants must have 17 credits on their high school transcript.
For more information, visit earlycollegenv.com or call 702-953-2600.
Contact Henderson View reporter Caitlyn Belcher at cbelcher@viewnews.com or 702-383-0403.