Her son was attacked on a school bus. Now this mother is suing CCSD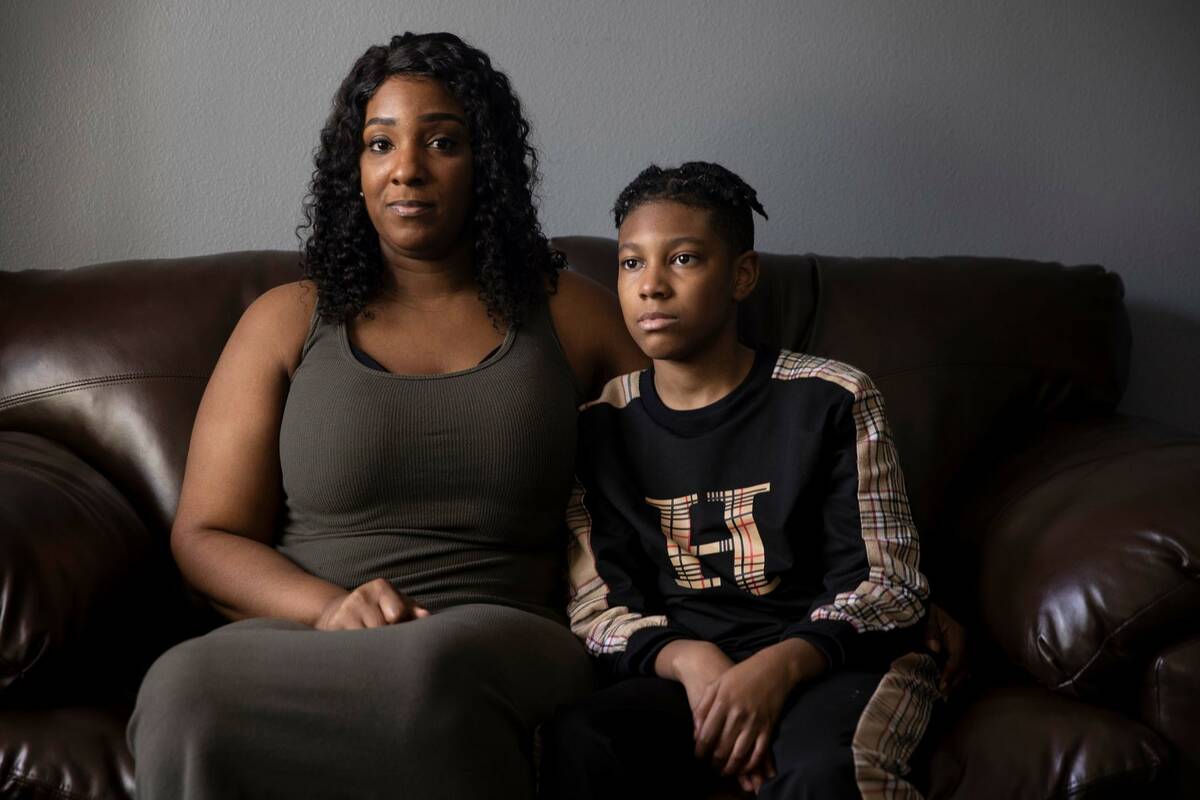 A Las Vegas mother is suing the Clark County School District after she said her son was attacked by a fellow student while boarding a school bus last year.
Jasmen Jackson and her son Amir told the Las Vegas Review-Journal this year that Amir was brutally attacked by one of his classmates at Lawrence Junior High School in August 2021.
Jackson is alleging that district administrators and school employees failed to intervene in her son's attack because of a lack of proper training or "callous indifference," according to a lawsuit filed Thursday in Clark County District Court.
The lawsuit contends that staff at Lawrence were aware of prior violent and behavioral issues involving Amir's attacker, but failed to act upon potential signs of abuse and protect other children at the school.
The Clark County School District said in a statement Tuesday that it does not comment on pending litigation.
Earlier this year, before the lawsuit was filed, the school district said it could not provide information about what happened to Amir or how administrators responded because of federal privacy law, saying only that student discipline was handled in line with the student code of conduct.
Jackson and Amir shared their story with the Review-Journal on the heels of the district announcing new security measures that were prompted by a wave of violent incidents at Clark County schools last year.
According to the lawsuit, Amir was threatened with sexual assault by another student who repeated threats to rape him and to beat him. The student ultimately followed Amir onto the school bus, knocked him unconscious, further assaulted him and pummeled him in the face, according to the document.
Despite Amir suffering a broken nose that required surgery, his mother said at the time that school administrators did not call police and that law enforcement only became involved after she called them the following day.
"As a result of CCSD Defendants' negligent conduct, Plaintiff suffered grave bodily harm, had to undergo a surgery to correct damage to his face and pain and suffering that is ongoing and ongoing severe emotional distress," the lawsuit alleges.
Additionally, the district has failed to produce the camera footage of the incident, despite repeated requests from Jackson, according to the lawsuit.
The lawsuit also states that the student who attacked Amir was later charged with a felony citation for battery with substantial bodily harm. The Review-Journal reported earlier this year that the boy who assaulted Amir was put on probation in Juvenile Court and that the case was considered closed.
But probation will do nothing to address the years of suffering and the lifelong road to healing that Amir must now endure, attorneys for Jackson wrote in the lawsuit.
Jackson is seeking damages in an amount sufficient to deter similar behavior and to motivate the district to change its behavior and policies.
"CCSD Defendants have a duty to hire, train, maintain and supervise its employees in such a way as to minimize the risk of harm coming to students while on school grounds," the lawsuit states.
Contact Lorraine Longhi at 702-387-5298 or llonghi@reviewjournal.com. Follow her at @lolonghi on Twitter.