Journalism laurels go to Clark County high schools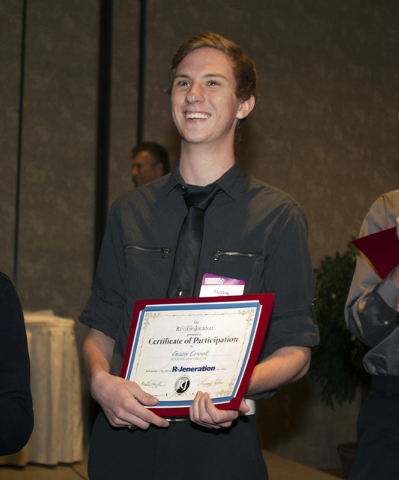 Foothill High School's student newspaper, The Hillside Hotwire, didn't just go home Friday with the most first-place plaques and the title of best reduced-format newspaper in the 38th annual Clark County High School Journalism Awards.
The Hotwire earned something a little more unorthodox from the Las Vegas Review-Journal judges. Impressed by one of the Henderson school's award-winning stories, the Review-Journal will be publishing the piece — about the impact on teen drivers of the Metropolitan Police Department's decision to stop responding to noninjury auto collisions — next week in its zoned neighborhood newspapers, View.
"Your story will be seen by 590,000 households," View Deputy Editor Ginger Meurer said at the awards ceremony sponsored by the Review-Journal and held at the Suncoast.
Hotwire Layout Editor Billy Clouse was surprised by it all.
"But we really put a lot of time into it," said the sophomore, who's leaving the staff because he's transferring to Nevada State High School. There, he can take dual-credit courses through the College of Southern Nevada and plans to graduate from high school with an associate degree.
Another Henderson high school, Green Valley, was recognized as best standard-format newspaper.
The day's other big winners were two students who each were awarded $2,000 scholarships. Austin Connell, graduating from Mountain View Christian School, plans to use the money as he starts eight years of higher education to become a doctor of veterinary medicine.
"This will definitely help me out," he said.
The other scholarship recipient, Shannon Sneade, is editor of Las Vegas Academy's The Accolades and will pursue a degree in journalism at San Diego State University despite the challenges facing the industry whose own news is dominated by layoffs and cutbacks.
"I don't believe journalism is dying as people say. It's evolving," she said. "There's always going to be a need for news, no matter the shape."
Contact Trevon Milliard at tmilliard@reviewjournal.com or 702-383-0279. Follow @TrevonMilliard on Twitter.