Las Vegas teens struggle to secure summer jobs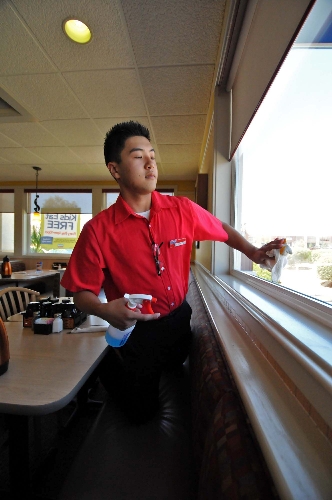 Nevadans know unemployment better than anyone else. The state still had the country's highest rate in May at 12.1 percent.
Youngsters are getting used to it, too.
The unemployment rate of Nevadans ages 16 to 19 is 34.5 percent, according to the Bureau of Labor Statistics. Nevada finished second behind Georgia, which led the nation at 36.8 percent. The national average for teen unemployment is 24.2 percent.
Three friends, Charles Nguyen, Jaime Estepa and Shane Haddad, are finding out first hand how tough it is.
Haddad, 17, has been searching for a job for 10 months. Of the more than 30 businesses he applied to —- including Port of Subs, Tropical Smoothie Café, Toys R Us, Marshalls, Target, Albertsons, Bank of America and Office Depot —- he has received an interview at only one, he said.
"When I first started on my job hunt," said Haddad, "I didn't realize how much we would be competing with adults. You see people applying for these (jobs) that are 40 and 50. It's annoying, but it's understandable. The market's just so bad right now.
"I haven't been discouraged by it, I just didn't really believe it was that difficult to get a job for even these low-level positions."
Haddad said he wants to find a job to "not be such a burden" to his parents.
A student at Advanced Technologies Academy, 2501 Vegas Drive, Haddad worked part time as a camp instructor for three weeks during the past three summers at the K*bot robotics competition regional qualifiers for Las Vegas, Henderson and the world championship in Las Vegas.
He has a 4.1 weighted grade point average and is a member of the National Honor Society, Key Club International and DECA, an international entrepreneurial and leadership program.
He provided letters of reference from the K*bot director and his schoolteachers with his job applications.
It's not enough, though.
"People have told me it's luck and having connections," he said, "e ven if you have the best resume in the world."
Stephen Miller, chair of the Department of Economics at the University of Nevada, Las Vegas, said it's normal for teens to have higher unemployment and that Nevada's numbers are following the usual 3 to 1 ratio. The national unemployment rate of those 20 or older is 8.5 percent, about on par with the 24.2 percent teen unemployment rate.
"The Great Recession just makes it harder for everybody," Miller said.
Among other reasons, Miller said economists attribute the disparity to the teenager's need for the job compared to that of an adult.
"Teenagers are unlikely to be the breadwinner in the family," he said. "The breadwinner is usually more persistent, and they're looking more."
Unemployment also is higher for the unskilled. There was a 14.9 percent unemployment rate in 2010 for people with less than a high school diploma and 10.3 percent for people with only a high school diploma. Unemployment was 5.4 percent for those with a bachelor's degree and 1.9 percent for those with a doctorate.
Jaime Estepa, a 17-year-old student at Las Vegas Academy, 315 S. Seventh St., experienced a similar lack of success while searching for his first job.
"I didn't know what to do at first," Estepa said. "I started looking online and in classifieds. I went around the neighborhood to look for signs in windows to see if I could get lucky."
Estepa, a North Las Vegas resident, hasn't received any interviews yet but plans to keep looking. He, too, wants to help his parents with expenses such as car insurance and gas.
"Instead of asking them for money all the time," said Estepa, "I want to be able to provide for myself a little more."
Clark County offers an annual internship program, the Summer Business Institute, which places teens in positions at local businesses in their field of interest.
Teens in the program receive minimum wage, funded by donations from businesses and individuals, and some government money.
County Commissioner Lawrence Weekly said that with the downturn in the economy, the county was able to place about 140 teens this summer, compared to more than 400 a few years ago.
"We didn't get an overwhelming response this year from those companies," Weekly said. "The donations have dwindled tremendously. It's a strain for a lot of companies."
Even in tough times, Weekly said it's important to keep in place these kinds of programs that support teen employment.
"It teaches a level of responsibility in them," Weekly said. "They get a bird's-eye view of how professionals really come to work and put in long hours. It helps get these kids focused, gives them a better outlook on what they can be in life."
Nguyen, an Advanced Technologies Academy student, finally found work at IHOP, where he does "all the grunt work."
He submitted applications at nearly 40 businesses and personally went into each one to introduce himself to the managers and ask for an interview.
Some of the teachers and staff members at his school told him to do that, he said, and to dress professionally when he did.
Even with a coat and tie, almost no one gave him an interview, he said.
"No one wants to hire a 17-year-old," Nguyen said. "Their attitudes immediately changed when they found out I was 17."
At IHOP, he got his sole interview with manager Sal Morales.
Nguyen was asked to bring in his high school transcript and latest report card.
"He wouldn't hire me unless I was doing well in school," Nguyen said.
Nguyen's 3.9 weighted GPA sufficed.
Morales also needed to meet Nguyen's parents before he hired him.
Nguyen hosts for about 20 hours a week at the restaurant, 5170 S. Fort Apache Road, but may be able to move up to full time once he gains more experience.
He's realistic about his earnings. He knows he's not going to make much, but every penny will go toward funding college, Nguyen said, wherever that may be. The University of California, Los Angeles is his dream school.
Haddad and Estepa will continue to look for work this summer. Haddad said he still enjoys doing normal teen stuff, such as hanging out with friends or frequenting the mall, except he does the latter for labor, not leisure.
Estepa knows competition with his elders is stiff, but he showed an uncanny level of maturity about the whole thing .
"I feel like if there are adults out there getting the same jobs," he said, "then they probably need it more than we do."
Contact View education reporter Jeff Mosier at jmosier@viewnews.com or 224-5524.