Marta Meana begins leading UNLV as acting president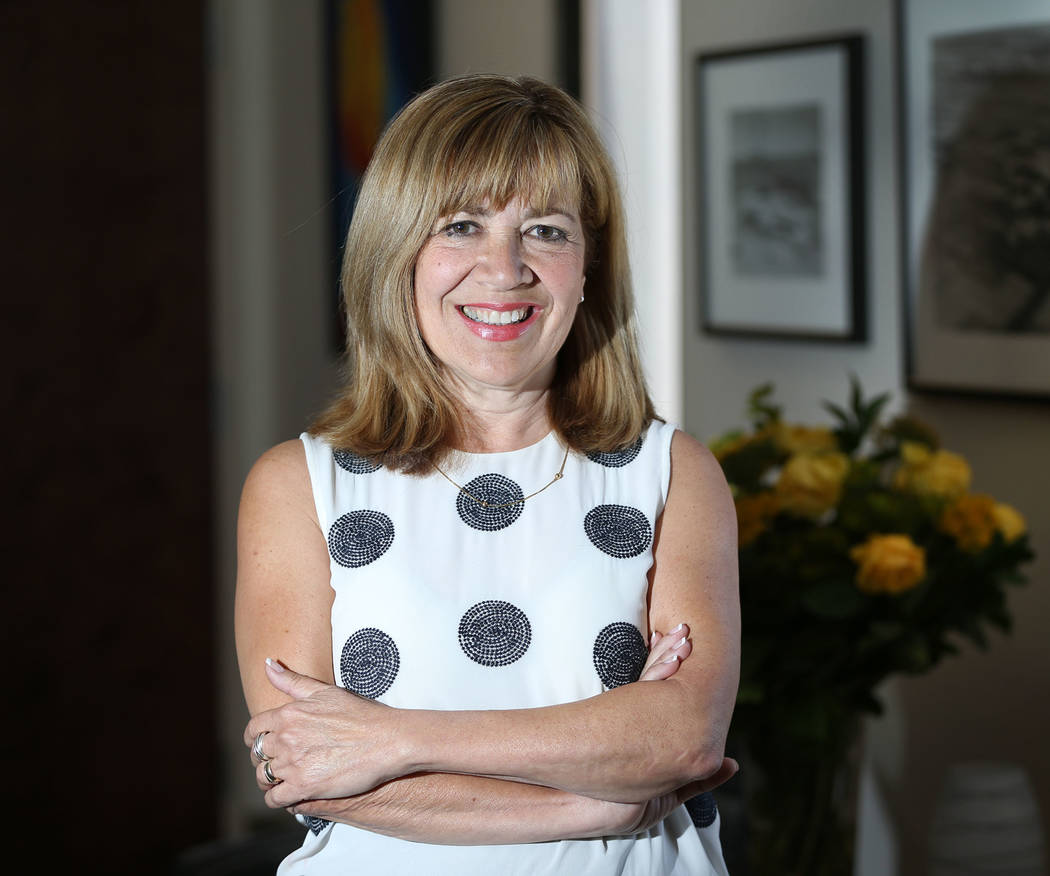 On her final day as dean of the Honors College, Dr. Marta Meana received a thank-you card from her students.
It was sketched out on a bright yellow poster board paper almost as big as she is with a message that thanked her for being a mentor, leader, coach, teacher, mom, listening ear, cheerleader and superwoman.
"Students are my heart, and everything that I have done here at UNLV has been focused on their success," Meana said Friday from her new office on UNLV's campus.
She began her role as acting president of the university on July 1 following the tumultuous departure of former President Len Jessup. Thom Reilly, chancellor of the Nevada System of Higher Education, said it could take a year before a new president is in place. Meana told Reilly that she did not want the permanent role.
"I've always tried to help the university in any way that I could, and I thought I could be helpful in this role," Meana said during her first interview as acting president. "I'm happy to do this for as long as I'm needed."
Spirit of mentorship
Meana joined UNLV as an assistant professor of psychology 21 years ago.
Since that time, she's held a variety of roles at the university, including a one-year stint as senior adviser to former President Neal Smatresk, and most recently, dean of the Honors College.
The experience she's gained from these three vantage points has prepared her for the top job, Reilly said.
"Her ability to relate to donors, faculty, students is a tremendous asset," Reilly said. "She's very analytical, she's no-nonsense, she's a quick study. I think she also has the interpersonal skills to address some of the healing on campus. She's definitely up to the task."
When the state Board of Regents appointed her to the position last month, being a "healer" was one adjective that surfaced several times from her supporters throughout the meeting.
To Meana, it means tending to relationships.
"Relationships are important," she said. "If you tend to relationships, incredible things can happen."
That's evidenced, she said, by the growth of the Honors College since she became dean in 2012. In that role, she tripled the enrollment and increased the percentage of Latino students in the college from 13 to 24 percent.
"It was about reaching out to that community and letting them know that this Honors College, that this university was there for them," she said. "And that we were invested in their success and we're going to mentor them toward that success."
As dean, she blocked out five hours each week for professional development meetings with her students to help them navigate the tough situations that surface in college life and focus their energies on long-term planning and dreaming.
"Sometimes people think that Honors College kids don't require that," she said. "But one of the reasons that we are so successful in the Honors College is because of the quality of that support."
The "spirit of mentorship" is something that Meana hopes to apply campus-wide, as raising overall campus graduation and retention rates is one of her top priorities. She's had conversations with her leadership team on ways to improve student success.
Quest for top tier
Improving student success, which includes raising the graduation rate from 41 percent to 50 percent by 2025, is a major part of the university's top-tier initiative. Meana's goal is to ensure that the university doesn't falter on its progress.
"It's really just about making sure that there is no kind of period where we're not continuing to push forward and to power forward toward top tier," she said. "I don't want that to stop for one day."
She's spent her first few days meeting with community stakeholders, and plans to continue those meetings over the next few weeks. She said she will meet with each member of the state Board of Regents — an important step given the way Jessup made his exit. He cited NSHE's governance structure as being a hindrance to long-term sustainability for any president, and an "antagonistic" relationship with the board and Reilly.
"My experience with the chancellor and the Board of Regents has been uniformly positive," Meana said. "I'm launching from a place that assumes that we're all good people trying to do our best for our students, for our city and our state."
Regent Trevor Hayes, who was critical of Jessup's job performance, said he's meeting with Meana this week, and believes she's the right person for the job at right time.
"In more than two decades of her service to UNLV and the community, she has shown herself to be a thoughtful, caring leader, who always puts the students first, and I think that will guide her decision-making in her time as acting president," he said. "Her student-centric focus will allow people to get on board and support her leadership."
Contact Natalie Bruzda at nbruzda@reviewjournal.com or 702-477-3897. Follow @NatalieBruzda on Twitter.