Meet the 2 CCSD employees who fix school-owned musical instruments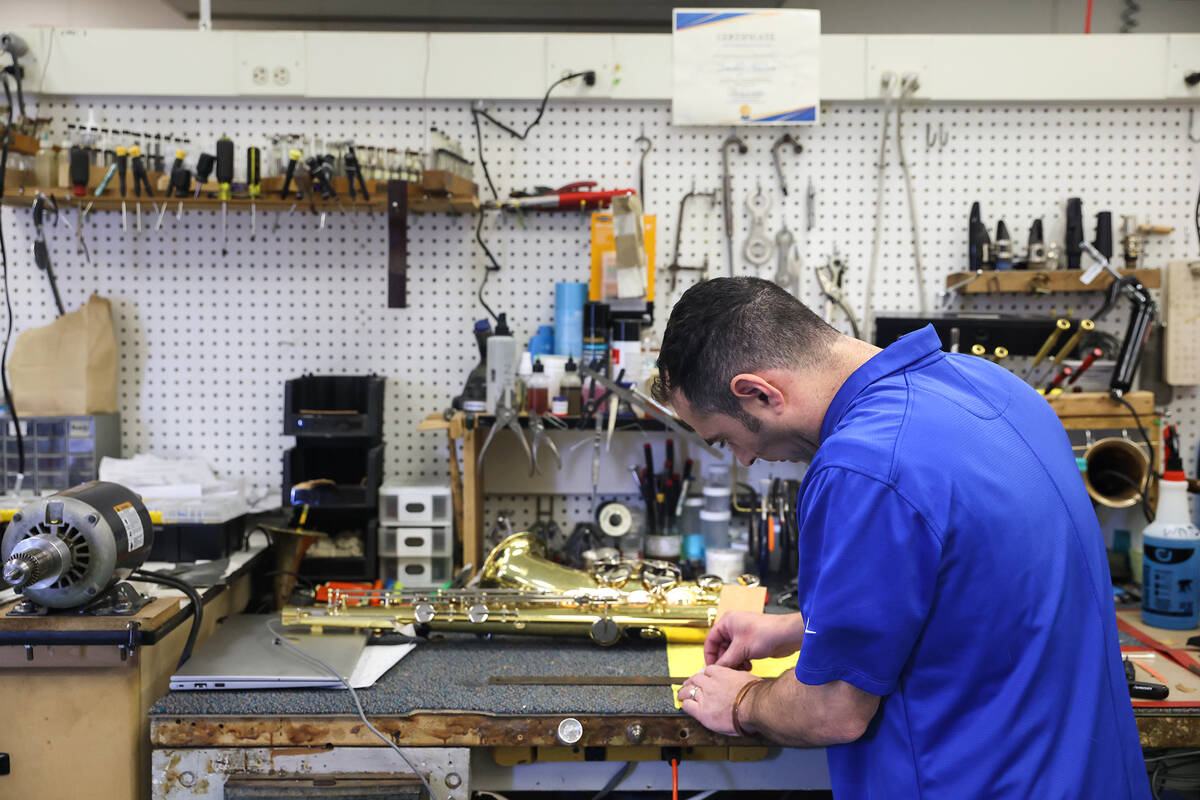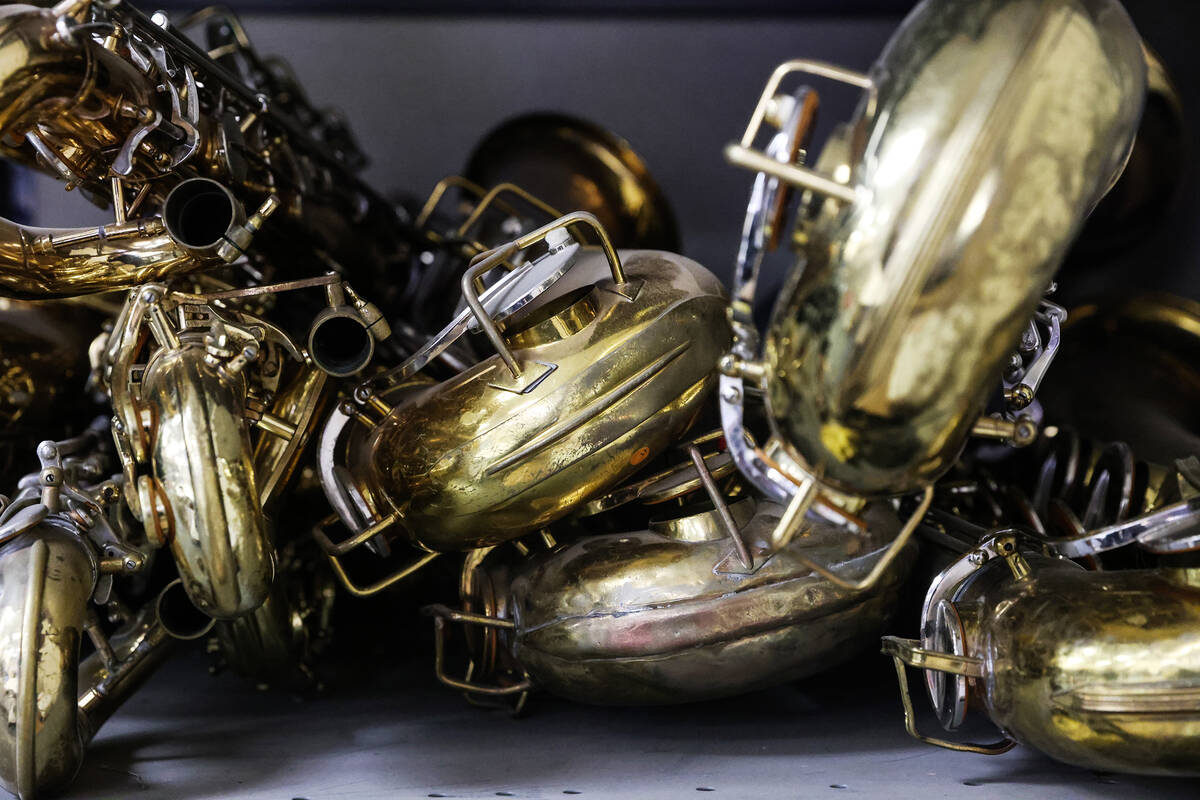 Tim Adelson spends his workdays repairing musical instruments for students across the Clark County School District.
The reason he does it? He wants to ensure more students stay in music programs.
"It can be really frustrating for a kid to have something that doesn't work right," said Adelson, a musical instrument repair technician.
At that stage, a student may think they're doing something wrong and quit as a result. That's a scenario he wants to prevent.
On Tuesday morning, Adelson was working on a tenor saxophone at the school district's musical instrument repair shop.
The behind-the-scenes shop, which has been operating for more than 20 years, is responsible for repairing school-owned instruments for more than 360 school district campuses.
It's uncommon for a school district to have its own in-house repair shop. But for the Clark County School District — the nation's fifth-largest with more than 300,000 students — it's more economical than footing the bill to send instruments to a private repair shop.
The shop is tucked away in a building at the district's Monroe Robertson satellite transportation yard near Sunrise Acres Elementary School in Las Vegas.
Across an alleyway from the repair shop, there's a storage room where instruments are kept as they're awaiting repair.
Having a repair shop helps ensure equity across the district for students regardless of the school they attend or their ZIP code, said Shannon La Neve, director of humanities for the school district.
A staffing transition
The repair shop underwent a transition about a year ago when its two musical instrument repair technicians retired.
"I call them unicorns because they're very specific to their craft," La Neve said.
The repair shop was shifted under her supervision. The two repair technician positions were vacant for about three months and hundreds of work orders accumulated during that time. But now, they're all caught up.
The current technicians — Adelson and Cameron Gates — have repaired more than 1,000 instruments over the last year, with a lot of work happening over the summertime when school wasn't in session.
Gates repairs brass and elementary school Orff instruments such as xylophones, while Adelson repairs wind and string instruments.
The district hopes to hire a third technician who would focus mostly on string instruments. The job has been advertised since October, but only one or two people have applied, La Neve said.
The school district is facing an employee shortage, with 1,083 licensed positions — including teachers, school counselors and nurses — and 415 support staff jobs listed on its hiring website, as of Tuesday.
What the technicians do
Musical instrument repair technicians — or a member of La Neve's team, if needed — go to schools to pick up instruments that need to be repaired. They also provide training about cleaning and taking care of instruments.
On Tuesday, one of the instruments awaiting repair was a flute from Chaparral High School. A bright pink "equipment repair notice" was taped to the case and a paper tag was also attached to the handle.
Technicians diagnose what's wrong with an instrument and determine what parts are needed to repair it, La Neve said.
Depending on the instrument and its age, finding parts can be challenging.
Adelson started learning how to repair instruments as a 16-year-old high schooler working at a music shop in Santa Barbara, California. Now, he has about 25 years of experience.
Compared with working at a private repair shop — which he did prior to taking the school district job — "this is so much more fun on so many more levels," Adelson said.
There's also a budget that allows the technicians to get the parts they need, he said.
After he repairs an instrument, Adelson plays it to ensure it's working correctly before sending it back to a school.
Gates is a former high school band director who played tuba in the United States Marine Band for 20 years until retiring in 2013.
Previously a repair technician at a local music shop, Gates said he was impressed by the district's repair facility.
"This is a palace compared to what an instrument repair shop normally is," he said, noting it's a big, well-lit space.
Gates — who has two sons, including a junior at Liberty High School in Henderson — said he still views himself as a band director and now, he can be a "silent partner."
On Tuesday, he was repairing a trumpet he thinks was made in the 1950s. Gates said it required a lot of attention — probably, a couple of hours — whereas a simple repair may only take 10 minutes.
"One reason it has lasted this long," he said, "is our predecessor and us kept it going."
Contact Julie Wootton-Greener at jgreener@reviewjournal.com or 702-387-2921. Follow @julieswootton on Twitter.