Montessori Visions Academy moves part of its students to a Henderson location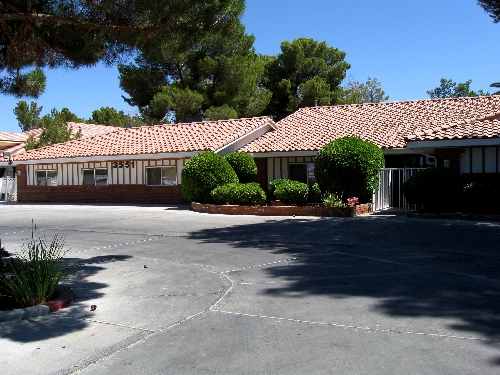 Even though Lori Bossy has found a new home in Henderson for her private school, Montessori Visions Academy, her ousting from her first location has left her feeling disappointed.
The new place, inside Martinique Bay Apartments, 3000 High View Drive, is about a mile from her original location at 3551 E. Sunset Road. The Sunset Road facility is expected to be a secondary site for her kindergarten through third-grade students after the Clark County Commission denied her appeal to have it serve kindergarten through eighth grade.
"It has been our home for so long," Bossy said. "It was hard to move."
Besides taking a hit to her reputation, Bossy said she has lost members of her school and has about 60 children combined.
"Before this all started, I was at 140 in 2010," Bossy said.
Montessori Visions Academy opened in 1999 under the direction of Bossy and her sister. Its mission was to offer curriculum that supports the development of the person through hands-on learning and individual instruction to build self-confidence, responsibility and independence.
"It offers a comprehensive family environment," Bossy said.
When the private school started, it offered curriculum for preschool students and expanded to elementary. Bossy said having a multi-aged environment aids in the learning process.
In 2002, she submitted paperwork to Clark County's planning department to renew her permits for the preschool and elementary school. Bossy said she received a letter of approval.
From 2002 to 2010, the school operated without any complaints.
"No one ever said a word," Bossy said.
WHAT WENT WRONG
As her students got older, Bossy contemplated adding a high school for her eighth-grade students to transition into. She considered buying a vacant lot across from the school in 2009.
"We aren't talking, like, Green Valley High School," Bossy said. "It wouldn't even be 100 students. It would be no more than 20 students."
Bossy said the class size would be small to give students individual focus and to stay true to her original vision.
After realizing that her neighbors were adamantly opposed to the notion, she said she abandoned the project in 2010. However, Bossy said, neighbors kept filing complaints about noise at the center.
In 2010, neighbors discovered that Bossy's 2002 permit extension for the elementary school was never approved. At a March 2010 Clark County Commission meeting, neighbors called for the school to be shut down immediately.
"I didn't want to fight the neighbors," Bossy said.
According to Bossy, Commissioner Steve Sisolak, who represented the district at the time, said at the meeting that Montessori Visions Academy could finish the school year but then most go back to her original permit, which was preschool-specific.
In the fall of 2011, Bossy said she discovered that the county planning department had made an error: It approved one permit but not the other.
"We turned both in, but they only processed the preschool application, not the elementary one," Bossy said.
Even though the department made an error, Sisolak said he believes both parties are responsible for the oversight.
Bossy thought she could reapply for the proper permit and ask the commission to reconsider its decision. She met with Commissioner Mary Beth Scow, who now represents the district, and other commissioners to discuss the issue.
"I met with the neighbors and the school," Scow said. "The neighbors said they were concerned with the noise and had past trust issues with the school."
After several meetings, Bossy said her understanding was that the commission would compromise and allow the center to operate kindergarten to sixth grade.
At an April 18, 2012, zoning meeting, Bossy brought back her appeal, and the board voted to restrict the permit for kindergarten to third grade.
"I felt like lots of history came into play and there needed to be a compromise," Scow said, adding that part of her decision was based on the planning department's initial error.
During the meeting, Sisolak said Bossy was taking advantage of the situation by bringing her appeal back to the planning commissioners, some of whom might not have been on the commission for the first decision. Sisolak said Bossy found a loophole and added that his understanding of the compromise that the two parties settled on in 2010 was to allow the school to continue operating through the end of its term if Bossy wouldn't reapply. Afterward, Bossy would open her elementary school at another location.
"I thought the school had moved," Sisolak said. "Everyone agreed we would finish the school year and move on. But she came back asking to expand."
Bossy said that was not her interpretation.
"It was not my understanding we couldn't come back years later to resolve this issue, especially since so many things have come to light," Bossy said. "I didn't find a loophole. I found a mistake."
Scow wasn't a member of the commission in 2010 and said she wasn't sure of the initial agreement between Bossy and Sisolak.
Sisolak said the commission's April 18 decision was a compromise for both parties.
"I'm sure she wanted more," Sisolak said. "We often have to mediate between people who want different things. Not everyone is going to get what they want. I think we were more than reasonable with negotiating."
WHAT'S NEXT
Since everything has transpired, Bossy said she has lost business and had to lay off staff.
Bossy has been working with the city of Henderson to find a suitable location.
"Henderson was very supportive," Bossy said.
The Henderson campus was remodeled to look more like an elementary school opposed to a day care facility, which it had been before. It houses fourth- through eighth-grade students.
"I spent quite a bit of money," Bossy said.
Even though she is happy with her new location, Bossy hopes to find a location that can house all grade levels.
"I need to put all the students back together," Bossy said.
Bossy said she plans to continue to work with Henderson to find a more permanent location that could potentially be expanded to include high school.
Contact Henderson/Anthem View reporter Michael Lyle at mlyle@viewnews.com or 387-5201.