Mostly positive gains reported at Victory Schools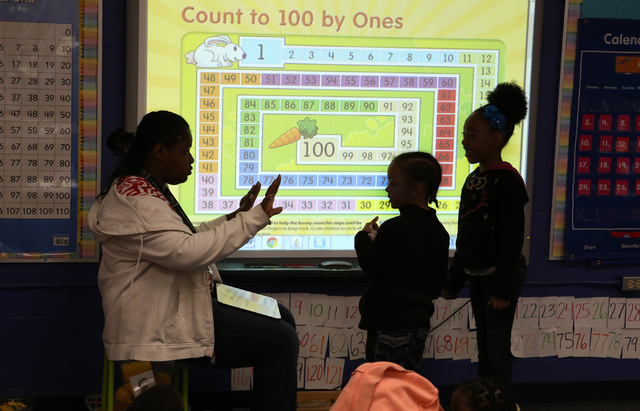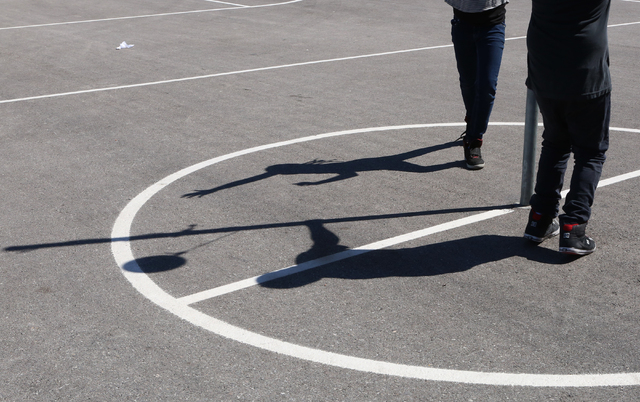 Students in Clark County's poorest neighborhoods made mostly positive gains in English and math after state lawmakers last year approved the injection of nearly $21 million to boost achievement.
With less than two months left in the academic year, a majority of the two dozen Victory Schools in Southern Nevada reported double- to triple-digit gains in the number of students reaching proficiency in English and math since they received the money last fall.
Students at other campuses, however, including Jeffers and Kelly elementary schools and Valley High School, have slipped in literacy skills.
"We're about 8½ months into this work," said Mike Barton, Clark County School District's chief student achievement officer. "We've got a long way to go."
At community meetings during the past two weeks, district officials have shared preliminary progress reports on student performance at its Victory Schools.
The Nevada Education Department, acting under Senate Bill 432, identified 24 Clark County campuses based on the highest-poverty ZIP codes and the lowest school ratings in 2014-15.
Depending on student enrollment, Victory Schools received $17,000 to $3.2 million to spend on early childhood education, longer school days, summer academies, tutoring and teacher training.
The infusion of extra resources helped Vegas Verdes Elementary increase proficiency in English by 46 to 113 students and in math by 144 to 193 students.
The district monitored that progress with two sets of monthly evaluations that gauged how students perform on standards they're expected to reach by the end of the school year.
Jeff Geihs, assistant chief student achievement officer, said the computer glitches that hampered statewide student testing last year will delay a larger analysis of Victory School funds.
"It was a flop," Geihs said, referring to last year's testing season.
After switching test vendors, the state this year has reported relatively few glitches in the standardized assessments that began in February.
The results from the current tests should provide a benchmark for the Victory School program's effectiveness, Geihs said.
"The true comparison will come when we compare other like schools with Victory Schools," he said. "We probably have to give it at least two years. But we can start the comparison next September if (standardized testing) goes off without a hitch."
The district's preliminary results show that Vegas Verdes, which this year also hosted the district's new "franchise" principal program, posted the most proficiency gains among elementary Victory Schools.
At the secondary level, Monaco Middle School reported the greatest improvement with 37 to 89 more students proficient in English and 93 to 217 more students proficient in math.
Victory Schools, aside from providing academic interventions, have taken advantage of incentives of $250 to $4,000 to recruit effective teachers.
At the beginning of the 2015-16 school year, district Victory Schools reported 122 vacancies.
"That is unconscionable, but we know nationally it is harder to fill vacancies in lower socioeconomic schools than in more suburban schools," Geihs said.
As for the 2016-17 school year, "We've decreased that to just about 100 vacancies (and) we've only been advertising these positions for a week and a half," he said.
Not all schools enjoyed across-the-board success, however.
Valley High, which received the largest allocation through SB432, saw a decrease of 45 students posting proficiency in English.
At Reid Elementary, only three students increased their proficiency on one half of the monthly English evaluations while no students increased proficiency on the second half.
Kelly Elementary ranked last among Victory School improvement, prompting district officials to replace Principal Lezlie Funchess with longtime administrator Marjorie Conner.
Although Kelly received about $353,000 in Victory School funds, only 17 to 22 more students increased proficiency in math. Ten more students increased their proficiency on one half of the English evaluation, even as one student declined in proficiency on the second half.
"Academically, Matt Kelly is last. That is unacceptable," Conner said.
"Our children are smart," she added. "They are capable, and what we have to do is rally around those children and make a difference in those lives."
Since taking over the school two weeks ago, Conner has moved swiftly to restructure second- through fifth-grade classes to intensify and individualize instruction in English and math.
About 10 teachers have joined the campus, and students at Kelly will attend a summer school.
"Our children are failing," Conner said.
"If someone told me that my child was failing, I would not want to wait for a week from Monday or two weeks from Saturday to start something," she said. "I would want you to start today."
Contact Neal Morton at nmorton@reviewjournal.com or 702-383-0279. Find him on Twitter: @nealtmorton