Nevada, Clark County student scores remain flat in English, math proficiency
September 12, 2017 - 6:12 pm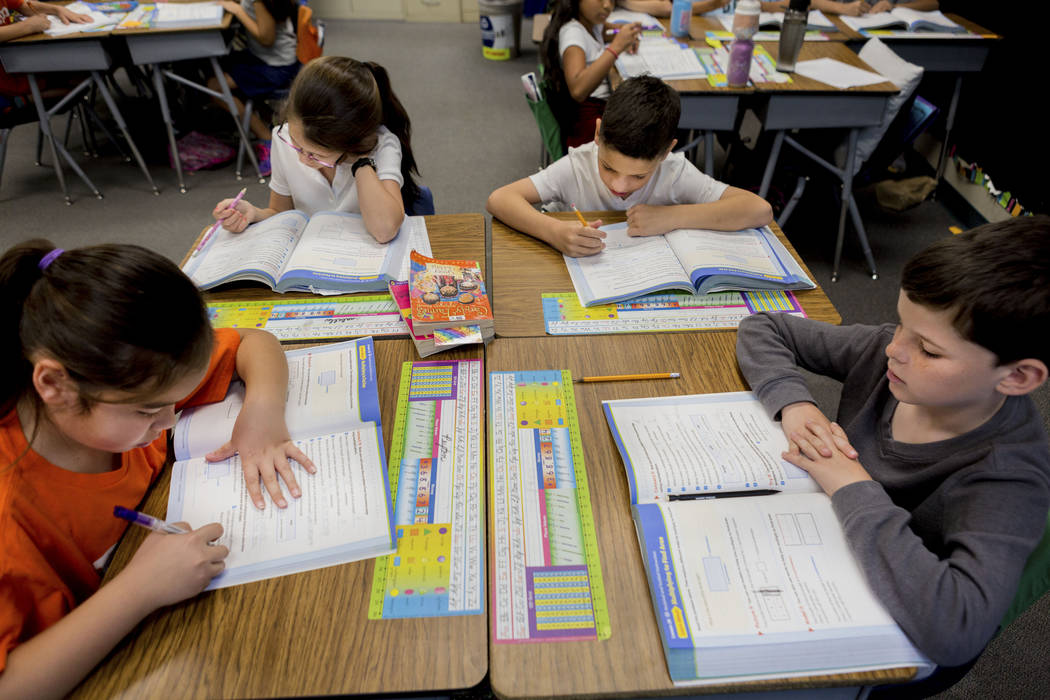 Less than half of students in Nevada and Clark County in grades three through eight are proficient in English, and about one-third are proficient in math, according to new data from the state Department of Education.
The data, released Tuesday at the conclusion of a state Board of Education meeting, are based on results from Smarter Balance state exams taken in the spring. More data on districts and schools are expected to be released Friday, but new star ratings for individual schools will not be released until later this fall after the state tweaks the final formula for the rating system.
Clark County's proficiency rate is nearly on par with the state's, with 46 percent of students deemed proficient in English compared with 47 percent statewide. Thirty-three percent of the county's students tested proficient in math, compared with 35 percent at the state level.
Neither Clark County nor the state improved much over the 2016 results. Clark County's English rates stayed flat year to year, while the overall state English rate dropped 1 percentage point. In math, the county improved 2 percentage points, while the state ticked up 1 percentage point.
State Superintendent of Instruction Steve Canavero said the data serve as a starting point for the state and the district to improve.
"We are set now to dig in and really appreciate how we can capitalize on this data," he said. "There's a reason we set a goal to be the fastest-improving state in the nation. We know we can make the type of improvement needed."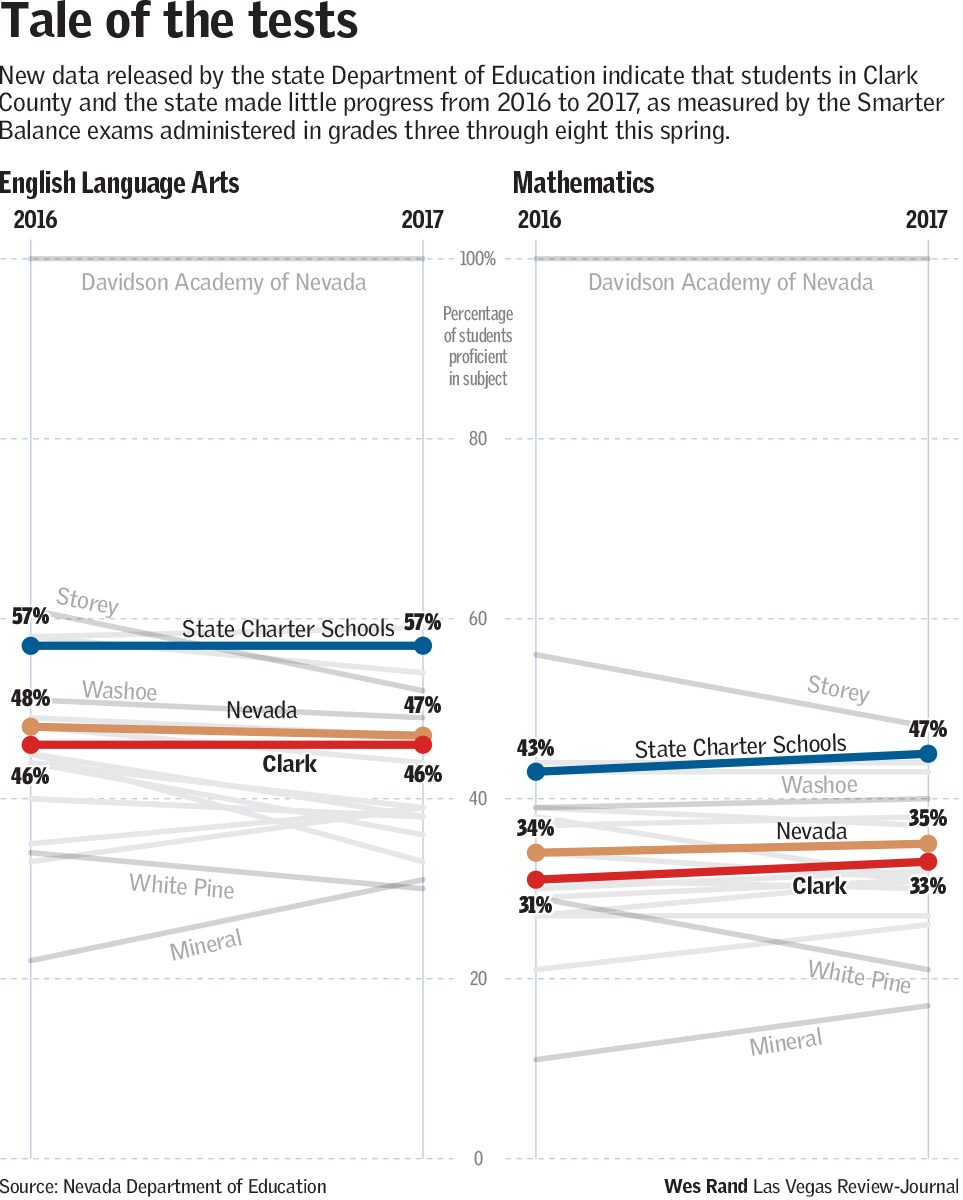 Students in grades three through eight in Nevada take state-mandated assessments in English and math every year.
Across the state
The standout in the report was Davidson Academy of Nevada, a school for gifted students in Reno. Its students tested 100 percent proficient in both English and math, according to the state data. Its students also were rated 100 percent proficient in both categories in 2016.
The state's charter schools also tended to outperform the state in both 2016 and 2017. In 2017, 57 percent of charter students were proficient in English and 47 were proficient in math. In 2016, 57 were proficient in English and 43 percent proficient in math.
Canavero said he was impressed with gains made by some of the state's "midsized" counties.
"We're really intrigued by what's going on in Nye and the outcomes they're getting," he said.
In 2017, 39 percent of Nye's students were proficient in English, up from 35 percent the year before. In math, 31 percent were proficient in 2017, up from 27 percent the year before.
The state also tracks data by race, gender and other subgroups.
For both English and math in 2017, 13 percent of English language learners were deemed proficient, a drop from 17 percent proficiency in English and 15 percent proficiency in math in 2016.
Students in poverty scored below state averages in both English and math, staying flat in English and inching up 2 percentage points in math year to year. In 2017, 37 percent of students in poverty were proficient in English and only 26 percent were proficient in math.
Contact Meghin Delaney at 702-383-0281 or mdelaney@reviewjournal.com. Follow @MeghinDelaney on Twitter.
Star ratings
Proficiency rates are one measure the state uses to grade schools in the state. New star ratings are expected later this fall as the state responds to district concerns over a new formula used to grade the schools.