Nevada continues program to fight school bullying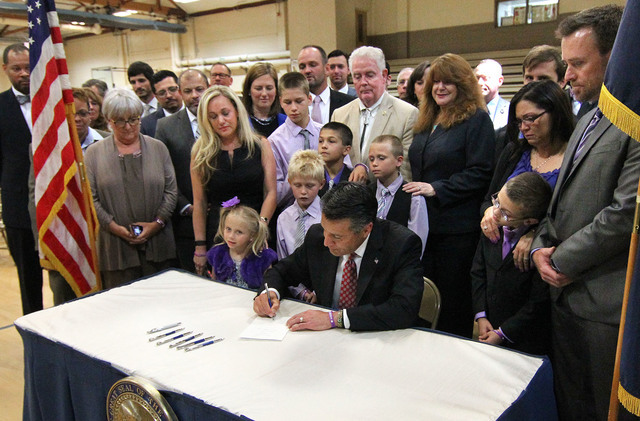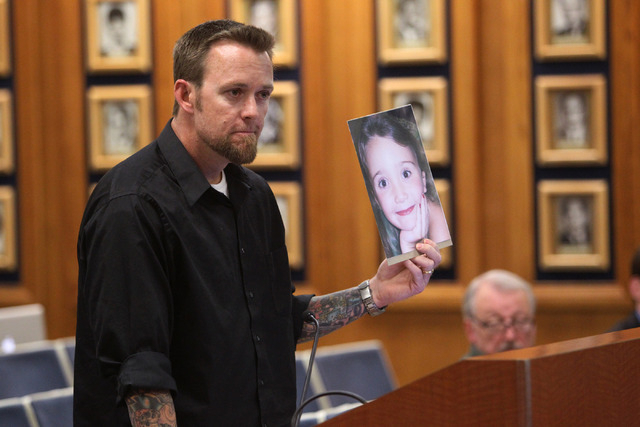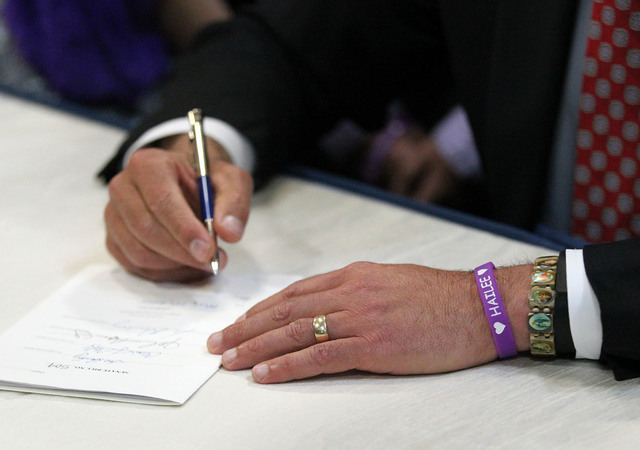 Nevada lawmakers are standing up to school bullies after the 2013 suicide of a Henderson seventh-grader.
The state is continuing a program it piloted last year, doling out $11.2 million to pay about 175 social and mental-health professionals to work in at least 140 public and charter schools during the 2016-17 academic year.
The Clark County School District got the green light on Tuesday to start hiring 115 of the trained specialists with its share of the grant money. It's part of anti-bullying reforms spurred by the death of a student who'd been picked on at Thurman White Middle School.
Hailee Lamberth shot herself on Dec. 12, 2013, the same day she was named student of the month. She was 13.
Her father, Jason Lamberth, later fought for school safety reforms that were signed into Nevada law in 2015.
As part of the changes, the school social workers program was started in January. It provided $5.6 million to combat bullying statewide during the second half of the 2015-16 academic year.
"Our schools saw a huge benefit," said Tammy Malich, an assistant superintendent in Clark County. The district received $3.6 million to pay 106 specialists to work in classrooms at 74 schools in 2016.
They teach social and emotional skills to kids who might be struggling on the playground or in the cafeteria. The workers help students focus on academics by finding resources for troubles outside the classroom, such as homelessness, substance abuse and family problems.
They're also expected to start keeping better track of students and collecting data.
"These workers will be in a perfect place to help kiddos," Edward Ableser, director of the state Office for a Safe and Respectful Learning Environment, said. "They'll make sure they're not forgotten."
He expects to have details by August on which of the state's 218 schools that applied for 2016-17 grants will get money and how much each district will receive. His office was also established by the 2015 reforms. It costs $300,000 a year.
After Ableser heard Hailee's story, he asked Lamberth to serve on a state committee tasked with looking into starting a program like Safe2Tell Colorado. It allows anyone to anonymously share potential problems but focuses on getting information from youth. Schools and law enforcement immediately respond to reports, preventing planned attacks, bullying, deaths and violence, Ableser said.
"It's terrifying knowing that here in Nevada, we don't have that information," Ableser said, noting Colorado took 690 reports in April.
He's looking for federal dollars to cover the estimated $300,000 cost of getting it running for the 2017-18 school year.
There are "suicide attempts every single school day in the state of Nevada," Ableser said. "That shows why we need it."
Sharing that kind of information could have prevented his daughter's death, Lamberth said. He and his wife, Jennifer, are fighting the district in court. Hailee's school didn't share a report it made about the bullying with them until after her death.
"The kids all knew there was a lot of bullying that went on," Lamberth, 43, said. "It seems like parents were the only ones who were left out of the loop."
He first learned of Hailee's troubles when he read the suicide note she left. He and his son, Jacob, now 9, found her dead in their home.
Now, Lamberth talks about his daughter, often wearing purple, her favorite color. He shares stories about Hailee, such as how she liked steak so much she once wrote an award-winning poem about it.
"She always put others before herself," Lamberth said. "I do what I can so no other family has to go through what we've gone through."
Contact Amy Nile at anile@reviewjournal.com or 702-477-3871. Find @AmyNileReports on Twitter.