Nevada high schoolers gain no ground in college readiness scores
Updated June 27, 2017 - 10:30 pm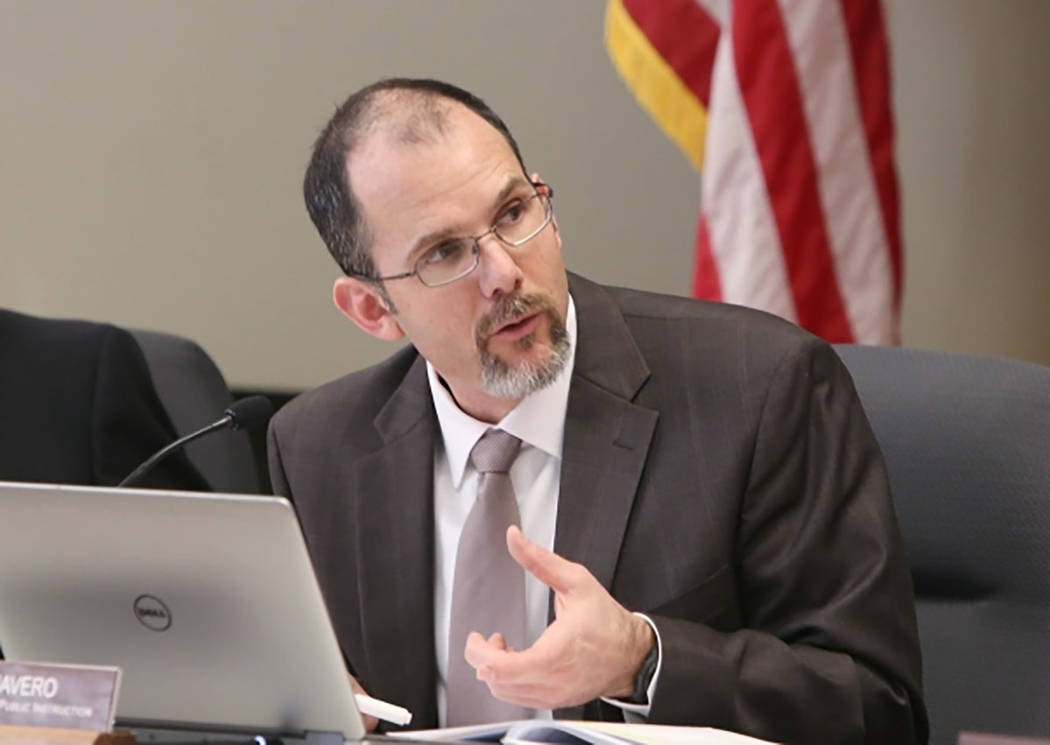 An ambitious goal to improve Nevada students' performance on a college readiness test might take a little longer to get moving.
For the third consecutive year, the average ACT score of more than 34,000 students in the state — the majority of them high school juniors — was stagnant at 17.4 out of 36 points on the nationwide college entrance exam.
Only 10 percent scored high enough to be considered "college-ready" by the exam's standards, according to the state.
State Superintendent Steve Canavero said Tuesday he was disappointed and frustrated, calling the results unacceptable.

"Our communities in Nevada face challenges. Those challenges, we know, impact the education of our students," he said. "I fundamentally reject that those challenges are unique or different than challenges facing other states who have achieved these benchmarks or higher. Our kids are capable."
Scorecards
Clark County's average this year rose from 16.9 to 17.2 but still came in slightly below the state average. The Davidson Academy of Nevada, a school for gifted students in Reno, had the state's highest scores, with an average of 33.9. Eureka County was the highest-scoring public school district, with students averaging a score of 18.9.
The ACT measures four college readiness categories and sets benchmarks for each: English is 18, science is 23 and math and reading are both 22. Only 10 percent of 11th-graders hit all four benchmarks. Sixty percent of students who took the test did not meet any of the benchmark scores.
Taking the exam is a high school graduation requirement, but a low ACT score doesn't prohibit a student from earning a diploma. The test is given free to students.
By 2022, the state hopes to boost the average score to 20. It's one of the metrics Nevada is using in its ambitious Every Student Succeeds Act plan that it submitted to the U.S. Department of Education.
"These benchmarks are achievable," Canavero said. "It takes a lot of hard work."
The state will double down on efforts to work with districts and provide resources to improve student achievement on the ACT and other measures, Canavero said. He also said new and existing school improvement plans will help.
Another tactic: highlighting schools that are progressing and detailing how they've done it.
"We have to point out where schools are fundamentally fulfilling the promise for kids. As a state, we have to continue to show that it's possible," he said.
'An actual target'
State officials highlighted four schools that registered the largest improvement in the past three years, including Southeast Career Technical Academy in Las Vegas. The school jumped from 18.3 to 19.0 in the first year and from 19.0 to 19.6 this year, state data show.
Principal Kerry Pope said the school focused on two areas. First, teachers started incorporating more questions into tests that looked similar to ones those students would encounter on the ACT.
The ACT's science portion includes a lot of reading, Pope said. So throughout the year, science teachers incorporated more reading into their exams.
"There was just a lot of awareness that needed to happen, even for teachers," she said.
The school also used the test as an incentive for students hoping to participate in a dual-credit program, in which they take college-level courses while completing their high school degrees. Students who take the college course at the high school receive a discounted rate because the cost of providing the teacher is covered.
Once students realized they could save money and earn college credit if they did well on the test, they tried harder, Pope said.
"For the first time, it really gave kids a sense of something to shoot for and a target. I think sometimes when you tell a 15-year-old, 'Hey, this can help you get into college' but they haven't really explored college yet, they don't have that information or that understanding yet," she said. "It put an actual target in front of them."
To view the full state results on the ACT tests or to search for a specific school, visit the Nevada Department of Education website.
Contact Meghin Delaney at 702-383-0281 or mdelaney@reviewjournal. Follow @MeghinDelaney on Twitter.