Nevada lags in US education ranking, but Clark County fares better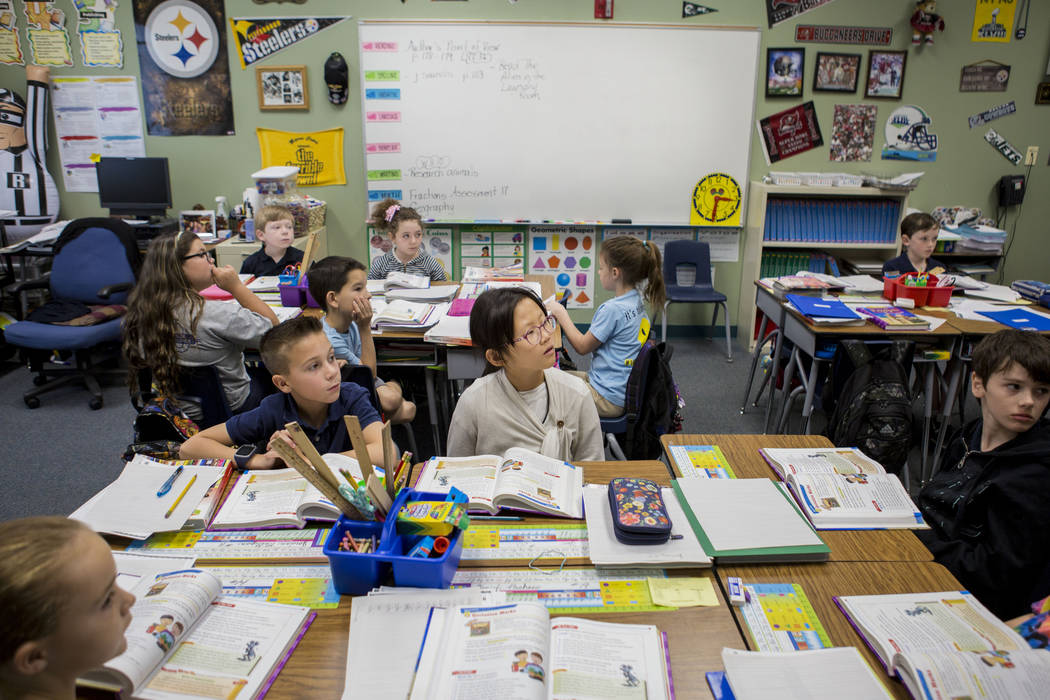 Nevada still ranked near the bottom of an influential biennial ranking of the nation's public schools released Tuesday, but the news was better when Clark County was compared to other large, urban districts.
Results from the 2017 National Assessment of Education Progress showed little national improvement. Eighth-grade reading showed a slight improvement, but scores in other categories – fourth-grade math and reading and eighth-grade math — remained flat.
Nevada ranked no higher than 43rd in any of the categories, which include the 50 states, District of Columbia, Puerto Rico and Department of Defense schools.
"We still have a long way to go to ensure all students are achieving at levels we know they're all capable of," said Brett Barley, deputy superintendent for student achievement in the Nevada Department of Education.
Clark County, which was ranked separately in the tests for the first time, fared better in comparison to 26 other large, urban school districts, including Boston, Chicago, Detroit, Miami-Dade County and New York City. Clark County's results were clustered around the midpoint in all four categories.
'Pretty remarkable'
"Those comparisons are pretty remarkable when you think about how efficient we are with our resources," Mike Barton, chief academic officer of the Clark County School District, said of the results. "There are some pretty solid results in comparison to these other large systems when you think about the dollars being spent."
The exams, commonly referred to as NAEP, provide one of the best means of comparing public education from state to state.
Every two years a representative sample of fourth- and eighth-grade students from across the country takes the exams. The exams have been around since the early 1990s and have remained fairly consistent in the types of questions asked.
In math, 31 percent of Nevada fourth-grade students were rated proficient, falling to 27 percent among eighth-grade students. Those figures compared to 40 percent and 33 percent nationwide.
In reading, 31 percent of Nevada fourth-grade students were proficient, as were 28 percent of eighth-graders. That compared to 35 percent and 35 percent proficiency nationwide.
Of the four categories, Nevada improved slightly in every category except fourth-grade math. But Barley said he was encouraged by the performance of the state's Hispanic and African-American students, who made gains in several categories.
He said current investments made in the state's education system — including targeted, categorical programs like Victory, Zoom and Read by Grade 3 — will likely help Nevada continue to improve.
"We could see future potential and continued growth we believe coming up through out pipeline," he said.
Clark comparisons
Clark County ranked below the state and national average in every category, which is typical of large, urban districts. But Barton said the district's performance compared to others indicates that it is doing more with less.
For example, he noted, the Los Angeles School District spent about $12,000 per pupil in 2015, compared to about $8,000 per pupil in Clark County. But Clark outperformed Los Angeles in every category, according to the 2017 data.
In Clark, 29 percent of fourth-grade students were rated proficient in math, compared to 31 percent of students in urban districts overall, landing it 16th on the list of 27.
In eighth-grade math, 25 percent of Clark students were proficient, compared to 27 percent of students in urban districts, good for a 12th-place ranking.
In Clark, 29 percent of fourth-grade students were proficient in reading, compared to 28 percent of students in urban districts. That ranked it 13th.
In eighth-grade reading, 29 percent of Clark students were proficient vs. 27 percent of students in urban districts overall. That ranked the county 12th.
Contact Meghin Delaney at 702-383-0281 or mdelaney@reviewjournal.com. Follow @MeghinDelaney on Twitter.
What is NAEP?
Also called "The Nation's Report Card," the NAEP exams are the largest nationally representative and continuous testing of what students know and can do. It's often referred to as the "gold standard" of student assessment. In addition to providing comparisons, NAEP results also factor into how much federal funding school districts are eligible to receive.