Nevada school safety task force OKs 14 recommendations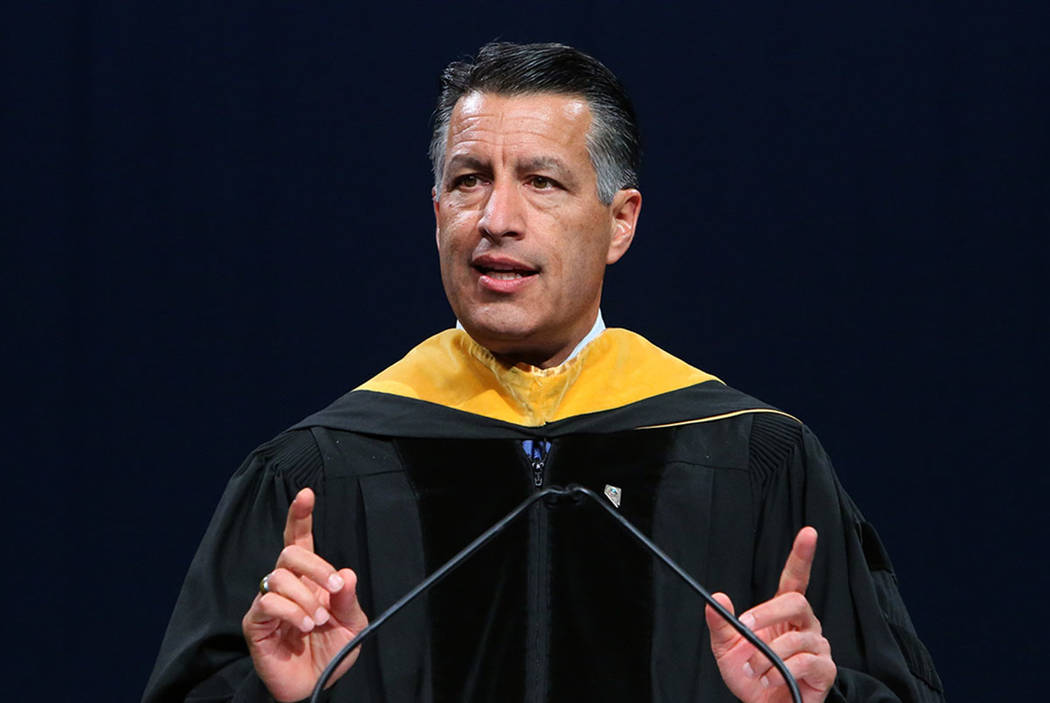 A school safety task force created by Nevada Gov. Brian Sandoval adopted 14 recommendations on Friday for consideration in drafting the next state budget, including adding funding for campus police officers and increasing the number of social workers in schools over 15 years.
The recommendations will be taken into consideration as Sandoval creates a proposed biennial budget for the upcoming legislative session. But the term-limited governor's successor will ultimately determine which, if any, of the recommendations make it into the spending bill for the fiscal years 2019-20 and 2020-21.
Some of the recommendations could become bill draft requests to establish new programs or updates to existing ones. Others could lead to executive orders.
Throughout Friday's meeting, however, task force members returned to the matter of funding. Many of the recommendations would require additional spending for schools at a time when the state is making an all-out push to improve academic performance.
"If the revenue streams then don't come to fruition, how do we then meet that obligation?" asked member Dave Jensen, the Humboldt County School District superintendent.
Jensen was referring to a recommendation that would require school districts to reach certain ratios of mental health professionals to students within 15 years. Without additional funding, he noted, that would be near impossible.
The committee made policy recommendations but not money recommendations, leaving that to Sandoval and the lawmakers.
Some of the proposals, like creating new categorical funds to improve the physical safety on campus or increase the number of police officers on school campuses, were also open-ended about how money would be distributed if it were allocated.
Task force Chairman Dale Erquiaga said he would submit the recommendations to Sandoval within two weeks. The committee will continue to meet until the end of the year, however, and will submit a larger, final report to the governor at that time.
The task force's report will included some material from Attorney General Adam Laxalt's school safety plan released in June, specifically a recommendation that would ensure school building plans are shared with law enforcement agencies and one that would establish a clear chain of command in emergency situations.
Not every school safety improvement will need to go through the Legislature. Clark County school principals, for example, will carry new walkie-talkies in the fall which will connect them directly to the school district police forces, officials said this week during a tour of the school district police headquarters.
That will eliminate the need for principals or staff to pick up a phone in an emergency. Many principals already use walkie-talkies on campus to talk to other administrators; the new ones will still be capable of that function as well.
The program is funded through a Department of Homeland Security grant and will debut in October, once principals and other staff approved to carry the radios are properly trained.
Contact Meghin Delaney at 702-383-0281 or mdelaney@reviewjournal.com. Follow @MeghinDelaney on Twitter.
Student roundtable
Survivors and activists from the high school shooting early this year in Parkland, Florida, will be in Las Vegas on Monday as part of the March for Our Lives Road to Change summer tour.
The Florida students will meet with local student activists, survivors from the Route 91 Harvest Festival shooting and others for a 90-minute roundtable. The free event will be held from 5:30 to 7 p.m. in the gym at Sierra Vista High School, 8100 W Robindale Road. Doors open at 5 p.m.
The summer tour is a continuation of a nationwide walkout held in March, after a gunman killed 17 students in at Marjory Stoneman Douglas High School on Feb. 14.
For more information or to RSVP online visit actionnetwork.org.