Nevada schools post modest gain in high school graduation rate
October 13, 2016 - 10:52 pm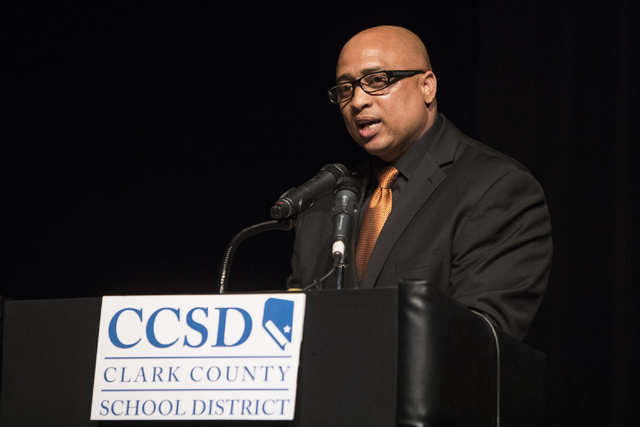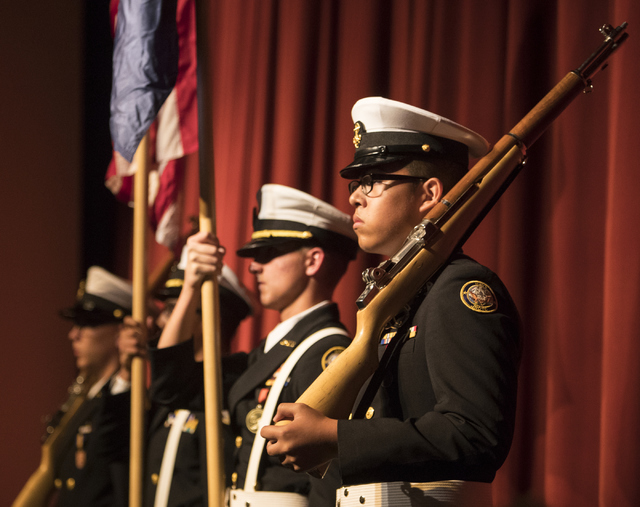 While more than 1 in 4 high school students in Nevada fail to graduate on time, the state and Clark County School District this year posted incremental gains in their overall graduation rates.
The Nevada Department of Education on Thursday reported a preliminary graduation rate of 72.6 percent for the class of 2016, which entered public high schools as freshmen in 2012-13.
That's up from the statewide average of 70.9 percent last year and 70.0 percent for the class of 2014. The national high school graduation rate was 82 percent in 2013-14, according to the most recently available data from the U.S. Department of Education.
"We've been seeing some modest increases" over the past four years, Steve Canavero, state superintendent of public instruction, said during a conference call Wednesday.
His department Thursday morning updated NevadaReportCard.com, an online hub for statewide and school and district-level data, with new numbers on student demographics, standardized test scores and more.
Canavero highlighted a 1 percent growth in student enrollment across the state's public and charter schools. Meanwhile, the dropout rate declined slightly from 2.8 percent in 2014-15 to 2.7 percent in 2015-16.
"That's a number we want to see drop, so that's moving in the right direction," Canavero said.
He also stressed the preliminary graduation rates released Thursday are subject to further data review and could change when a final report is issued in December.
'WE NEED TO IMPROVE'
Despite the higher graduation rate, the actual usefulness of a high school diploma in Nevada remains in question.
Only 8 percent of the class of 2016 — the first required to complete the college-entrance ACT exam under a new state mandate — scored well enough to be considered ready for college in four major subject areas. And 57.7 percent of Nevada high school graduates who go onto a public college or university in the state are placed in remediation courses to help them adjust to more rigorous classes later.
"We know we need to improve," Mike Barton, chief student achievement office for Clark County school, said at a news conference Thursday.
"How do we do that? Maybe stronger programs that senior year, working in collaboration with the state Department of Education to ensure that students during their senior year are exposed to more mathematics, English (and) reading," he said.
In Clark County, the district's preliminary graduation rate reached 74.2 percent compared with 72.1 percent last year and 70.9 percent in 2014. At 17,491 students, the graduating class of 2016 is the district's largest.
In 2014, Superintendent Pat Skorkowsky committed the district to reaching a graduation rate of 82 percent for the class of 2019, which entered Clark County high schools as freshmen last year.
"We have the mentality that we can get to 100 percent," Barton said.
'MAKES IT ALL WORTH IT'
Three campuses this year — College of Southern Nevada High School East and West, and Veterans Tribute Career & Technical Academy — actually posted 100 percent graduation rates, although each serves smaller student populations than traditional schools.
Burk Horizon/Southwest Sunset High School, which offers a dropout recovery program, earned the largest one-year gain of all Clark County School, moving from a graduation rate of 32.9 percent last year to 47.7 percent in 2016. Of the comprehensive campuses, Chaparral High School had the biggest increase with a 79.7 percent graduation rate this year compared with 65.7 percent in 2015.
Andrew Solis, 18, was one of the 377 Chaparral seniors who accepted a diploma last June. He almost didn't graduate after struggling with depression, getting arrested and watching his sister recover from getting hit by a car — all during his final year.
"There were a lot of times where I felt like I just wanted to give up and just call it quits and figure out what I was going to do," Solis said. "But after you pass that graduation, it just makes it all worth it."
Solis now attends the University of Nevada, Las Vegas, where he plans to study athletic training and hopes to work with a college football or basketball team in the future.
For a list of individual school graduation rates, go to https://goo.gl/kHUQ8K.
Contact Neal Morton at nmorton@reviewjournal.com or 702-383-0279. Find @nealtmorton on Twitter.
RELATED
School Board sets superintendent performance goals