Nevada Supreme Court ruling expected to affect school choice legislation nationwide
September 29, 2016 - 6:11 pm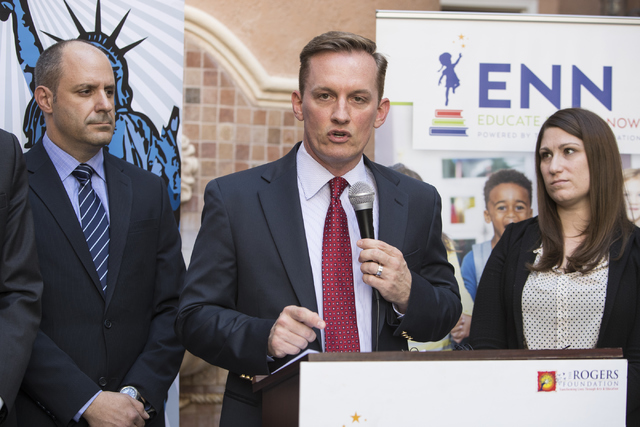 The impact of the state Supreme Court's decision Thursday to kill Nevada's controversial education savings account law is expected to ripple across the nation as more than a dozen states consider similar legislation.
The justices ruled Senate Bill 302 violated a constitutional mandate by diverting money meant exclusively for public education into education savings accounts that parents could use to pay for private school tuition and other educational services.
The high court ordered a permanent injunction against the law, but indicated its support of ESAs as a concept. Regardless, opponents believe the ruling likely will send a message to lawmakers beyond Nevada.
"People were looking to see if they could siphon off public school money to fund these types of programs," said Los Angeles-based attorney Tamerlin Godley, who in July argued before the Supreme Court on behalf of parents challenging the constitutionality of SB302.
"The court said, 'You can't do it. You have to fund your public schools sufficiently,'" she added. "After you've done that, then you can go back and look at competing state money to put some aside for ESAs."
NATIONAL SPOTLIGHT
Often ranked among the bottom-performing states for education, Nevada gained national attention last year when Gov. Brian Sandoval signed SB302.
Under the law, parents who withdraw children from public school gain control of the state funding for their child's enrollment. Disabled children and students from low-income families could receive up to $5,700 per year, and all other students, regardless of their household income, were eligible for up to $5,100 per year. Those funds could be used to pay private school tuition or customize a child's education through tutoring, distance learning and other educational services and products.
Although school districts would have lost the state funding that supported the enrollment of each student who withdrew to open an ESA, school districts would have retained local tax dollars tied to those students.
Leslie Hiner, vice president of programs for EdChoice, estimated more than 18 states may soon advance legislation similar to what she called "the Nevada model."
"You can absolutely expect to see legislation that mirrors Nevada, or even goes further," Hiner said.
"Nevada really has inspired people in a serious way," she said. "I've received text messages all afternoon from folks all across the country who were just excited about the ruling."
Their excitement seems to rest on portions of the Supreme Court's 33-page opinion that held the Nevada Constitution does not limit the Legislature's discretion to encourage other methods of education.
Additionally, the opinion said funds placed in education savings accounts belong to parents and are not "public funds," therefore ESAs do not violate a prohibition against using public money for sectarian purposes.
"Unfortunately the court said that the funding mechanism in the current program cannot be used," said Tim Keller, an attorney with the Institute for Justice, a Virginia-based law firm that helped the state defend SB302.
"The ball is now in the governor's and Legislature's court to adequately fund the ESA program for thousands of families who have already applied to participate in it," Keller added.
'I FEEL DISAPPOINTED'
Locally, Electra Mcgrath-Skrzydlewski also celebrated the court's decision.
Her 12-year-old daughter currently attends the Clark County School District, and Mcgrath-Skrzydlewski joined as a plaintiff in one of two challenges against SB302 to protect the public school system.
"I'm thrilled the court has agreed vouchers will harm, not help our public schools," McGrath-Skrzydlewski said in a statement. "Now it's time for all of us — legislators, educators, parents and community leaders — to come together to strengthen and improve our public schools for all Nevada children."
The district also provided a statement in reaction to Thursday's ruling.
"During the ESA testimony in the 2015 legislative session, CCSD expressed significant concern," the statement reads. "We will monitor the situation to determine any future impact on CCSD."
Raymond LeBoeuf plans to do the same.
As principal of Mountain View Christian School, he has seen the private school's waiting list grow with parents hoping to use an ESA to pay for the average $7,500 tuition. But LeBoeuf also expected implementation of SB302 to take awhile to get through the politics and lawsuits.
"We believe that we can alleviate the conditions of poverty in our area, and the sooner that families have the opportunity to attend our school, the sooner we can help them do that … I feel disappointed," he said.
Review-Journal staff writer Sandra Chereb contributed to this report.
Contact Neal Morton at nmorton@reviewjournal.com or 702-383-0279. Find him on Twitter: @nealtmorton.
RELATED
Nevada Supreme Court strikes down school choice funding method
Parents, educators, state officials wait to hear Nevada high court rulings on school choice
Hundreds rally for, against school choice at Nevada Supreme Court hearing