Nevada's high school graduation rate climbs again, preliminary data show
October 16, 2017 - 9:31 am
Updated October 16, 2017 - 8:27 pm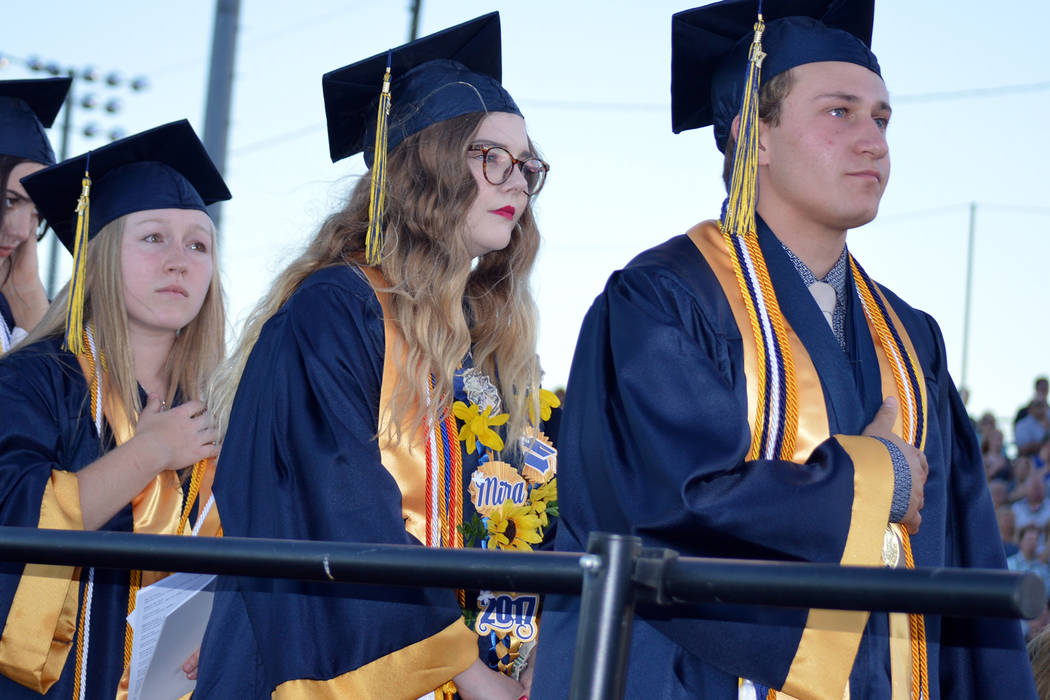 The number of Nevada students earning high school diplomas continues to rise, according to preliminary graduation rates released Monday by the state Department of Education.
Six of the state's 17 districts increased their graduation rate in the 2016-17 school year by more than 10 percent, according to the data. The overall state graduation rate rose to 81 percent, a 10 percent increase from last year.
"This is great news and the strongest indicator yet that Nevada is the fastest-improving state in the nation," Steve Canavero, superintendent of public instruction, said in a statement. "Completing high school and ensuring our students are on college and career pathways are essential for Nevada's future economic viability."
In Clark County, 83 percent of students graduated, up 10 percent from last year. In Washoe County, 84 percent of students graduated, a 9 percent increase.
"As a district, we've made remarkable progress," said Mike Barton, the Clark County School District's chief academic officer, adding that the district has a lot more work to do. "We're pleased with these results, but we're not satisfied."
One data point
Barton partially credits the improvement in the graduation rate to a data visualization tool the district implemented a few years ago.
Principals now get a weekly email with student data and progress. That data then can be shared among other staff members at school sites and can help identify students who might be slipping behind.
"That really created some real-time data," Barton said.
While the graduation rate is important, it's just one data point to measure student success, Barton said.
Fewer students should be taking remedial courses in college after leaving Clark County schools, he said. And district officials would like students to score higher on other college-focused exams, like the ACT and Advanced Placement exams.
"Those are metrics we want to improve as well," he said.
Around the state
The data released Monday covered only districts. The state will certify the preliminary data and then release school-by-school data in December, along with information on how different subgroups of students performed.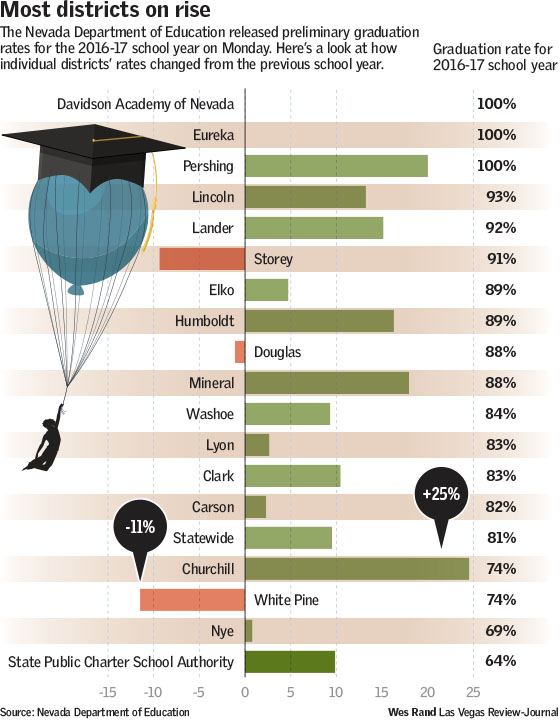 Davidson Academy of Nevada — the state's school for profoundly gifted students — and Eureka and Pershing counties had the highest graduations rates: 100 percent. Davidson Academy and Eureka both had perfect graduation rates last year, too. Pershing jumped 20 percent to reach the perfect mark this year, rising from an 83 percent graduation rate last year.
Douglas, Storey and White Pine counties all showed declines in graduation rates this year, with White Pine's rate diving 11 percent to 74 percent.
Churchill County showed the largest percent increase this year, raising its rate from 60 percent to 74 percent.
The State Public Charter School Authority, which oversees state-authorized charter schools throughout Nevada, had the overall lowest graduation rate at 64 percent. Data on locally authorized charter schools are currently rolled up into district rates.
Along with the preliminary and certified graduation rates, the state tracks a five-year graduation rate, giving students an extra year to earn their diplomas. Those rates, which are slightly higher than the four-year rates, were released in July.
Contact Meghin Delaney at 702-383-0281 or mdelaney@reviewjournal.com. Follow @MeghinDelaney on Twiter.