New Air Force innovation hub in Las Vegas looks to future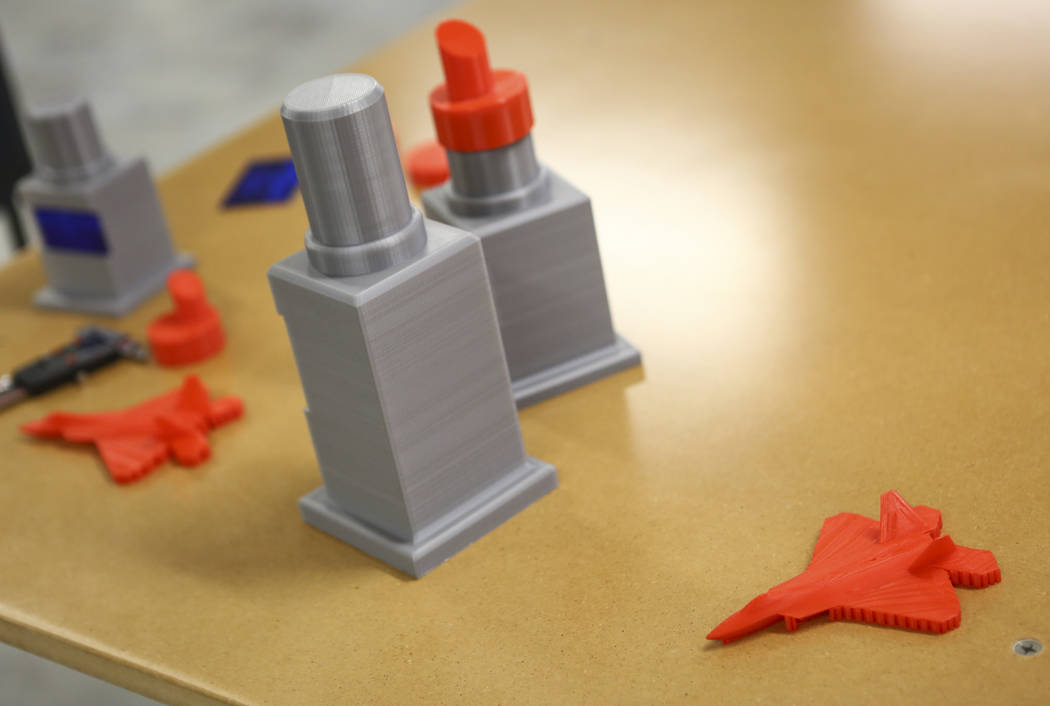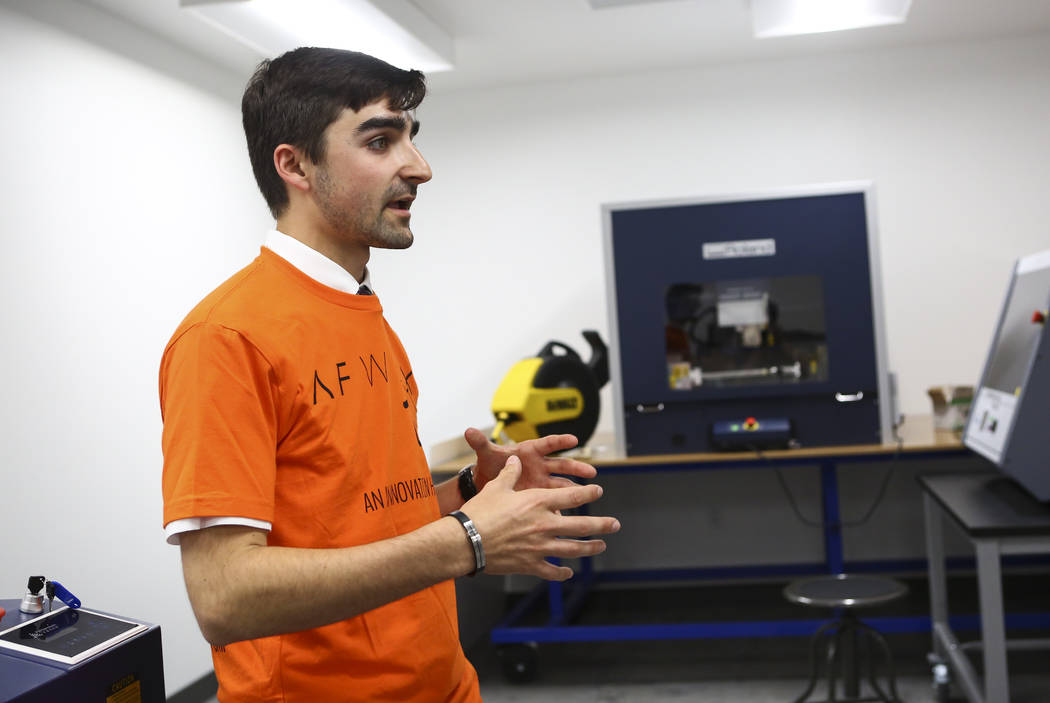 Free food tugs at the psyche of just about every college student.
It's what — along with class credit — compelled UNLV student Matt Viton to attend a networking social in November.
He didn't know, however, that the chance meeting with AFWERX Vegas would lead to an exciting winter internship that would combine his love of mechanical engineering with his entrepreneurial spirit.
"When I saw this, I saw that it was something really new," Viton said. "And when they told me they wanted an intern to sit in here and work with 3D printers all the time, I was like, that's perfect."
After a five-month internship, Viton is now the coordinator of the prototyping lab at AFWERX Vegas, an innovation hub for the Air Force that opened to the public Tuesday. AFWERX aims to connect people from industry, government, startup firms, academia and even garage tinkering to foster a culture of innovation.
It's just one tool in the Air Force's toolkit, according to Brian Maue, director of AFWERX.
"We recognize that we can no longer develop things with a five- or 10-year plan," Maue said. "We need to be able to pivot quickly, in six to 18 months. We need to find the folks that are at the prototype level that we can turn around and make something happen for the war fighter quickly."
Good timing
AFWERX Vegas debuted in January when Vice President Mike Pence visited Las Vegas for its grand opening.
That's when Viton, a graduate of UNLV's mechanical engineering program and its global entrepreneurship program, began his internship and was quickly given several responsibilities because of the small staff.
"The timing of it worked out really well," he said. "I started right as the transition team that was getting the office set up was leaving, so a lot more responsibility beyond the internship role fell on my shoulders."
Purchasing equipment, such as computer-controlled cutting machines and 3D printers, has been one of his top responsibilities.
That "has been really fun because it's basically just a bunch of online shopping for things I could never afford," he said as he showed off the pieces before a public tour of the 10,000-square-foot lab Tuesday night.
"We are going to be assisting teams of people, whether they're in the military or outside the military, to kind of flesh out ideas and develop prototypes of things, to help the military develop things faster and find solutions outside of the traditional acquisitions route," Viton said.
In the center of the room are large tables that serve as a work space for collaborating, up to eight teams at time. In one corner, a massive tool storage chest sits, and it's mostly empty, Viton said.
"We're still working on acquiring the tools we need," he said.
Game changer
One of the pieces he's purchased, a metallic 3D printer, should be delivered by August and will be housed at UNLV, for use by both AFWERX and university students and faculty.
"It's basically the first of its kind because other metal 3D printers use a very different metal of printing," he said, adding that it's usually easier to prototype a part in metal instead of plastic.
The printer also will give Viton the chance to make an impact at UNLV, where he's now studying to earn a master's degree in business administration. He's working with Brendan O'Toole, chairman of the mechanical engineering department at UNLV, to develop coursework around the new printer.
To work with 3D printers now, students take a one-credit elective course, which can fill up fast, Viton said.
"Additive manufacturing has been growing so much that we are renovating a lab and consolidating multiple types of additive manufacturing equipment into this lab," O'Toole said. "It's really a game changer in the manufacturing world. Additive manufacturing brings manufacturing to the individual."
On the low end, a 3D printer costs less than $500, and additive manufacturing is becoming a mainstream process for engineering, O'Toole said.
At AFWERX Vegas, teams are working on building a 3D-printed cockpit of a plane for the AFWERX Austin branch, Viton said.
"It's kind of the wave of now," he said.
Contact Natalie Bruzda at nbruzda@reviewjournal.com or 702-477-3897. Follow @NatalieBruzda on Twitter.