New College of Southern Nevada president has lofty goals
August 25, 2018 - 10:28 am
Updated August 26, 2018 - 4:47 pm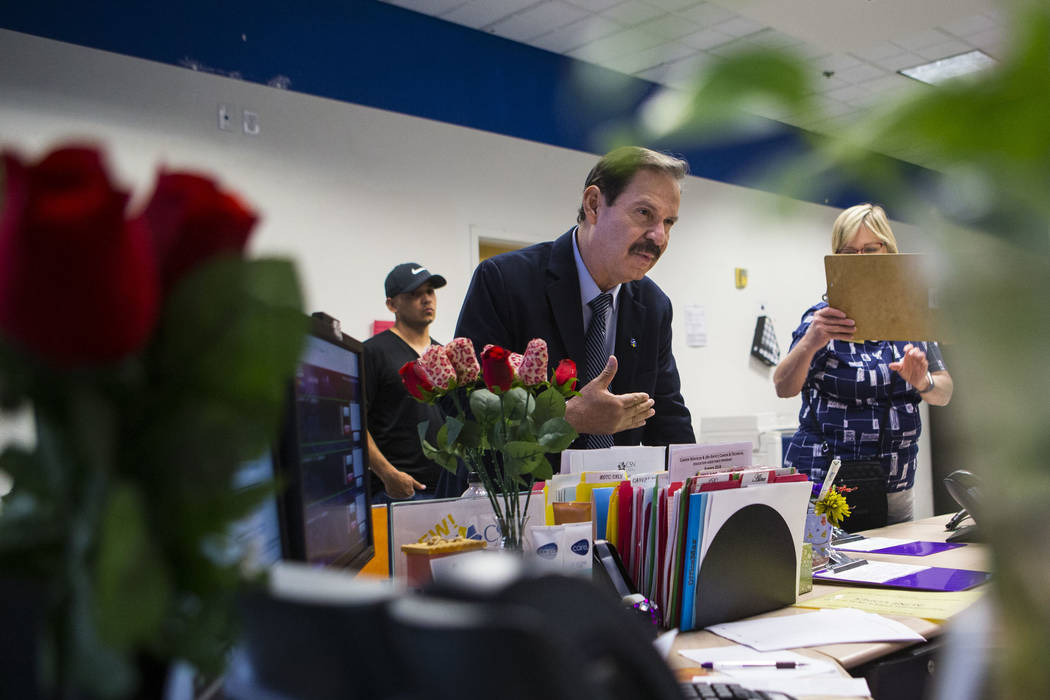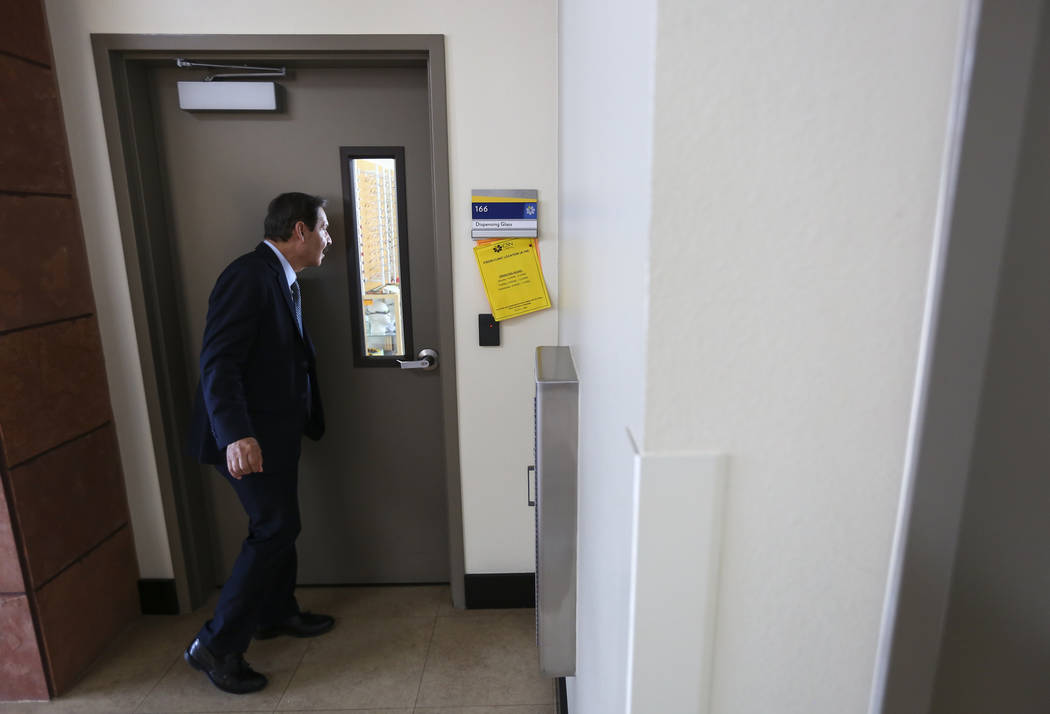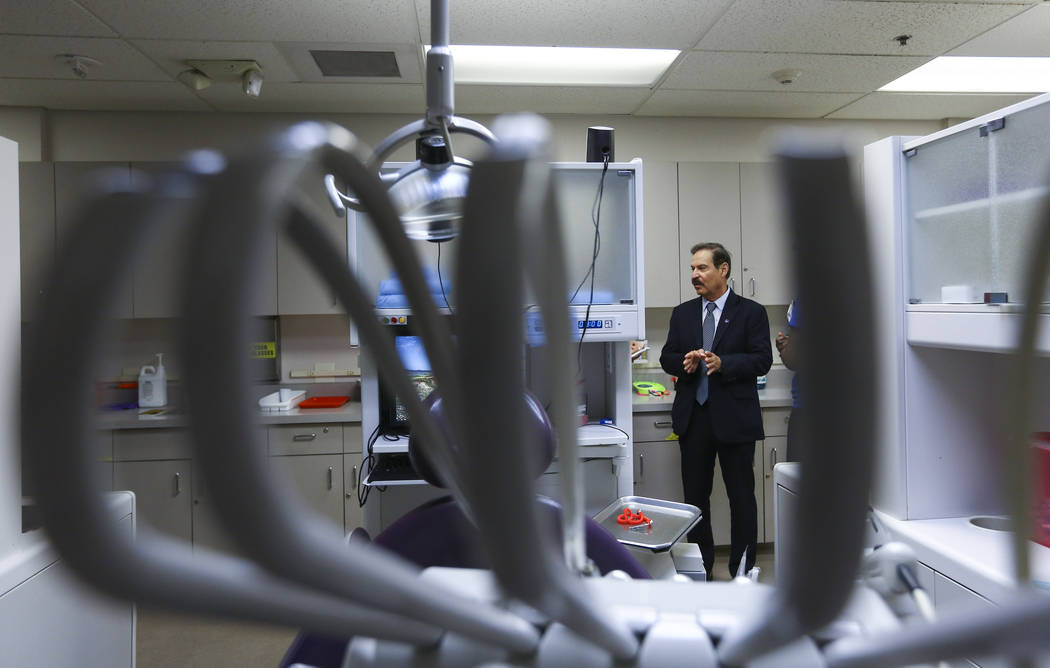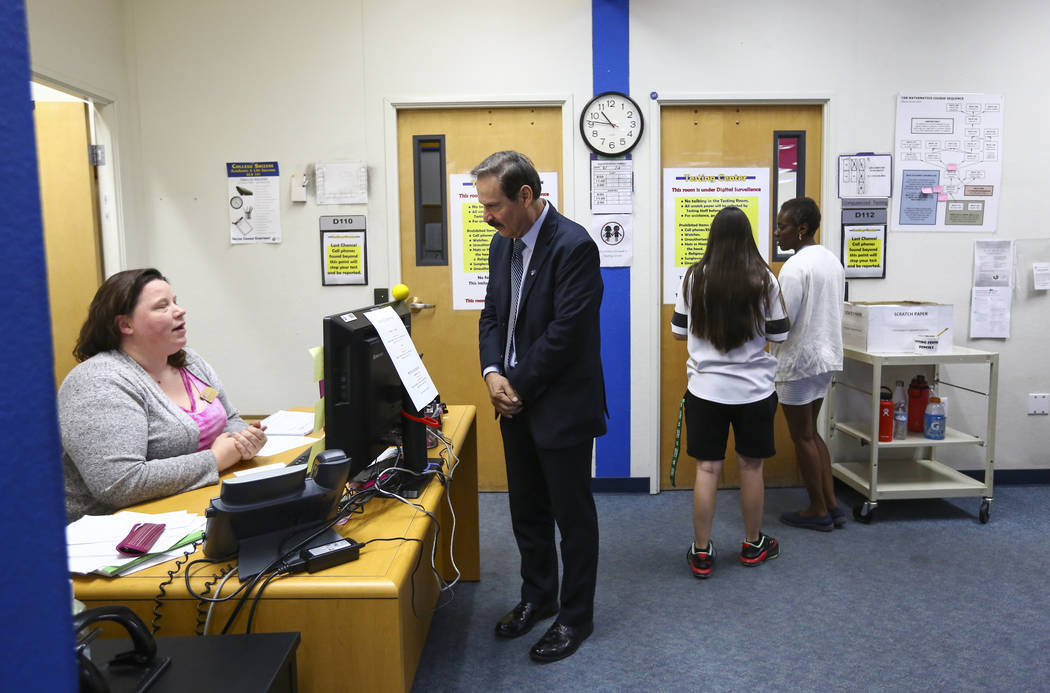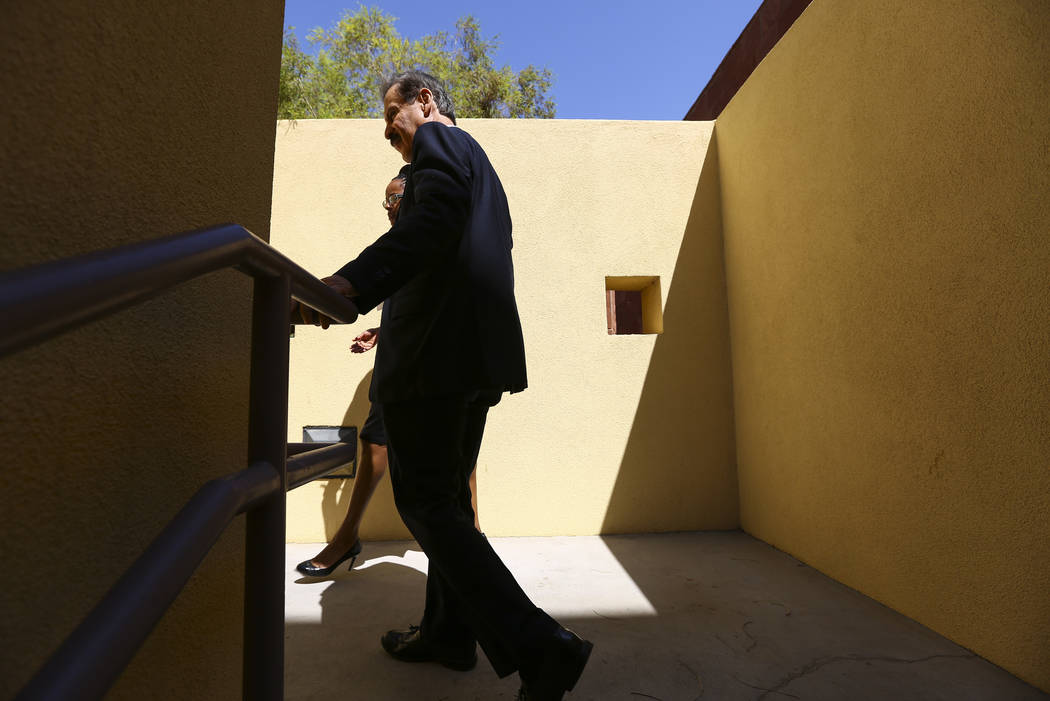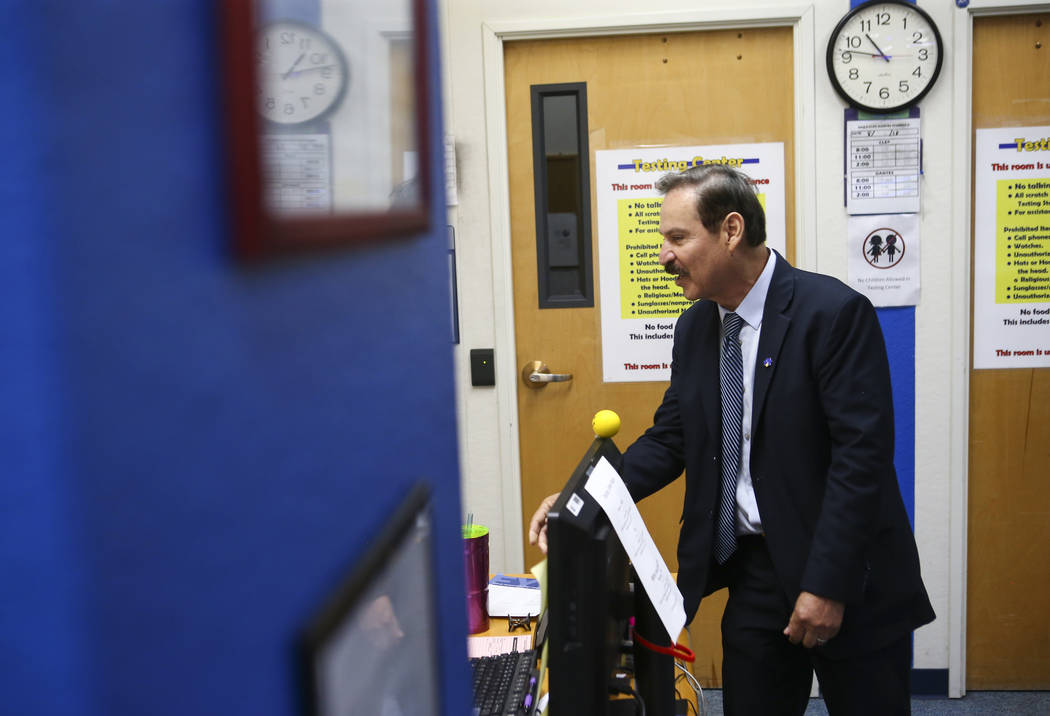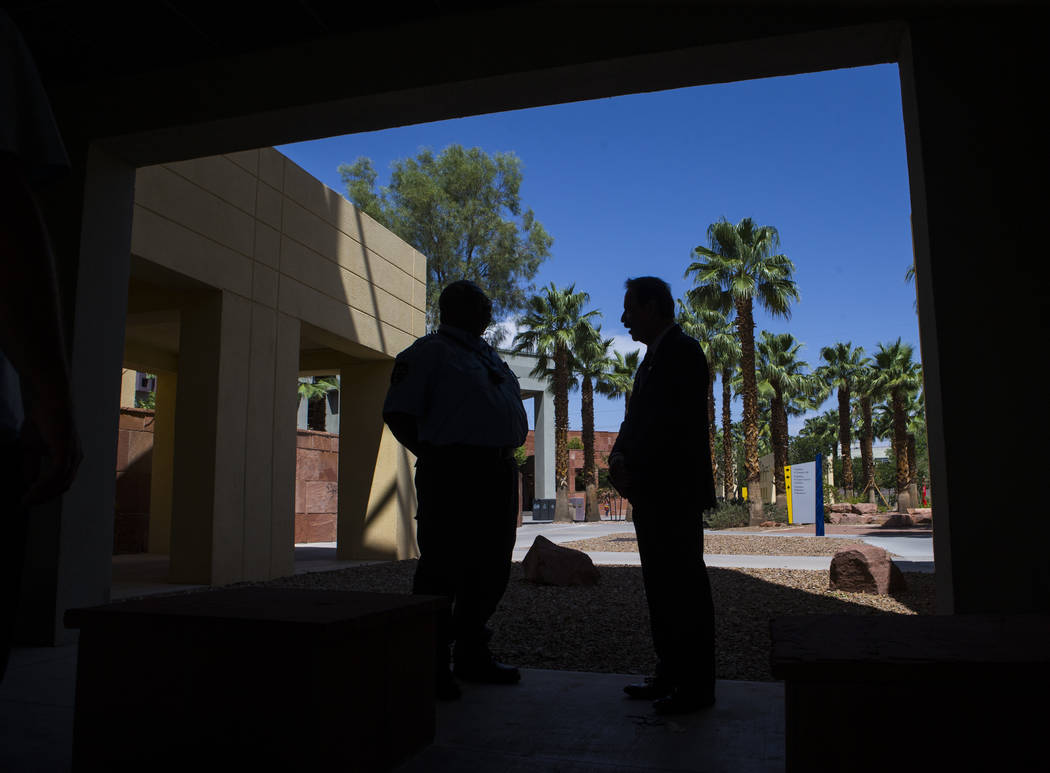 He strolled into the student services center and made a beeline to the young woman.
Marissa Small was holding her 6-month-old daughter while registering for business management classes.
"Get her ready for college," Federico Zaragoza told Small, pointing to little Elliotte. A laugh and a smile soon followed, creasing at his eyes.
A few beats later, he was talking to student worker Dyanne Ruvalcaba and they quickly found something in common. She graduated from the deaf studies program at the College of Southern Nevada and is now studying sociology at UNLV.
"That's my undergrad — sociology," Zaragoza, 66, shared.
It was day two of his tenure as the College of Southern Nevada's new president. He toured the Charleston campus to share details about his life, learn about his students and colleagues, become acquainted with the campus and set goals for the state's largest community college.
"Oh, we've got to get back to that number," Zaragoza said, referring to the peak international student enrollment number of 800, during a stop at the International Center. "Maybe 1,000 sounds even better."
Zaragoza officially began his three-year tenure with the college on Aug. 15. The state Board of Regents appointed him to the role after he rose to the top among the remaining three finalists that were discovered through a national search.
"His focus on student success and graduation is something I've talked about and what we recruited for," said Thom Reilly, chancellor of the Nevada System of Higher Education. "He adds an important dialogue about high-performing schools and improving the whole student experience."
Zaragoza's primary mission: to take CSN from "good to great."
"I want the institution to focus on students first, and student success, and that'll translate to increases in graduation rates, and moving the needle on completion," he said.
Zaragoza comes to Las Vegas after a 14-year career as the vice chancellor for economic and workforce development at Alamo Community Colleges, a network of five community colleges in San Antonio, Texas. There he made sure the colleges provided workforce programs that responded to industry needs and aligned with student pathways.
Among his most lauded accomplishments was raising the graduation rate at those schools from 9 percent to 20 percent over 10 years. CSN's graduation rate stands at 7 percent.
"We're very hopeful that he's going to help us increase both our retention and our graduation rates," said Darin Dockstader, faculty senate chairman. "It's going to be great to have a fresh perspective and somebody who has a proven track record of success in these areas."
Zaragoza, who holds a Ph.D. in urban education and administrative leadership from the University of Wisconsin-Milwaukee, said progress happens when an institution develops an evidence-based culture.
"Our graduation rates now are below the national average — that's a brutal fact," Zaragoza said. "Once you get into student success, you bring down these brutal facts of assessing ourselves against national averages and how we're going to get there. It's going to be a daily conversation."
For decades, the assumption had been that access — a core part of the community college identity — converted to opportunity.
"When students go into a scenario and don't graduate, then they don't benefit to the extent that they would have had they completed," he said. "The focus on graduation and completion has really intensified, and it's intensified as the cost of education as gone up."
In addition to bolstering graduation rates, Zaragoza sees an opportunity to expand the college's Center of Excellence model and further explore partnerships and develop joint programs with businesses and industries such as heating, ventilation and air conditioning.
"We have a facility that is going to allow us to almost double the number of students we can accept, with a capacity to meet industry need in an area of extremely high demand," he said. "The key there is that you're going to be producing world-class technicians. They'll graduate with a degree, but also these certifications. I get excited about things like that."
He's also excited about expanding partnerships with area high schools.
"We know they're coming to us and we know a big number will graduate without being college ready," he said. "And a big number of them can benefit from dual enrollment. I don't want to just offer courses. I want to offer programs of study, where young people are graduating with marketable skill certificates."
Growing up in the border town of Laredo, Texas, Zaragoza was introduced to the idea that if he went to college, he had a chance at the American Dream.
His mother, who was born in Chicago, lived in Mexico City when she gave birth to Zaragoza and his two sisters. He was raised in south Texas, and at the age of 18, became a citizen.
"Our concept, and the only kind of concept that we truly understood about America, was that education was the equalizer," he said.
He didn't know in high school that he would end up spending decades in higher education. But like most of his peers, Zaragoza chose the field because all of his role models were teachers.
"Education to me was the ticket," he said.
Contact Natalie Bruzda at nbruzda@reviewjournal.com or 702-477-3897. Follow @NatalieBruzda on Twitter.