New mental health fee to help UNLV students in need
September 2, 2018 - 11:41 pm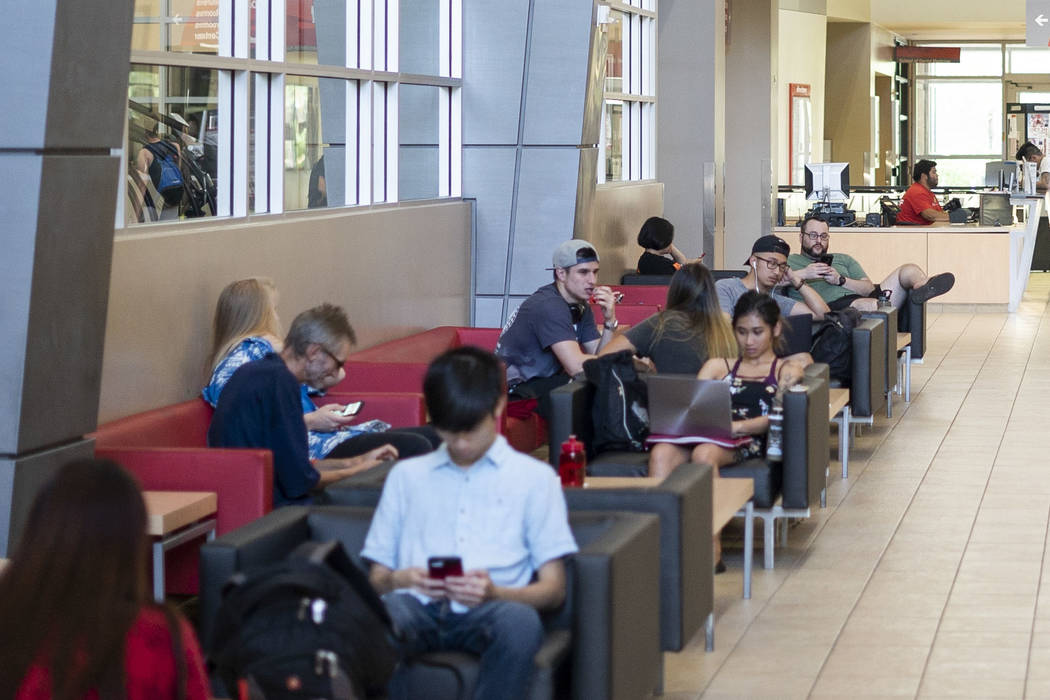 The pressure to perform weighed heavily on Sierra Bumanglag.
She worked 40 hours each week to pay for her undergraduate coursework at UNLV, while also setting her sights on graduate school.
"I was trying to make sure that I had top-notch grades," said Bumanglag, now 25. "I started to feel like I couldn't do it. I wanted to give up."
Her professor and mentor urged her to contact the school's Counseling and Psychological Services. It was fall 2016 — mental health appointments at the university reached a peak of nearly 11,000 the year before — and Bumanglag learned that it would be at least a month or two before she would be attending regular appointments with a school therapist.
Not anymore. At least that's the hope.
Last year, students lobbied for a new $25 per semester mental health fee, and Jamie Davidson, associate vice president for student wellness, said the fee should begin to pay dividends as soon as this fall.
Until now, wait times after the initial intake appointment could stretch as long as eight weeks.
"The fall will be the first test," Davidson said. "I'm very confident that with the additional providers we've put into place that it will be much easier for students to get in. My goal is that a student never has to wait more than three weeks."
Lisa Adams Somerlot, the past president of the American College Counseling Association, said that providing mental health services to students in a timely manner is key, especially when it comes to the side effects.
"Lack of sleep, the inability to concentrate, headaches — it can be quite devastating for a college student," said Adams Somerlot, who is also the director of Counseling and Accessibility at the University of West Georgia. "If a student is feeling depressed, anxious or suicidal, it can go from mild to moderate in time, and things can get worse because they need help."
Davidson has added 10 new hires to the wellness center staff because of revenue from the new fee, with some of the hires coming on board this past spring and some a few weeks ago. The new staffers, both part time and full time, range from entry level to professional employees, including four psychologists and two doctoral psychology interns.
Growing movement
"Students were awesome in advocating for this fee," Davidson said. "I just know this will make a big difference for our students. We worked hard to hire the best people, and we're looking forward to working hard and serving our students well."
UNLV isn't alone in this trend.
Student government leaders at University of Colorado, Boulder, for example, proposed a mental health fee that was approved in 2015. The fee was doubled last year.
"It's been slowly happening over time," Adams Somerlot said. "I think that college students today have real awareness and education around mental health and experience less stigma around mental health than the previous generation. They want that service."
Adams Somerlot said she believes the increased demand for mental health services is related to the post-9/11 era.
"This generation of students coming to college were born just previous to 9/11," she said. "Their whole lives have been about this conflict, about this event. These young people have not grown up with a sense of safety that many of their parents did. They tend to be more anxious, and a majority of their growing-up years happened during the recession. They did not grow up with this sense of economic safety like the millennials before them did."
The Oct. 1 shooting on the Las Vegas Strip placed an added burden on staff, Davidson said. The staff saw 719 students in crisis, or "emergency" sessions during the 2017-18 academic year — a 21 percent increase over the year before.
"It's not necessarily surprising, given the October shooting and everything that we went through," Davidson said.
Nevada State College in Henderson has been experimenting with the number of days and length of time that mental health appointments are available to students. In fall 2017, the college began contracting with All About You Counseling to provide services to students on campus, and increased the number of days from one to two. This fall, the college will offer services three days a week.
"We've had to experiment with which day of the week worked best," said Gwen Sharp, the associate vice provost for academic initiatives at the college. "We tried on Mondays, but that didn't work great for student schedules. How do you provide services for students who have busy schedules, or only come to one evening class?"
The college used to solely refer students to outside providers, and once had a contract with UNLV, but from the data the college collected from UNLV and other outside providers, students rarely followed through on seeking services.
"It was terrible," Sharp said. "We saw that this is not functioning as a service when you look at the tiny percentage of students that actually go."
Sharp said it was for myriad reasons, including the fact that students would feel overwhelmed with having to drive to UNLV and navigate such a larger campus. In addition, students would sometimes have to wait six weeks to get an intake appointment with an outside provider.
"Let's say a faculty member refers to us a student who's in a moment of distress," Sharp said. "We've got the services right here, and we will walk over with you, or we'll get you on the phone in our office. It's better than us saying we have this provider, and it's across town. You often have a very short window and we want to help them take the next step without putting up a lot of barriers."
Helping more students
The College of Southern Nevada uses the same approach.
In 2016, when the two clinicians who worked for CSN departed, the program was left in limbo and the wait list for services grew to about 70 students. The college then began contracting with Mojave Mental Health and worked through the backlog of students.
The college found that the arrangement worked so well — better even than having clinicians on staff — that the contract has continued, said Juanita Chrysanthou, vice president for student affairs.
"It's ideal," she said. "We haven't had a wait list, and all of the contacts are still made with the college. The service is coordinated with Mojave, and they show up wherever the student needs to have an appointment."
Chrysanthou said each campus has a dedicated private office for the appointments to take place. In 2016-17, Mojave saw 234 students, and the number increased to 333 last year.
"It's a pretty good increase," she said. "It's a relief for me for us to be at this point where it's working, and it's working well."
Contact Natalie Bruzda at nbruzda@reviewjournal.com or 702-477-3897. Follow @NatalieBruzda on Twitter.